Best Wine Gifts for Christmas 2018: Enjoy Your Tipple!
Disclosure: Links in this post may be to our affiliates; sales through affiliate links may benefit this site. Please help support 'I Know The Barman' by using the links provided.
It won't cost you anything extra.
Introduction
It's on the way, and coming quickly! Christmas that is, and you need to buy something quickly. Especially if you expect it to be delivered on time. So, if you know somebody that's into their wine, then I've sourced some amazing wine gifts for Christmas this year. 
From unique wine barrel furniture, to less expensive wine decoration pieces. The wine lover in your family will be thrilled to receive any of these gifts. So let's get straight into things, and check out the unique items we've found.
#1 - Book - 50 Perfect Wines to Pair with Your Child's Rotten Behavior
Pro's
? Hilarious book for parents
? Guide to Remove Corks without a Corkscrew
? Periodic Table of W(h)ine with stickers
How on earth could I go past this gem. 
If you're a parent that gets driven to drink because of your child's behaviour, then this is the book for you. Well, this is about Christmas gifts, so I'm sure you'll know somebody who has gone through the same pain that you have.
This hilarious book called 'W(h)ine', includes 50 pairings that are suited to each rotten behaviour that children display. It's often the case that we hold onto our feelings about our kids behaviour, sometimes though, something just needs to be said. If you need a good laugh at your child's expense, this book is a beauty.
As a bonus, this book will also explain how you can remove a cork from a wine bottle, without the need for a corkscrew. There's also a 'Periodic Table of W(h)ine' at the rear of the book. Each wine featured in the book is accompanied by a sticker, that can be placed on the 'Periodic Table of W(h)ine' fold out.
A huge approval rating of 5-stars has been given to this book. It's a gem.
Customer Reviews





5.0
#2 - 1 Wine Bottle Serving Tray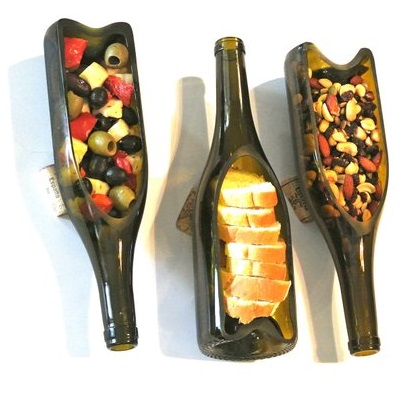 Pro's
? Perfect for Snacks or Plants
? Handcrafted with Smooth Edging
? Recycled wine bottles
Snacks anyone!
These wine bottle serving trays are a unique piece of artwork that anyone would admire. Although they'd look amazing on a coffee table with various condiments, you can actually use them for other purposes.
They've even been suggested to use as a planter for succulents, small cactus or herbs. There's even an option to order with a drainage slit for this purpose.
If you into being environmentally friendly and recycling, you'll also appreciate the fact that these bottles are up-cycled from local areas to the artisan.
Each bottle is handcrafted using cold working glass cutting techniques. The cut edges are extremely smooth and there's a cork on the base to prevent it from rolling. This can be excluded should you prefer.
You'll find these are a brilliant addition to any party.
Customer Reviews





5.0
#3 - The Wine Castle Decanter Drying Stand
Pro's
? Stainless-Steel Hanging Decanter Stand
? Rubber Seal for Protection
? Perfect for Air Drying
Con's
? Possibly not for Narrow Decanters
How hard is it to dry a wine decanter after you've washed it? Do you often find dry streaks after your decanter has sat on the draining board for an hour of so?
Well check out this invention. For the wine connoisseur that has everything else, how about a Wine Castle Decanter drying stand. It allows your decanter to hang upside-down and air dry, leaving a spotless finish.
This decanter stand fits most standard sized decanters, and has a modern and cool design. It's stable and versatile, making it a perfect Xmas gift for the wine lover in your family.
Made from stainless steel, I really like the rubber coating where the wine decanter will be placed. This will protect your glassware, or crystal-wear from scratches.
4.9-stars is a great approval rating from Amazon verified customers.
Customer Reviews





5.0
#4 - Stocking Stuffers for Women. Wine Lips Lip Scrub.
Searching for that perfect stocking stuffer. How's this for the lady that enjoys a tipple!
For those women that love their vino, they'll get a giggle out of this wine lip scrub. It's made with all the finest ingredients including the following:
French Beeswax
Cocoa Butter
Coconut Oil
Sunflower Oil
Granulated Sugar
Natural Flavors
Vitamin E
Alkanet Root (for color)
So beautify your lips at the same time as indulging your love of wine. The reviews associated with this lip scrub are outstanding, with approving comments of the fast shipping.
That stocking filler just got a little easier for some out there!
Customer Reviews





5.0
#5 - Premium Solid Stainless Steel Wine Glasses PLUS Recipe eBook
If you've never drunk wine out of stainless steel before, you should give it a try. There's so much to like about these high quality stemless wine glasses, least of all the shape. I love stemless wine glasses anyway, but being stainless steel just adds that extra zing.
They may not be for everyone, but there are advantages. You'll never have to clean up broken glass again! They can be taken on camping trips and you won't have to worry about being knocked.
Being made from T-304 stainless steel, they have smooth family-safe edges for safety and keep your drink colder for longer is a similar way that Moscow Mule mugs do.. These are also dishwasher safe, so they can be thrown in a full dishwasher with no problems.
There's also an eBook that has been created that will be thrown in as a bonus for Backyard Bum customers.
Again, 4.9-stars is an awesome rating.
Here's some other wine glass shelves you may like.
Customer Reviews





4.9
#6 - Personalized Christmas Gift-Wine Rack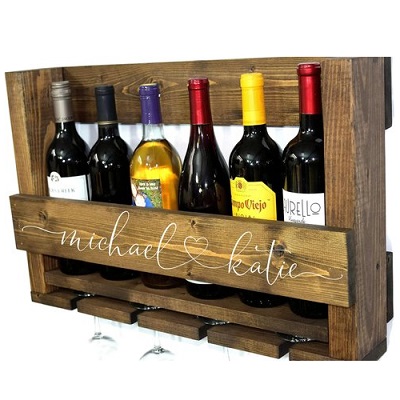 Pro's
? Holds 6 bottles and 4 wine glasses
? Dark Walnut Finish on Knotty Pine Wood
? Personalised with Name/Date/Symbol
? Xmas or Other Written Card Included
Do you know someone that is in need of a wine rack this Christmas? If so, don't just get them any old standard wine rack, check out this personalised wine rack.
Holding up to 6 bottles and 4 wine glasses, these racks are individually hand crafted. Each piece of knotty pine wood has been stained with a beautiful dark walnut finish. This accentuates the natural grain of the timber which you'll really like.
You can choose to have the wood personalised or not. If so, choose from several options as far an name, date or a 'heart' or '&' symbol between the names.
What you'll also appreciate is that as this is for a gift, they will also write a card for you. Just advise them of the wording on the card.
The size of the rack is 23″ Length x 5″ Width x 15″ Height.
This seller has a 5-star rating and offer many other gift types.
Customer Reviews





5.0
#7 - Wall Mounted Wine Rack
Pro's
? Holds 5 Bottles and 6 Glasses
? Heavy Duty Metal Black Finish
? Cork Tray
? Cork Charms
Con's
? Only Holds 5 Bottles
If you're not keen on the previous wine rack, how about this slightly more decorative wine rack.
Unlike the previous wooden rack, this is made from heavy duty metal finished in black. I really like the stylish 'WINE' font on the face of the rack, telling it how it is!
It can hold 4 wine glasses and 5 wine bottles.
One of the unique features, is the cork tray below the bottles. A small opening to the side allows for stocking up this area with your favourite wine corks, possibly form wild celebrations.
I like the added bonus with this product, with the set of 6 cork wine charms that can be attached to each wine glass. Ideal