Best Camping Tents for Families 2021
Disclosure: Links in this post may be to our affiliates; sales through affiliate links may benefit this site. Please help support 'I Know The Barman' by using the links provided.
It won't cost you anything extra.
Introduction
Every year thousands of families take up camping for various reasons. This could be for cheaper vacations or just to get into the outdoors. For those families that are just taking up this sort of adventure, a great tent is required to service all your needs. Depending on your family size, the room compartments are going to vary and internal accessories or facilities will change.
A tent is going to be your most important purchase before heading out camping, so make sure you buy well. Below we've incorporated a buying guide to help you look for particulars in a new family tent.
You won't regret taking up family camping as it's not only a refreshing change, it's also great for meeting new people. You don't really have much choice in this, as some camping sites tend to be close to each other. You may decide to go un-powered which will give you more space, but there's no doubt you'll still get involved with other families at some point. And you'll actually enjoy it.
The best part of camping with your family however, is that your kids will make friends with other kids. This also gives you a chance to have some time to yourself!
Anyway, here's our family camping tent buyers guide.
Family Camping Tent  – Buying Guide
Size & Family Members
How big do you think a family tent should be, for say…4 people? You'd probably think that the tent manufacturers should know, and they'll give you a correct guide. You know like, 4-person tent will comfortably fit… a family of 4.
But this is not exactly what you'll find. A 4-person tent can fit 4 adults side by side so unless you're freezing, and all want to huddle together, you're going to want to up your sizing thoughts to larger preference.
If you look for a tent size that is 2 people larger than what your family actually is, you should end up with the correct sized tent for your family
Ease of use
Assembly can be a major issue for many, especially in years gone past. Although camping tents have come a long way in terms of construction, materials and durability, assembly is the biggest improvement. This has made family camping so much more enjoyable.
There are still varying tent assembly types, and some are easier than others. You'll find that the majority of tents use fibreglass or carbon fibre but it's now possible to get instant assembly tents that are supported by integrated air tubes.
Materials
You probably expect your tent to last well in windy and wet conditions, so make sure the materials integrated into your tent will do the job. Look for waterproofing in your tent and a fly with premium quality materials.
You will pay more for these quality materials but if you don't want your family camping vacation ruined by the elements, it will be worth the cost.
Also look for strong zippers that won't fail on you. Keeping the bugs out of your tent can be crucial in parts of the country so keep the inside secure.
Features/Ventilation
Depending on your needs and requirements, the tent features can enhance your holiday or make it a little more uncomfortable. Especially when it comes to ventilation like mesh pockets and sunroofs.
Yes, I did say sunroofs. I have one and it's brilliant. Unfortunately, I bought this tent for my daughter to share with her friend, so I don't get the benefits from this, but I'm assured it works like a charm!
You may look for pockets in various corners of the tent which are great for storing keys, wallet or other valuables. A lamp holder is also another nice addition that can add to your experience.
Cost
Cost is always going to be an issue, but I'd suggest if you're just starting out, don't go for the cheapest option. It never really pays off and you may decide that you like camping that much, that you'll do it again in the next few years.
If you look at what features and quality you can get for the best price, you will no doubt find a family camping tent suitable for a little more than the cheaper ones.
Layout
Depending on how many family members you may have, this can decide the layout of your tent. The great thing about tents in todays age is that they mostly come with separated rooms, some with extra wings.
So, think about how you will use each room compartment and if you really don't need a tent with such a large layout, don't pay for it. Use your money for better features such as a canopy. Maybe go purchase a new hiking walking stick.
Something to think about is that the more obscure and expansive the tent, the longer it will take you to assemble and take down.
#1 - Outwell Montana 6SATC Air Tent
If you are tired of hunching over every time you walk into your tent, then you may greatly benefit from this Outwell family tent. It has extra headroom than what your normally expect with expansive views to the outdoors.
You'll find this is one of the best family tents on the market which is large enough to accommodate 6 people with 2 bedrooms and 1 living area. You'll love the large panorama front which will let more light flow in from the outdoors.
In addition to this, there's a side porch entry should you want to open to a different angle. You may have your family next door and this entrance could be a great access to each other's tent.
Here's just some of the great features of this beauty:
You will only have to deal with minimal poles, as this tent comes with air-tubes along with a two-way pump and pressure gauge. This is the ultimate way to erect a tent that will take much less time than traditional tent assembly. These air tubes are pre-shaped and interconnected so you won't have any worries with wrong positioning of structures.
If you're using this tent at a powered site (or you're using a generator), you will benefit from the cable entry points positioned throughout the tent for easy access to power. This is such a great idea so there's no need to use open door zips for power leads, also allowing bugs to enter your private spaces.
As you'd expect, the doors are fitted with full mesh to allow for great airflow and keep the nasty bugs out.
You'll really enjoy the large zip-off canopy which will provide you additional shelter or shade, depending on the weather conditions. This canopy can also be rolled back when not in use.
The windows are not only large, they are also tinted which can protect you from too much glare. You won't get people peeking in either, the tinting will keep prying eyes to themselves.
Light levels are cut at night with the special 'Night Sky Ceiling'. This technology will darken your bedrooms to help with sleeping. What a great innovation!
This truly is one of the best top-of-the-range outdoor family camping tents. It's made by Outwell, one of the masters of tent manufacturing.
You'll get free shipping with this tent as it's valued at over $150 US. It's a really well priced premium tent and to get free shipping just makes it more enticing. One of the best.
#2 - Vango Taiga 600XL AirBeam Tent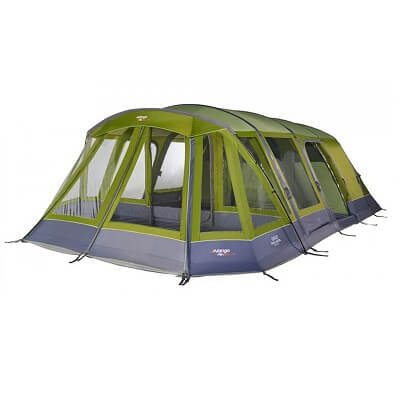 Pro's
Waterproof PE Groundsheet
Flexible Hanging System
Expandable Tent Bag
King-Sized Bedrooms
Looking for a tent that will serve multiple purposes and give you loads of sleeping space? How's this for sleeping room, it has 3 king sized bedrooms, and a large living area to relax in or entertain.
The best feature of this family tent though, is the flexible system they've introduced which allows you to design the inner workings of your tent to your liking.
It's basically a flexible hanging system allowing you to hang various lighting or storage sections to suit your desired setup.
You can also hang their Skyliners, which is a protective sheet used as a second ceiling, which gives you an added benefit. That being the reduction of condensation and adding a thermal barrier in colder weather.
These skylines come with a pre-attached hooking mechanism which is simple to connect. I really like this innovation which is quite unique.
Look at some of the other benefits and features:
Like most of us, you're probably fed up with having to squash your tent back into the casing when it's time to leave. This tent comes with an expandable tent pack with compression straps to squash it down to size once already packed away. Genius!
As with the previous tent, this comes with power cable feeds, but they are higher up giving more flexibility for positioning.
You won't have to worry about strong winds or other adverse conditions. This tent comprises their own tension band system. If you know bad weather is coming, simply get the bands out and brace the pole at 3 points to prevent sideways movement. This is a great idea if you're a winter weather camper.
The darker fabric on the internals of the tent will reduce early morning sunlight so you can get a better lie-in. The kids may wake you though, nobody can help with this!
There's ventilation right throughout this tent which helps to reduce condensation.
With other awesome features such as bedroom pockets, covered entrance, waterproof groundsheet and so much more, this is also in the top group of tents this year.
Jot this one down for future reference.
#3 - Robens Klondike Tipi Tent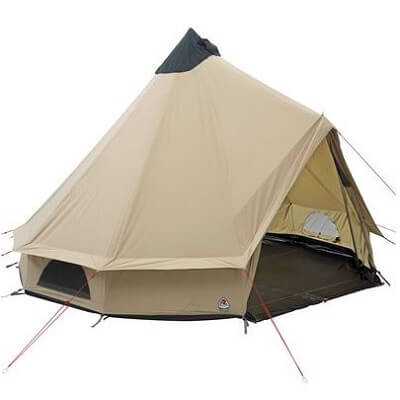 Pro's
Tipi Style Accommodates 6 People
Internal Zipper for Ground Sheet Removal
Apex Ventilation
Huge Front Door
Oh yeah, you've seen them before, haven't you? In similar nature to the premium tents setup you'll find on adventure trails, you can be the stand-out on your next camping tour.
Looking more like the original Tipi tents from past era's, you'll find this is a great sized tent for those families that don't require privacy from each other.
If you're a family with up to 6 members, then this may suit your style. Especially if your children are young, and you need to be near them.
Check out the cool features of this tent:
Don't you just love the large open door at the front that reduces the need for bending every time you need to enter or exit.
You'll notice there's a protective eve that surrounds the tent helping keep you dry from any rain that is on the way. These eaves cover the door also, keeping the opening dry for your entry.
There's an added advantage if you want to cook or make a coffee inside. The strong polyester ground sheet has a zippered rollback section that exposes the ground underneath. This dry ground can be used to place a stove or small heater on.
With a stove or heater, you're going to need ventilation. That's where the new apex vent comes in handy which is neatly integrated into the design. Such a great idea.
This poled tent is a much cheaper option than the previously reviewed tents as it's not as large and doesn't have the separated bedding areas. In my view, it would make a great tent for a couple of teenage daughters going away with families.
What kids don't love their own space.
Conclusion
If you're just starting out as family campers then there's quite a few things you need for camping but a tent is probably the most obvious, and critical. Without a tent you will have no shelter, no private space and no warmth.
There's a number of considerations to make when buying a family tent with the biggest being room or space. Be sure your family will be comfortable and there's enough room for all your family members. Once the kids reach early teenage years, they'll want a space of their own, so a nice 2-4 man tent is ideal for this.
If you'd like to share your favourite with us, please feel free to add to the discussion below.