Best Locking Liquor Cabinet For Security in 2022
Disclosure: Links in this post may be to our affiliates; sales through affiliate links may benefit this site. Please help support 'I Know The Barman' by using the links provided.
It won't cost you anything extra.
Introduction
Many liquor cabinets are open and accessible, often encouraging younger family members or intruders to help themselves to a sample. You certainly don't need your teenagers stealing all your best Chivas Regal!
Wouldn't it be so much easier with a lockable liquor cabinet? Having a safe place to store all your valuable bottles of wine, cocktail beverages and other bar accessories can allow you to rest easy.
It's lovely to have all these bottles on display but closing them away after use is the safest thing. Even wine bottles on a lovely open wine rack has its pitfalls as toddlers can pull them off and drop them on a slate or tiled floor. Sorry, but wine bottles don't bounce! You may keep all your white's in a wine fridge but your reds need to be secure elsewhere.
Smaller wine cabinets don't often have a locking facility, but step up a level and we've found an awesome locking liquor cabinet that would look great in your house. Below is a brief buying guide to show you what to look for.
Liquor Cabinet Buying Guide
So, why buy a liquor cabinet in the first place? Sure, it's so you can entertain your guests with convenience to your beverages but it's also to show off your prized bottles in style. So you may want to choose between a modern or antique style.
A very popular style of liquor cabinet or bar is your old trusty Antique style. There's a big difference between antique and old, you want antique. Don't worry, by using reputable websites like Etsy & Amazon, there is a filter for New or Used items.
Antique furniture should be made to look about 100 years old. Styles earlier than this can be labelled Retro or Vintage, but when talking bar furniture, antique is what you are after, and skilled craftsmen can achieve this look beautifully. Just make sure it matches the surrounds of your desired room.
You may have a room where all the wood is of a particular type, such as mahogany. If this is the case, you would be best to look for something that either matches exactly, or is very similar in color.
Alternatively, you could build yourself an underground bunker and use it as a cellar, but that may be a step too far.
Another thing to take into consideration is the size of your home and specifically, the room set aside for this liquor cabinet. Cabinets range in many sizes so, be sure to measure your allocated space first before searching for your ideal liquor cabinet. You really don't want to make enquiries or get to the checkout stage after having your heart set on a lovely piece, only to find it doesn't fit. That would be a real downer!
Now budget is always going to be a consideration when it comes to purchasing a liquor cabinet. I may have some bad news for you here if you are looking at getting a bar for $300-500. This article is about the BEST locking liquor cabinet 2018, not the cheapest. The lowest price ones are NOT the best. So, start thinking a little more if you want class and quality.
I've also mentioned lockable, and all the following liquor cabinets can be locked and secured. This is not a requirement for many people but if you have thousands of dollars' worth of expensive liquor, you may well need it hidden away and under lock and key.
#1 - Devino Wine and Bar Console
Customer Reviews





4.5
Pro's
Locking for Securing
Americana Cherry finish
Bottle opener & catcher
Granite work surface
Removable ice sink
When guests come around to enjoy an evening with you, they will admire greatly, your antique styled Devino bar console. The classic touches this liquor cabinet features really come to prominence.
The raised panel drawers & doors with antique brass door pulls feature well with the chosen timber. Finished in Americana Cherry, this can blend in with many darker timber trims you may have in your desired room. Keep in mind that Americana Cherry is a darker cherry and can look closer to Walnut.
How's this for a few of the internal features. It comes with a fixed bottle opener with a catch basket. So handy when you need to rip the top off a beer. The inside of the cabinet's centre doors encompass a towel rail attached for cleaning convenience. And how about this. The top surface slides away to reveal a granite work surface and even a removable ice sink. No need to take your bottles and ingredients to kitchen for mixing any more.
You'll love the side cabinets, each come with a stemware rack for hanging wine glasses, and an adjustable wooden shelf that can be set to your desired position. Perfect for your wine accessories.
The middle 2 drawers are for storing your wine bottles, each draw allowing for 14 bottles. The drawers are on smooth metal running slides so there won't be any banging or knocking when pulling them out.
The corners of then liquor cabinet each have an adjustable leveller for uneven surfaces or carpeted areas.
Now as mentioned in the title of this article, there is a lock on the cabinet for added security and protection. Keep those prying eyes out when you're not around.
Noticeable features include:
Locking facility
28 wine bottle storage
Internal bottle opener & catcher
Americana Cherry finish
Levelling corners
You can view the customer reviews for this liquor cabinet and what they've said about it by clicking the 'Check it Out' button. It can't be all that bad with a rating of 4.5 out of 5.
If you need to know all dimensions for this liquor cabinet, they can also be accessed on the main product page through the link.
As far as assembly goes, it comes fully constructed apart from the shelves, you can add these manually.
Note: Some customers have had delivery concerns but nothing too major.
#2 - Rogue Valley Wine & Bar Cabinet
Customer Reviews





4.9
Pro's
Power outlets built-in
Storage rack for 22 bottles
Smart light
Extra surface space within drawers
Con's
Delivery can be careless.
Now we're talking! Probably the most expensive locking liquor cabinet we've reviewed here but if customer satisfaction is anything to go buy, worth every cent.
You will have plenty of room to store all you favourite beverages, as this unit is 73 inches (185cm) tall and with the cabinet doors open you'll require 80 inches (203cm). This is the A380 of liquor cabinets and can accommodate wine bottles, spirits, glasses and accessories.
The cabinet panels are featured heavily with rustic hardwood artistic dressing and have random wood-planked door panels with wonderful large pull rings as handles. Once you open the doors (with 180 degree hinges) you will be surprised to find an auto smart-light which turns 'ON' when the door is opened and 'OFF' when closed. Very smart!
There's plenty of room for wine bottles with a generous 22 bottle storage rack towards the base of the unit. A shelf on top of this rack is convenient for storing such items like cocktail utensils.
You'll love looking at yourself it the glass mirrored back in the upper part of the liquor cabinet! A wooden stemware rack for your wine glasses is at a convenient position here along with an added fixed shelf for tumblers or other glasses.
Can you believe they've even added a 3x power strip outlet for operating small appliances! Yep, located on the small center shelf.
You'll benefit from ample storage space in the two pull out drawers which can hold utensils such as wine pourers, measurers, beer holders etc. You will even find the drawers provide extra surface area via lift up shelves within them. Nice bonus.
Spirits can all be kept neatly away in shelves supplied on the inside of the front cabinet doors. There's a place for everything.
Extra features you'd expect
3 x Power outlets
Mirrored back
22 bottle storage rack
Smart light
Drawers with extra surface space
Lockable cabinets
You will also expect to lock all this away when not in use and that's exactly why it's reviewed here. A peace of mind lock and key is provided for your beverage security.
Awesome customer reviews with a rating of 4.9 out of 5. This is from 19 happy customers. View these reviews and more about the locking liquor cabinet by clicking 'Check it Out'. The only negative reviews were for the delivery guys being less careful than they should and the internal light bulb came broken in one. I'd mention about the delivery when purchasing, they may change their courier service for you.
#3 - Lodi Display Cabinet
Customer Reviews





5.0
Pro's
Portable on castors
Antique finishing
Large expanding top bar
Con's
Castors do not work well on carpet
Looking similar in color to the Devino Wine & Bar Console with an Americana Cherry finish, you'll be thrilled with this cheaper version that can hold a lot more than it looks. Distinctive antique brass knobs with back plates complement the timber doors.
It's more portable due to it's size which is a huge benefit. Often, we like to move furniture around for a different look, so this liquor cabinet is more convenient from that point of view. Not that you can see it, but it also comes with castors. However, note that one of the reviews mention that the castors do not roll very well, especially on carpet.
From an outside perspective, you'll really like the decorative raised panels on the back and front of the cabinet. The front also coming with lock & key to securely hide all your expensive goodies.
However, when you open it up this cabinet really comes to life. With the cabinet doors opening 180 degrees, you will see that it becomes a long bar with the top opening up, sliding left and expanding to 77 inches. This is so imaginative as you've now increased your entertaining space by double.
You'll find an accessory drawer on smooth metal runners which can be used for all your wine and cocktail utensils. Two adjustable stemware racks which can cater for up to 18 large wine glasses are built-in and can also be used as a shelf for other items.
The dimensions of this locking liquor cabinet are more to peoples liking and will fit in most homes. You'll be looking at a height of 43 inches (109cm) and a width of 38.5 inches (98cm).
Cool features included are:
Opening expanding bar top
Holds up to 20 wine bottles
Utensil drawer
Antique brass finishes
Portable
If you're after that classy piece of furniture that won't break the bank, this could be the liquor cabinet you've been searching for. It has a wonderful rating of 5 stars from 6 reviews as of writing. That's an extremely good indication of the approval assessment.
White glove delivery service is excellent according to all customers. You'll be proud to show off this one. You really need to see images of the inside. Click on the 'Check it Out' button to see them.
#4 - Ashley Heights Home Bar Wine Cabinet
Customer Reviews





5.0
Pro's
Lockable cabinet
Wonderful illumination
Mirrored backing
Another extremely sleek liquor cabinet with a 'cherry' finish, this is a lovely size at 45 inches (109 cm) and opens up to display your collection of beverages.
You'll notice the stemware hangers front and square to hang multiple wine glasses. You'll love the look of this as the height of the glasses rack resemble a traditional bar.
There's a wine rack at the bottom of the cabinet which can hold up to 14 bottles. Personally, I'd prefer a liquor cabinet that holds more than this.
There's plenty of space for your spirit bottles and other bar equipment. 2 drawers can house your cocktail utensils or stubbie holders. There's a number of shelves and the inside of the doors can store loads of bottles such as spirits.
A lovely touch is the internal lighting that can be turned on in the evening to make the display accentuated.
The image shows ornaments on top of the cabinet. The picture is misleading as the cabinet does not have a top base so nothing can be stored on top. However, what else is misleading in the picture, is the back. There's actually a mirror, that's not the wall you can see.
Great features include:
Illumination lighting
Locking facility
Great storing options
Cherry finish
The cabinet comes lockable to add security which is a must when you own expensive beverages. This liquor cabinet comes with a great rating of 5/5 from the 3 customers that have bought it.
For me, I'd prefer a liquor cabinet with more wine storage, but this is a great quality and stylish piece of furniture.
If You're Enjoying These Liquor Cabinets, You'll Love These Fire Pits!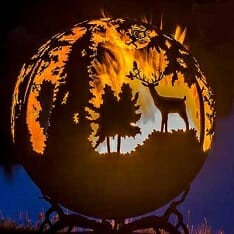 Click 'here' or on the fire pit image to check out the full range.
#5 - Barrow Wine and Bar Storage Console
Customer Reviews





5.0
Pro's
Rustic hardwood finish
Cart wheels
Lockable storage
Bronze metal top
Con's
No lip on bar top
No wheel locking
Now when it comes to choosing the right style of liquor cabinet for your home, please take into consideration future movements. This next cabinet is an absolute beauty, in the right environment!
If this is your style then you'll love what it has to offer. Being fairly dark in appearance, this is due to the rustic hardwood finish. The top of the bar is what sets this cabinet apart from all others. It features a metal top finished in a distressed but polished presentation. Along with the metal corner guards, it's all given a vintage look from the antique bronze finishing. Very authentic and classic.
Okay, there is another object that sets this apart also. Have you guessed it yet? Yep the cart wheels which are not everyone's taste but could certainly be yours. You'll also notice the handles on the side of the liquor cart which make this cabinet so easy to manoeuvre to a different location. For me, this is the ideal liquor cabinet for a man cave or barn.
With many of the features that the other cabinets have such as a stemware rack for up to 8 wine glasses and a convenient open storage area for additional essentials.
There's 2 full extension drawers that you will find slides very smoothly on metal rails. They also include removable wine bottle holder trays which you will find very versatile for storing utensils or up to 12 extra wine bottles.
Cool features:
Bronze metal top & corners
Antique cart wheels
Rustic hardwood finish
Lockable storage
Lock all your liquor away so nobody can get to it.
The only downsides I can see to this amazing piece of furniture, is that the bronze metal top does not have a lip so items may be able to slip off if knocked. Also the wheels cannot be locked in place so you need to have a flat surface.
Otherwise, a lovely piece of work.
#6 - Merlot Valley Wine & Bar Console
Customer Reviews





5.0
Pro's
Black granite top
Lockable curved glass door
Distressed vintage finish
Con's
Minimal storage if large collection
Don't have a huge house, man-cave or
entertainment cellar
to accommodate a larger liquor cabinet? Not to worry, you can still get a great locking liquor cabinet with as much character and quality, just on a smaller scale.
In fact, some smaller liquor cabinets such as this half moon shaped gem, can be more to your liking, even if you do have space for a pony!
You actually get a two-tone cabinet here with the main doors and panels displaying a distressed Vintage Umber finish whilst the posts that hold the cabinet together, have a Worn Black finish. I love the distressed vintage look and that's what you'll get here.
One of the lovely characteristics of this petite piece is the polished black granite top, ideal for serving beverages or tasty foods. The top is also removable which is a huge benefit to you when it comes to cleaning.
There's two smaller side cabinets that each have a fixed shelf. The front door is a work of art encompassing a curved sheet of glass. You may be able to see in, but unless you smash the glass, you cannot open the lockable cabinet door.
What I really like about this little cabinet is the use of space. The main front area has a wine rack that can accommodate up to 18 bottles of wine. Above the wine rack is the stemware rack for up to 12 wine glasses.
Store your cocktail and wine accessories in the curved center drawer. This drawer features dovetail construction and glides along metal roller guides. Simply lovely.
Nice features include:
18 bottle wine rack
Lockable front door
Removeable granite top
If you have an uneven surface, then the adjustable levellers under each corner will stabilise the cabinet.
The only downside to this liquor cabinet is the minimal storage space, but that's being picky because it is a smaller type of cabinet.
Being a fairly new liquor cabinet, it only has 1 review, which you will love to read. View it by clicking 'Check it Out'.
#7 - Brunello Wine and Bar Storage Cabinet
Customer Reviews





5.0
Pro's
Portable on castors
Antique black finishing
Large expanding top bar
Con's
Castors do not work well on carpet
You will observe that this liquor cabinet has similar traits to the 'Lodi Display Cabinet' in that the top bar folds out to make an extended serving area, perfect for displaying your
whiskey decanter
. Slightly more expensive in cost, it is almost an exact replica of the 'Lodi'.
The main differences being color and exterior design. The Brunello Cabinet is finished in Antique black with Red undertones giving it a very distressed authentic feel. It's a fair bit darker that the 'Lodi' so if buying the liquor cabinet, make sure it will complement your existing furniture.
You will also notice that the front door panels are very unusual in that it looks like many small pull out drawers, when in fact they are 2 large doors that open to display your beverage variety.
I won't go into all the features that this liquor cabinet has, as they are the same as the 'Lodi' above. I'll just reinforce that this is a locking liquor cabinet, so all will be kept safe when locked.
If deciding between the two cabinets, it all comes down to personal taste. To be honest, I'd have a hard time choosing. In the end I think you need to look at your surrounding furniture and see which would suit better.
#8 - Shiraz Wine & Bar Console
Customer Reviews





5.0
Pro's
Revolving cabinet door
3 x Drawers
Indian summer finish
Lockable cabinet
I've saved a special liquor cabinet for second last, which has a special integrated feature that I think you'll love. I'd really like you to click on the image of this bar. You can then see the inside of this liquor cabinet showing you the unique center door feature. It's a revolving door that shows off your display of spirits or wines.
When open and spun around, two half-moon fixed shelves appear that are perfect for storing your glasses on top and bottles below. It's an unusual idea and looks great.
Apart from this, you get three upper drawers for storing all kinds of wine accessories, bar cloths or cocktail utensils.
You will appreciate the generous room offered inside the front door panels, great for storing your spirit bottles.
The rub on this cabinet is much lighter than most other liquor cabinets reviewed here, as it's finished in Indian Summer. In my view, this tone will complement almost any room.
Special features include:
Revolving cabinet door
Great storage
3 x Drawers
Indian summer finish
It also comes lockable and has adjustable levellers to stabilize the cabinet if on uneven surfacing.
At the time of reviewing, there's been 4 customer reviews giving a 5-star rating.
One thing that may be of concern it the lack of a wine rack.
#9 - Custom Hideaway Liquor Cabinet/Mini Bar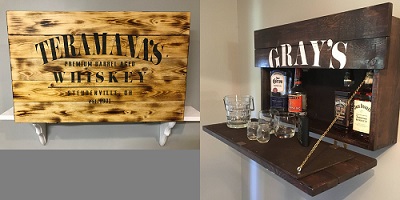 Customer Reviews





5.0
Pro's
Large Range of Colors
Personalization
Ideal size for Apartments
Locking mechanism
You're going to really appreciate this rustic looking wall bar that I believe, would be ideal for any apartment or smallish house. Perfectly suited to holding 5-6 spirit bottles, it also doubles as a table for preparation.
With strong hinges and chain to keep the opening from moving where it shouldn't, the opening flap becomes a sturdy platform on which to create your drinks.
I really like that there are 12 colors and stains to choose from, making it suitable for multiple tastes.
You'll have the ability to add personalised information on the front, including name, year established or location.
This is also a handmade item, giving class to a very nice liquor cabinet. The locking mechanism makes this ideal for keeping valuable liquor bottle safe.
Conclusion
At the end of the day, you want to check the size and space available in your room before looking at any liquor cabinet. Once you know your limitations it comes down to internal storage design and the look of the cabinet itself. Do you require a dark cabinet to match existing features or should you go lighter? These are questions only you can answer.
They all serve a similar purpose, but I would like to share my favourite. For me the 'Brunello Wine and Bar Storage Cabinet' stands out for the organized storage and classic look. If you adjust the reversible shelves correctly it's possible to store up to 20 bottles of wine.
So, there you have it. The choice is entirely yours, choose well.
If you'd like to share your favorite with us, please feel free to add to the discussion below.