Intro.
There's ice buckets, and there's high end ice buckets. Specific events require special treatment, and for those on the lookout for a unique gift, the right ice bucket may be the perfect solution.
You're not just after any old ice bucket, you need a product that speaks volumes and turns heads. So I've listed a selection of the best high end ice buckets I've sourced for this year.
---
1) Classic Monogram Black Personalized Insulated Ice Bucket from HWB
When a unique experience is required when chilling your favorite tipple, a personalized, insulated ice bucket will do the trick. Ideal for cooling your beer or wine, it can also be used specifically as an ice storage container when adding ice to cocktails.
You can choose the monogram that you desire making it an ideal personalized gift. The ice bucket measures 7 ¾" x 7 ¾" and can hold up to 3 quarts.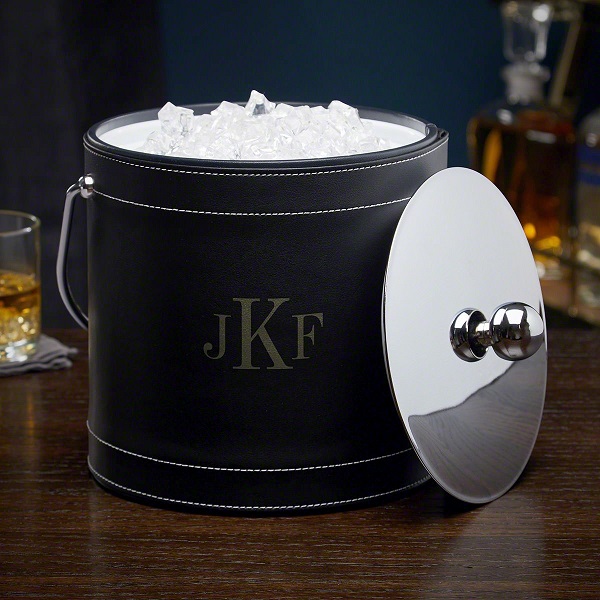 Includes
Double walled insulation to keep ice frozen longer

Classic monogram of your choosing

Ice bucket measures 7 ¾" x 7 ¾", holds 3 quarts

Ideal gift idea
We found this over at Home Wet Bar here.
---
2) Personalized Engraved Stainless Steel Wine Bucket
Looking to make a statement! Let the world know the occasion with a stylish stainless steel engraved Ice Bucket. As you can see in the attached image, you can fit several lines of engraving on the side of the bucket. Six lines of up to 25 characters to be precise.
At 18cm in diameter and 20cm high, it's ideal for holding a bottle of bubbly or vino. I really like this classic ice bucket, especially the side handles which make it easy to maneuver.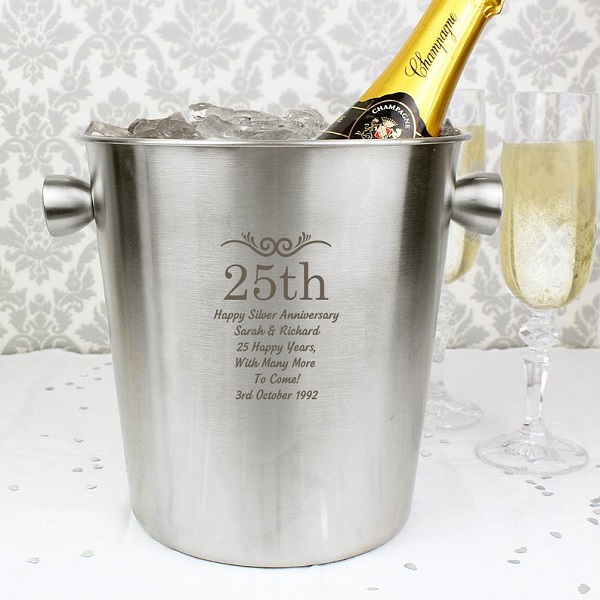 We found this over at Etsy here.
---
3) 100% Personalized Handmade Rigged Copper Ice Bucket
What a stylish and contrasting ice bucket. The copper color perfectly contrasts with gold hinged handles. Made by Turkish copper artisans and 100% handcrafted, this copper ice bucket will please just about anyone.
You can choose to have this ice bucket engraved or not, totally up to you.
An instruction manual comes accompanying this ice bucket which explains the care and usage.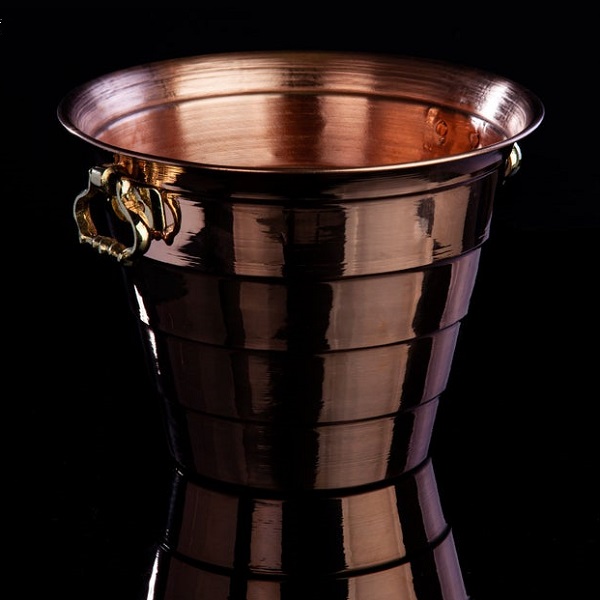 We found this over at Etsy here.
---
4) 100% Personalized Handmade Shaped Copper Ice Bucket
An unusually shaped ice bucket with copper overtones, yet a silver internal lining. You'll notice the handles are carved from within the copper sheet, rather than attached.
Like the previous ice bucket, it's 100% handcrafted by Turkish copper artisans.
These ice buckets can be engraved with your own personalized message or a specific logo. The cost will vary depending on your choice.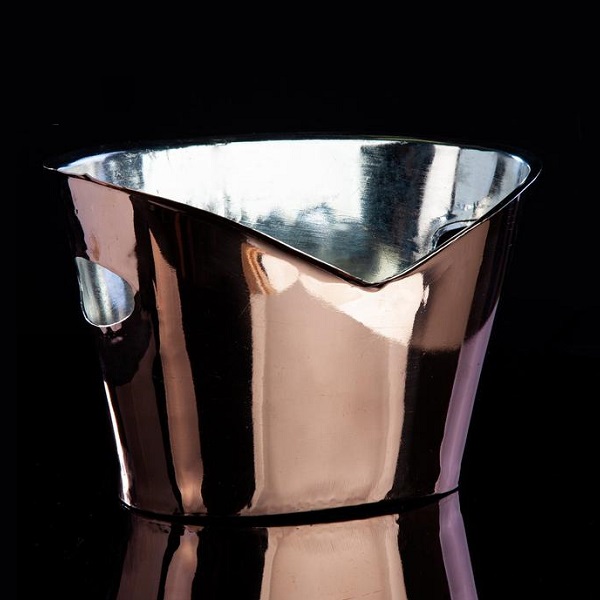 We found this over at Etsy here.
---
5) Custom Personalized Wine Ice Bucket
Personalized items are always nice to receive as a gift, and this is no different when receiving a lovely ice bucket. So why not buy this for those that have helped your engagement, wedding or other event.
Made from stainless steel, it's functional enough to chill your favorite beverage.
The size is noted at 8 quart, which is ideal for storage of a typical wine or champagne bottle. It features nicely knob handles and an extremely wonderful customized message.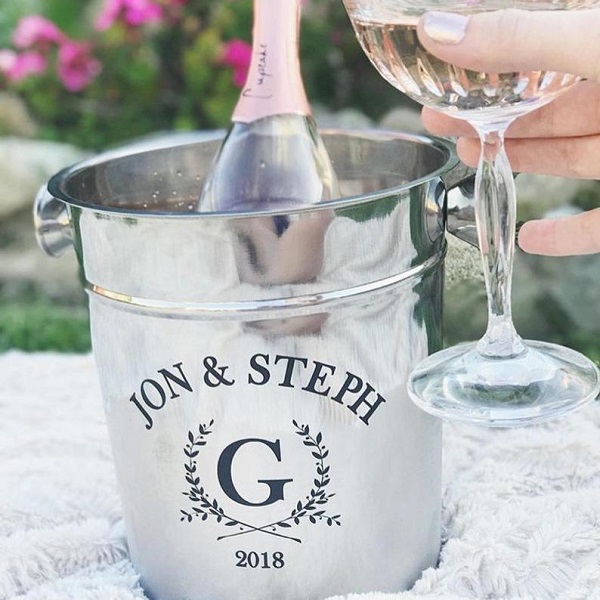 We found this over at Etsy here.
---
6) 3x Personalized Wine Chiller
How about this cool little number. With room for 3 decent sized bottles, this stylish elongated ice bucket will surely impress.
You'll have the opportunity to personalize your ice bucket with a monogram, funny quote, family name or other meaningful quote. You can even add a chalkboard back to write your own personal message. There's several fonts to choose from to make it more unique from others.
At 13.5 inches long and 7.5 inches deep, it's a tidy size to display just about anywhere.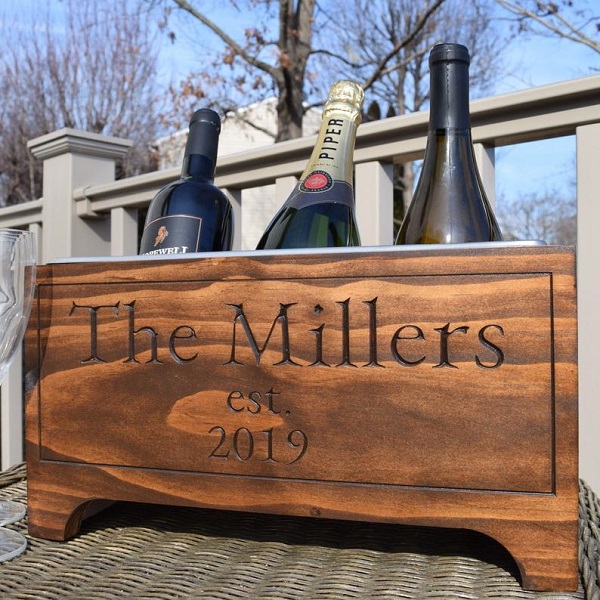 We found this over at Etsy here.
---
7) Personalized Galvanized Metal Beer/Wine Ice Bucket
Maybe you're looking for a reliable and sustainable ice bucket that is rust resistant and leak proof. That is what this product claims, which is great because it looks like it belongs at outdoor parties.
I love the look of this galvanized long ice bucket which can obviously hold more than the other ice buckets you've seen here. It's more like an ice basket.
It comes in 3 colors, those being black, copper or stainless steel. The written font can be a choice of black, rose gold, gold or silver.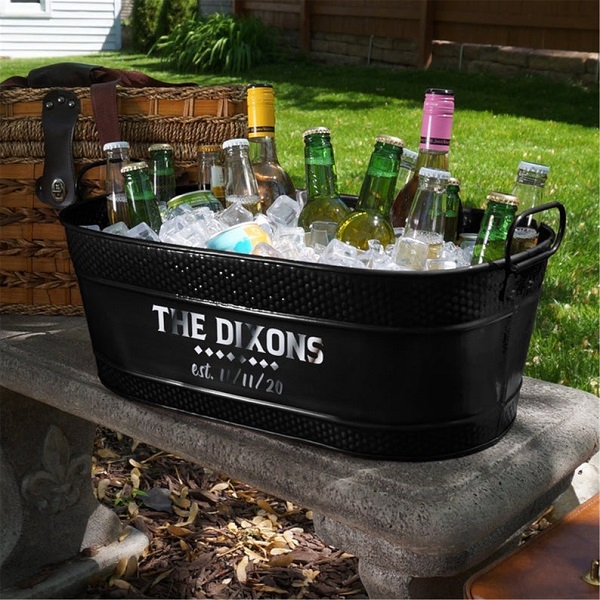 We found it here at Etsy.
---
8) Premium Acrylic Ice Bucket
Well this is different. A uniquely styled black or clear premium acrylic ice bucket. A unique gondola shape with carrying handles on both sides, you'll find this is a high end ice bucket with class.
You'll have the option for a logo printed on the front of the ice bucket, which is really nice if you own an establishment.
The size is approximately 8″ x 10.5″ x 7.8″ and the imprint area is (approx.): 2.5″ W x 2.5″ H.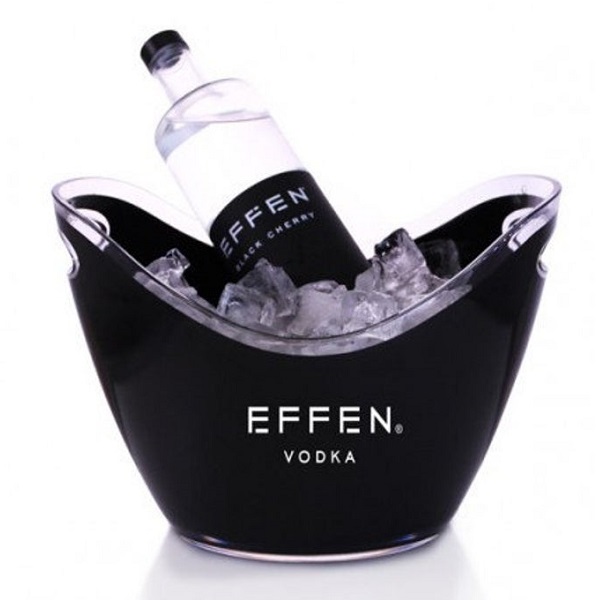 We found it at Etsy here.
---
9) BREKX Old Tavern Copper Ice Bucket
If you're after quantity of quality then maybe this collection of 3 copper-finished ice buckets will be perfect. Perhaps you want to entertain for a party and need the added space.
These copper ice buckets are rust-resistant, leak-proof and hold up to 3–4 lbs. of ice comfortably. They're made of strong metal so there's no chance of distortion.
Although the sales page suggest you can use these as planters or for storing blankets, I'd suggest use them for what they are designed for. Keeping your beverages icy cold!
We found this at
Amazon here.
---
#10 Crafthouse Stainless Steel Ice Bucket with Handle
Some may say it looks ancient, but everything old becomes new again, right!. This stainless steel ice bucket is quite unique in that it's oval in shape, and has a double wall thickness. It also has a lift out inner bottom drain tray which keeps the ice from the water melt.
The size is great because it can hold up to 6 small beer bottles or a couple of wine bottles. The actual size is 12 x 5.25″, and comes with a handy lid that can be clipped to the ice bucket.
As an optional extra, you can also get the ice scoop. Nice design and a unique difference in style.
We found this at
Amazon here.
---