Disclosure: Links in this post may be to our affiliates; sales through affiliate links may benefit this site. Please help support 'I Know The Barman' by using the links provided.
It won't cost you anything extra.
Funny Clean Memes – Introduction
Your man cave is your men's hibernation and entertainment world, it consumes you and your mates for hours upon hours and gives so much pleasure that you can just forget the outside world. However, if your man cave is bland and has no lusciousness to speak of, you'll find your mates shifting allegiances to your neighbor.
So, fitting out your room with awesome man cave furniture, sports memorabilia and cool funny signage will keep them returning for more laughs and sports watching. So, with this in mind, we've compiled a list of funny clean memes (clean just in case the kids come in!) that will amuse the shallowest of people. When finding these cool clean memes, we took dirty to mean crude, rude or offensive.
We don't believe these funny clean memes will offend but will put smiles on most faces. Have a browse and a giggle and click on the image if you intend getting more specifications or pricing.
#1 - Stop Drinking! Funny Man Cave Sign
Customer Reviews





4.9
Pro's
? Hilariously funny sign
? Made from all-weather metal
? Fast shipping
Con's
? Doesn't ship to all countries
You'll get loads of laughs with hilarious man-cave sign which reads "I Told Myself That I Should Stop DRINKING But I'm Not About To Listen To A DRUNK That Talks To Himself".
No matter what theme your man-can or pool room is, this type of sign is going to improve the lightheartedness and buoyancy, and show your humorous side.
The sign will last extremely well as its made from all-weather metal and would look perfect above your liquor cabinet or home bar. It measures 8" x 12" and you'll find that shipping is fast according to all the customers reviews.
The sign is made in the USA, and unfortunately only ships to a small number of locations internationally.
Great features include:
All-weather metal sign
8" x 12"
Hilarious slogan
Fast shipping
17 happy customers have rated this 4.9-stars proving a huge hit. Any guests of yours that set eyes on your funny drinking meme will appreciate the humor and laugh their socks off. This is the type signage that makes a man-cave shine.
#2 - Open Door Policy Bar Sign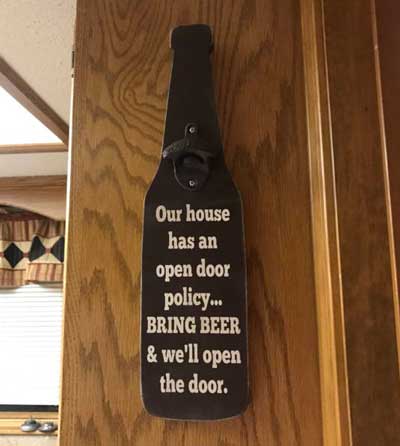 Customer Reviews





4.5
Pro's
? Hand made sign
? Bottle opener attached
? Custom wording
Con's
? No returns for custom or personalised orders
How's this for a funny beer sign, it even includes a bottle opener to boot! I must admit, I didn't notice it in the image at first but above the writing is a very useful tool to remove your bottle top. What better addition could you ask for on such an appropriate sign.
You'll love the wording on this sign stating "Our house has an open door policy…..BRING BEER and we'll open the door". Very amusing and you'll give a nice hint to your visitors.
Another aspect about this sign is that you can have it personalized. In-fact you can have it custom made to suit your own wording and even colors.
A beer bottle opener sign like this is an awesome gift idea for birthdays, Xmas or any other occasion. Do you know someone that is having a man-cave opening party? How well will this sign go down as a moving in present! Have the writing custom made to suit the occasion.
Great features include:
Bottle shaped design
Bottle opener fitted
Custom wording
Hand made
You can even have a gift message made to send with this if it's a gift. I really like this, it's a nice touch.
The company that makes these memes also have a wide range of other products that can also be custom made. Click on the 'Check it Out' button to view this item and more of their products and specifications. You'll also receive fast shipping and they accept returns and exchanges.
#3 - No Working During Drinking Hours Funny Sign
Customer Reviews





4.7
Pro's
? Retro vintage sign
? Pre-drilled holes for hanging
? 20cm x 30cm metal sign
Con's
? Not always available
Oh yes, I really like this one! Suggesting you've had enough of work and cannot possibly work during your drinking hours, it would fit the bill in so many households. Perfect for your man-cave and would be ideal above your bar.
Made to look from a retro vintage era, the quality is exceptional. Although it may look old in appearance, the signs are washed with water transfer printing technology to give the old character feel. The signs are made from metal and come with 2 pre-drilled holes making it easier for you to hang. It is a great size at 20cm x 30cm (7.87" X 11.8").
Your sign will come secured in a poly bag (polyethylene bag) and look exactly like the image shown. These are a very popular sign and unfortunately, they are not always available. You'll know if they are in stock by clicking on the image and searching directly below the title of the product.
If they are available and you like the look of this sign, you probably want to investigate one immediately before they run out again. For some reason, they just sell so well.
Great features include:
Metal sign
Size 20cm x 30cm
Retro vintage look
Pre-drilled hanging holes
Rating 4.7-stars from 15 customers on Amazon, this is one awesome sign that would go in your garage, man-cave or pool room. Check out the customer reviews, they love it.
#4 - Hangover-Memories Bar Sign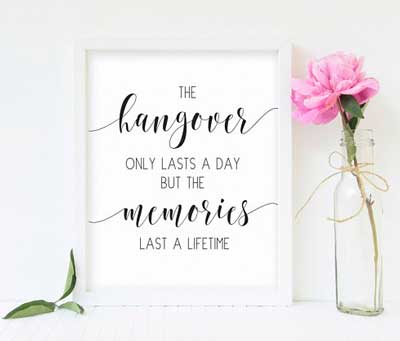 Customer Reviews





5.0
Pro's
? 4 Sizes available
? PDF download
? Suitable for many materials
Here's an unusual form of signage for you. Instead of purchasing the whole sign, you are only purchasing the PDF file. This is why it's relatively cheap, you buy the files and download them to print yourself.
You'll be given 4 different size PDF's to download so you can choose the correct size that meets your needs. The sizes are as follows:
5″x7″
8″x10″
8.5″x11″
11″x14″
Once downloaded and you've selected the size you need, either print it yourself of have a professional printing organization print it on your selected material. A canvas print always looks classy, but you may choose to have it printed on tin or timber as a sign for your man-cave. Okay, not a garage or grungy man-cave, more a stylish gentleman's room!
The funny slogan is a classic that states "The hangover lasts a day but the memories last a lifetime". If you click on the image you will see that this is promoted as a wedding gift, but we thought it would make a great man-cave sign.
The company that makes these have a number of slogans that you may appreciate, which you can view once taken to Etsy via clicking on the accompanying link.
Great features include:
PDF download
4 Sizes available
Suitable for many surfaces
It's a more unique way of having a sign made but it also gives you more flexibility than just purchasing a sign directly on a particular material.
#5 - Weekend Funny Tin Bar Sign
Customer Reviews





4.7
Pro's
? Bright vivid colors
? 20cm x 30cm metal sign
? Pre-drilled hanging holes
Con's
? Does not ship to all countries
Don't we all!
Another sign that could be so appropriate in so many households. I have one in my man-cave and pray to it every Saturday night, wishing for that extra day that is made for hangovers! I hate wasting Sundays with a hangover.
You'll get loads of giggles from this well-made metal sign that measures 20cm x 30cm (7.87 X 11.8 inch). A great size for a bar, pool room or garage. Similar to a previous sign we've reviewed, it comes with pre-drilled holes to help you hang the sign. Ideally, you'll screw it to a wall, this way it will not go anywhere.
You'll notice the bright vivid colors, I must say, I'm not sure if I like the vividness or not. It may brighten up a darker man-cave, but it looks like it would suit the old fluorescent says. Still, it can certainly be read very easily.
The sign comes in a poly bag keeping it nice and secure.
Great features include:
20cm x 30cm
Vivid colors
Strong metal sign
Pre-drilled holes for hanging
It's been noted that the service and shipping has been very fast and over 10 customers have given this a 4.7-star rating. Damn funny sign!
#6 - If I Agreed Funny Bar Sign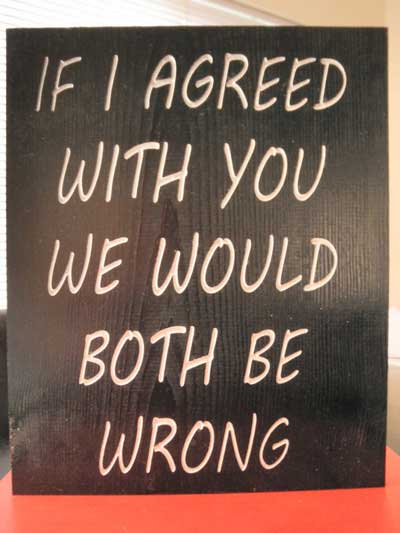 Customer Reviews





5.0
Pro's
? Custom signs available
? Timber pine
? Sawtooth Hanger attached
Con's
? International shipping can be expensive
Why is it that when I see this sign, I think of my wife! I'm sure she thinks the same of me! With a witty saying of "If I Agreed With You, We'd Both Be Wrong", it will make any guest smile.
You'll really appreciate that this is a lovely piece of artwork which is handmade on timber pine. Your message (which can be custom made) will be sealed and the background of the timber offers a choice of colors. 10 colors in-fact, making your new sign exactly how you'd like it to suit your desired room.
Your new sign needs to be hung on a wall, so a sawtooth hanging clip is attached to the back to make hanging easier.
With many other designs and templates available, you may find many of these designs are right up your street. Just bring your sense of humor with you and you'll pick up a ripper.
Great features include:
Timber pine sign
Hilarious signage
Sawtooth hanger attachment
Customs signs available
You'll appreciate this sign is good clean fun and would suit not only a man-cave, but any leisure room that you use for entertaining. Check out the reviews and other specifications by clicking on the image.
#7 - 24 Hours Beer Funny Tin Sign
Customer Reviews





5.0
Pro's
? Strong metal sign
? Lovely design
? Pre-drilled holes for hanging
Con's
? Don't ship to all countries
From the same suppliers as the above (Saturday Sunday) funny clean meme, the rustic look of this metal sign of similar size makes it ideal for a man-cave. Can you imagine this sign sitting above your home bar gathering eyeballs from any guests as they enter?
The amusing slogan suggesting that 24 beers in a case, is a coincidence that there's 24 hours in a day. If you we're to follow up with this coincidence, you probably wouldn't wake up for days! Although I bet there would be one of your mates willing to test the theory. There's always one!
Again, it's a strong metal sign with pre-drilled holes made with 20cm x 30cm dimensions.
Perfect when you can't think of any other gift ideas for a man-cave, pool room or home bar.
Great features include:
20cm x 30cm
Vivid colors
Strong metal sign
Pre-drilled holes for hanging
It's easy to see why these signs make a great gift for a friend or family member as they are will priced and well made. There haven't been too many reviews of this sign but you can check them out by clicking on the 'Check it Out' button.
#8 - 100% Chance of Wine Bar Sign
If it's a more authentic and homely sign you're looking for then this may just be the ticket. Whether you're a gent that prefers his wine, a lady with a penchant for a vino tipple or just love the timber craftsmanship, this is to be appreciated.
You'll pay a little extra for this sign as it's hand made from traditional timber with an approximate size of 11″x14″. The size is approximate because each piece is unique, and it depends on the timber used. Sometimes the timber comes with knots or holes in the wood. This is an aspect that I absolutely love about these signs. You know that it will not be the same as any other.
As this is a very personal item, the manufacturer is happy to work with you to get it to your liking. If you'd prefer the timber has no variations such as knots, simply mention this and they will take your preference into consideration.
How great is the sign itself, I know in my house there's always a 100% chance of wine! Check out our wine glass sayings article to find the perfect matching glass for this sign. If you'd prefer a different slogan or different size timber, contact the makers (by clicking on the attached image) and they'll make a sign specially for you. Awesome.
Great features include:
Authentic timber used
Hand painted cream white writing
Variations such as knots left as intended
11" x 14" in size
You'll love this really nice piece of signage furniture which can be placed in a number of rooms, not just a man-cave or bar. For more specifications, reviews and contact info, click on the "Check it Out" button.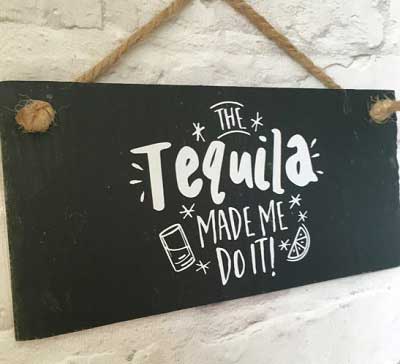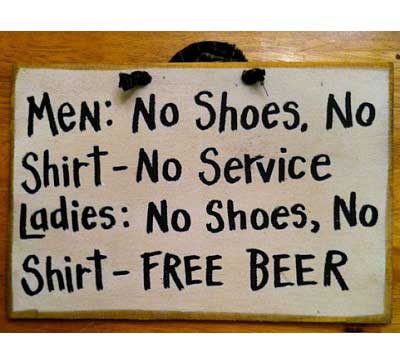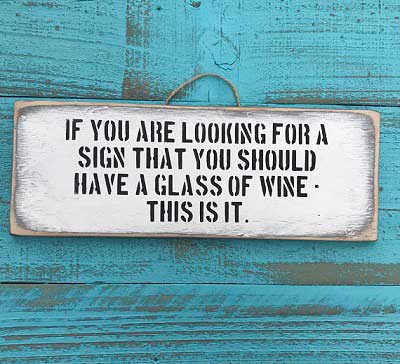 Conclusion
Adding humor to your man-cave or home bar shows your guests that it's a place to relax. You want you friends or neighbours to feel comfortable in you special place and witty amusing signs is one way to show it.
If you'd like to share your favorite with us, please feel free to add to the discussion below.