Best Scotch Decanter 2021 - Classic, Full of Character and Practical
Introduction
Below you'll find out best scotch decanter catalogue but first a small introduction. There's nothing quite like a lovely glass of Scotch Whiskey to sip on in the wee hours. And it's even finer if it's been poured from a quality decanter that looks vintage classic above your liquor cabinet. Unlike wine that gets aerated in a decanter, Scotch does not change when discharged into your liquor vessel. As the experts say, Whiskey is a finished product!
You see wine is different, it has sediment that has been sitting at the base of the bottle for a period of time. Sometimes for many years. So, by transferring it to an alternate container, you leave the sediment behind. This also allows the wine to breathe as you've released the aromas that have been bottled up inside. Your red wine will always taste better once it's been opened for 20-30 minutes.
So the main reason to purchase a Scotch decanter, is for aesthetic reasons. A lovely glass decanter will always look better than a dusty old bottle in the bottom of your liquor cabinet. And while it's nice to let a Scotch breathe a little, you will not notice any difference in taste or aroma.
So you've been searching for that perfect decanter as a present, or maybe for your good self. But how do you know what to look for, and why are some decanters better than others? Read on for our brief buying guide to help you out. You're sure to pick up a thing or two.
Scotch Decanter Buying Guide
You are in the market for an exquisite Scotch Whiskey decanter, but you really need to know if there are any pros or cons to purchasing different varieties. In fact, there certainly is. Here's what to look for when buying a scotch whiskey decanter.
Firstly, there's the question of material, being either glass or crystal. Both are extremely classy but the one major concern to look out for, is that when buying a crystal decanter, it may contain traces of lead.
Our best advice is to search for a glass or lead-free crystal decanter. You'll find that the cheaper versions of decanters are the more likely ones to contain lead. This can be quite harmful. The reason being that the proof of whiskey is very strong. So strong in fact that it's very possible for lead to seep into your whiskey. Now many of us, me included, tend to have more than one scotch whiskey at a time. We also drink with friends and acquaintances, which I'm sure you don't intend ill will. So, steer clear of leaded crystal decanters just to be on the safe side. Luckily for us, most crystal decanters these days are made lead-free, but it certainly pays to check.
I wouldn't worry about lead crystal glasses containing lead though. Your favorite liquor will not stay in the glass long enough for the lead to seep into the liquid itself. It's only a worry in decanters because it can stay in there for months or more.
Now, another point to keep in mind when on the lookout for a great scotch whiskey decanter, is the size of the flagon itself. Decanters range in size so if you prefer to only add small amounts of whiskey at a time, a petite decanter may be best for you. However, if you're like most people and intend filling your decanter with a full 750ml bottle, you will be looking in the larger department. I'll see you there!
One last thing to consider when it comes to your due diligence, is making sure you have an air-tight seal. We've mentioned how wine prefers to be aerated, scotch doesn't require this. For this reason, you'll want to transfer your whiskey to the decanter and seal it with a snug fitting seal cap. Keep in mind that when the relocation of your favorite fluid takes place, it's already been removed from its preferred environment. That is the original bottle. So, keeping it securely air-tight with no leaks of oxygen into the decanter will only preserve the essence of this marvelous liquor.
How pretentious are you? If you're willing to pay that little extra, then you'll be able to show of your best whiskey decanter to you visitors. Then again, you may be a more reserved type of person and just want a nice decanter for that longing scotch at the end of a hard day's work.
Whatever the reason, there is a scotch decanter for every occasion and every type of character. With various styles, sizes and prices, we've covered quite a few for you to search through. Take a browse and see if any of these appeal to you. These guides are in no particular order.
#1 - 850ml Whiskey Decanter Globe Set + 2 Etched Globe Whiskey Glasses
Customer Reviews





4.9
Pro's
Lead Free
Capacity over 750ml bottle
Sealed cap
Extra's included
You'll be the envy of all your friends with this eye-catching glass World Globe decanter. This is one of my favorite decanters as it features a glass ship on the inside of the bottle. How cool! The outside of the globe matches the 2 wonderful whiskey glasses included, as they have an embossed map of the world. The
mahogany
stained timber base of the decanter softens the whole unit, making it a class piece of bar furniture.
The whiskey decanter is hand blown and shows pure elegance. There's also a gold stopper that will keep your favorite scotch whiskey sealed, preventing oxygen into the decanter whilst preserving all the greatness!
You'll be able to fill the decanter with a genuine 750ml bottle as the full capacity is 850ml. The capacity of the glasses is 300ml allowing a prefect measure to be consumed.
You won't have to worry about quality as this decanter is created by Golding who have specialized in handcrafted silver, pewter, stainless, crystal and alternative metal giftware since 1973.
As part of this unique set, you'll also benefit from the ice stone set & tongs. These ice stones chill your drink but do not dilute the exquisite whiskey with melted ice water. What a great idea!
You'll love the special features of this unique whiskey decanter:
850ml capacity
2 embossed 300ml whiskey glasses
Gold stopper to seal in the spirits, also adding a touch of class.
Antique ship within hand blown decanter.
Ice stones & tongs
As you can clearly see, there's a lot to love with this wonderfully unique glass whiskey decanter. The 2 embossed whiskey glasses are a great addition also.
You can check what all the customer reviews are saying by clicking on the 'Check it Out' button. The majority are overwhelming positive and will give you a great insight to their experience buying this decanter.
#2 - Iceberg Whiskey Decanter and Whiskey Glass Set
Customer Reviews





4.8
Pro's
Lead free
750ml capacity bottle
Sealed stopper
4 unique glasses
Product guarantee
If sophistication and style are what you intend to exude, then this European influenced Iceberg Whiskey Decanter that comes complete with 4 uniquely different scotch glasses could be just what you're looking for.
Exhibiting a show-piece like this in your home will make you feel luxurious. The Ashcroft name is known for fine glassware, and their reputation is classic and genuine.
Crafted from lead free ultra-clarity glass, there is no chance of lead ever ruining your smooth scotch whiskey.
You will no longer have to drink from lifeless glasses with the addition of 4 quality glasses that keep their temperature due to the supreme quality. Can you see yourself pouring a nice 10 year old Benromach Scotch and sipping from one of these unusual glasses? Each glass mouth is large enough for ice stones, which by the way are a great idea.
When your whiskey decanter set arrives, you'll notice the stylish embossed gift box with magnetic closure. This makes it so much easier if purchasing as a gift for somebody. Cushions also protect the glasses & decanter inside the presentation box.
Here's the main features of this scotch whiskey decanter set:
100% Perfect-Delivery Guarantee.
4 x 8 ounce glasses
100% lead free
750ml decanter, large enough for a bottle to fill.
Another practical factor of this decanter set, is that the decanter can be placed in the dishwasher without fear of breakage or damage. That just shows the quality of an Ashcroft decanter. Any whiskey enthusiast would be please to receive one of these.
At the time of writing this post there are 130+ reviews on this product with a 4.8 out of 5 star rating. That's a wonderful insight of what people think of this whisky decanter. Go ahead and check for yourself by clicking the 'Check it Out' button'. You will be very impressed should you decide to purchase this gem.
#3 - Family Crest Decanter Set with 2 Glasses
Customer Reviews





5.0
Pro's
Lead free crystal
Excellent quality
Family Crest
2 glasses with crest
Here's a scotch decanter ​with a twist, how about having your own family crest emblazed on the front. Yep, that would be a great show piece that will turn heads at your next dinner party.
It's a fairly unusual request but somebody had to come up with the idea. Now it's becoming a more popular request and you too can purchase one of these quality decanter sets.
Disregarding the crest for a moment, the quality of the decanter and glasses are second to none. The heavy bottom glasses are 11 ounces each and the Crest & Coat of Arms glassware​ is wonderfully crafted. They have a deeply detailed finish due to the precise hand carving.
Not only will the crest appear on the front of the decanter and the tumbler glasses, your family initial will also appear on the decanter stopper. They look so stylish.
If you do not know your family crest there is no need to worry. The makers will research it for you and email a confirmation before going ahead with the order.
Some of the features of this beauty:
​Crest & Coat of Arms​
Gift Boxed
About the artist card
2 x 11oz glasses
​When you receive your order, a card detailing the artist will be included along with your decanter and glasses, all neatly gift boxed.
This is another great gift idea for those that have everything. We all know somebody that enjoys a good scotch, give them a unique present that nobody else will. I know my dad would love one of these for Fathers Day.
There's not many customer reviews for this set yet, but the available reviews are extremely complimentary. Check them out by clicking the 'Check it Out' button!
#4 - Wine Savant Charging Bull Liquor Decanter
Inspired by the hunt, the adventure and the Spanish bull. Maybe not for everyone but certainly a head turner in terms of its whimsy style mixed with grace and sophistication. The Charging Bull glass scotch decanter will make a statement sitting atop your liquor cabinet.
Crafted from borosilicate glass which is thicker and stronger, it would add flair to any home or office. Even though the glass is stronger, it's still advised that you wash this decanter by hand.
If you are searching for that perfect gift, this is one of those ornaments that will get noticed, and certainly a unique piece. It would look great in a log cabin, man cave or lodge. You could also give this as a wedding gift, best man gift or even Father's Day.
There are no whiskey glasses included with this decanter so keep that in mind if purchasing this product. There's also no tray included, it's just the decanter. However, that's the whole point of this extremely uncommon, yet classic whiskey decanter.
Features of the Charging Bull decanter include:
Hand Blown Glass
Spanish Bull inspiration
Borosilicate glass
1000ml
Even though it may look like not a lot will fit in the decanter, looks can be deceiving. With a 1000ml capacity, it will fill a whole 750ml bottle plus more!
With a great customer rating you can check out the approving comments by clicking on the 'Check it Out' button. Your masculine lodge bar will be complete with this one!
#5 - FineDine Twist Glass Decanter and Whiskey Glass Set
Customer Reviews





4.5
Pro's
100% lead free glass
Excellent quality
4 X 8oz glasses
Gift Boxed
Here's a twist, literally! Don't you just admire the lovely elegant twist in this decanter set? This is one of my top picks as I find it so classy, stylish and takes a full 750ml bottle of whiskey. Welcome to the 'FineDine Twist Glass Decanter and Whiskey Glass Set'.
You're liquor corner will dazzle with sophistication and luxury when you buy this gorgeous 5-piece set. Comprising 4 wonderfully designed whiskey glasses with asymmetrical twisted glass at the bottom making the tumblers sturdier via its strength. Not only do these glasses look spectacular, they feel comfortable to hold, and sip out of. They are also a perfect size to accommodate whiskey balls or cubes.
Your decanter will stay solid on the top of your bar due to it's heavier base of thicker twisted glass. The last thing you need is an unbalance decanter that can tilt from side to side.
The glass stopper for this decanter is also heavier, which makes the seal fitting more air tight due to gravity. This preserves the freshness of your beverage every time you pour a new drink.
Here's a list of features:
750ml decanter capacity
High quality 100% glass
Heavy glass stopper
Thick base for sturdiness
Dishwasher safe (hand wash recommended)
Artistic twist shape
Rolled rim opening (for a smoother pour)
Even though this is an awesome gift for somebody, I'd find it hard not to have it for myself! It does come gift boxed though, in a high-end glossy box with magnetic closure. The glassware will stay protected as it's nestled in custom fitted foam protection.
This really is a choice for the stylish whiskey connoisseur.
Again, you will find rave reviews on this decanter set with glowing endorsements. Click 'Check it Out' to read the reviews or go ahead and purchase.
#6 - Oakmont Personalized Decanter Set with Tray
Customer Reviews





5.0
Pro's
Monogrammed glassware
Excellent quality
Birchwood bar Tray
Monogrammed tray
Gift Boxed
Con's
24oz (709ml, not 750ml full bottle)
If you like to show off a little, then this whiskey decanter set can do the job extremely well.
You see it doesn't just have monogrammed glasses & decanter, the tray also comes complete with your monogrammed name & initial. In fact, you don't really need to be a show-off as these are just a stylish addition that will please anyone.
This is a 6-piece set including 4 Eastham glasses that can contain up to 10oz of your preferred liquor. Each glass will be monogrammed with the name and initial of your choice, making them a very personal keepsake.
The whiskey decanter, which holds 24oz (roughly 709ml) is a lovely size even though it will not quite take a full 750ml bottle of scotch whiskey. The shape of the decanter I really like and comes with a glass stopper that fits snugly into the top opening.
Now the tray is what sets this set apart. It's made from premium American birch wood with an acrylic glass stand for your decanter and glasses to slip into. This is a great idea so that you can carry it from room to room without worrying about spillage or shaking. It's also monogrammed and is framed with carbon steel accents.
Special features of this set:
Monogrammed glasses, decanter & tray
24oz glass decanter
4 x 10oz glasses
Birchwood tray
A wonderful gift for any whiskey lover, it will take prime position in any room. Preferably your bar or man cave.
At the time of writing this review, only one review had been submitted and they've rated it 5 stars. Not a bad start to a new product.
#7 - JoyJolt Altas 5-Piece Crystal Whiskey Decanter Set
Customer Reviews





4.5
Pro's
100% Lead-free crystal
Stylish design
Hand Crafted
Gift Boxed
Dishwasher Safe
Con's
22oz (650ml, not 750ml full bottle)
How would you like to take the guess work out of your next gift? If you were buying this for me I'd certainly be overjoyed! I've mentioned to you earlier that I really like decanters & glasses that have a solid base from having a twist in the glass. It not only makes the products more stable, they also add a touch of class and opulence.
JayJolt have crafted the Altas 5-piece whiskey decanter in this same style and I love it. You will benefit from having a 100% lead free decanter that had been hand made by professional artisans. The lasting impression you get from a decanter like this genuine class.
A heavy glass stopper will ensure all the goodness is kept within the decanter.
4 exquisite whiskey glasses accompany the wonderful decanter. They are perfect for entertaining guests and are wide enough for ice stones or ice itself. You will like the fact that they are also dishwasher safe so there is no fear of breakage or even slight damage.
Some of the features to make note of are:
Quality materials for durability
1-year guarantee
Dishwasher safe
Gift Boxed
Chic twist style
You can be sure that your decanter set will arrive safely, as a 1-year satisfaction guarantee is offered if the item is damaged in any way upon arrival. That's good to know! They will send a replacement free of charge. However, the scotch decanter set comes in a stylish embossed gift box, so breakage should not be an issue.
Check out the reviews yourself to see what people are saying.
#8 - Ravenscroft Crystal Taylor Double Old Fashioned Decanter Set
Customer Reviews





4.8
Pro's
Pure, Clean, Lead-free Crystal.
Quality Handmade Decanter
34 oz (1,030ml) decanter capacity
11 oz (330ml) glass capacity
Featured in In Style Magazine!
With so many decanters and decanter sets to choose from, it can be hard to make the correct choice. I'm going to give you something else to think about here! Would you purchase a product just because it's been featured in a magazine? Well many would and that's exactly what's happened with this Ravenscroft crystal old fashioned decanter set.
This is more of a traditional shaped decanter with the round body and narrow neck with flared spout to prevent any spillage when pouring. Complete with round stopper, it has been hand crafted in Europe capturing the essence of European inspiration. Who doesn't enjoy a touch of Europe!
Encompassing 4 glasses in classical style to match the decanter, each with a capacity of 11oz. The bottom of each glass has a mouth blown bubble design that only a few glassblowers are skilled enough to achieve. It's a decoration and artistry that should be appreciated.
Features of the Taylor Double old fashion Set:
Hand-crafted in Europe
Mouth-blown bubble design
35oz capacity decanter
4 x 11oz capacity glasses
The glasses are dishwasher safe but as many companies recommend, it's best to hand wash. With these particular glasses, hand-wash because of the mouth-blown bubble in the bottom.
With well over 100 reviews for this whiskey decanter set and a rating of 4.8 out of 5, it's one of the best available.
Perfect for yourself or a gift. See what customers are saying in their feedback by clicking the 'Check it Out' button.
#9 - Laguna Crystal Whiskey Liquor Decanter by Crystalize
Customer Reviews





4.9
Pro's
Quality, Durable, Lead-free Crystal
32-Ounce Scotch Decanter
Monogrammed Option
4-Glass Option
The word that immediately springs to mind when admiring this scotch decanter, is 'class'. You could include style, classically understated or vogue. It's a beautiful scotch whiskey decanter that needs no bells and whistles to appreciate it's grandeur. Yet it's not an expensive scotch decanter unless you choose some of the additional features that are available with this gem.
It's a perfect scotch decanter to have displayed on your liquor cabinet for all to see with its unique pear shape and fascinating crisp angles. In fact I'd suggest it would make a great groomsman's gift or even Xmas present.
It's made at the Bohemia Crystal glass factory in the Czech Republic which is renowned for it's classical array of crystal excellency. Made with classic lead-free crystal, you'll appreciate the the following features:
You'll enjoy a capacity of 32-ounces which will consume a lovely amount of your favourite scotch.
You can choose from additional features such as personalised monogram which really complements this pear shaped decanter.
Other additional features include a set of 4 scotch glasses which can also be monogrammed as you wish. Whether you take up this option is dependant on your situation, but it's nice to have this option. Obviously it'll cost you a little more.
You'll find it comes well packed in elegant style so you could immediately give it as a gift. It's an awesome rating of 4.9-stars, you'll know you're getting a quality piece of crystal-ware. There's been no negative reviews proving this is top notch.
#10 - Phantom Skull Whiskey Decanter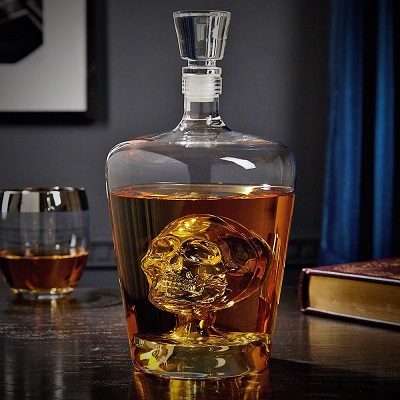 Customer Reviews





5.0
Pro's
Amazing detail in the skull
Decanter stands 10.5″ tall with a 3.75″ base
Holds 33 ounces
Perfect for Halloween
What an ideal whiskey decanter for the gruesome, the Gothic or the simply outrageous. Although it's ideal for a Halloween party, it can be used simply to startle your guests.
This decanter is crafted from solid glass with a unique floating skull on the inside. Do you have friends that would find this eerie?
It stands at 10.5″ tall and holds up to 33 ounces. The skull decanter comes with a glass stopper which has a rubber base, holding in all the flavor and aroma of your favorite liquor.
I'd be using this for whiskey myself, but of course you could insert any fine liquor. It would certainly look great next to your man cave furniture.
You'll be the life of your next party when your guests check this out.
Disclosure: Links in this post may be to our affiliates; sales through affiliate links may benefit this site. Please help support 'I Know The Barman' by using the links provided.
It won't cost you anything extra.
Conclusion
In the end it all comes down to personal taste when searching for the best scotch decanter or decanter set. Obviously price comes into it and for me, my favorite is the 'FineDine Twist Glass Decanter'. It's not as expensive as some others and still comes with 4 glasses. I just love the twisting in the glass whish makes the base sturdier and just looks so graceful.
A whiskey decanter is such a elegant piece that it will look right at home alongside your cocktail shaker set in the corner of your bar.
There are many factors that can come into play when deciding on your decanter, most I've mentioned in the preview guide. I hope I've helped with some suggestions, and you can decide with an open mind. Best of luck.
If you'd like to share your favorite with us, please feel free to add to the discussion below.