Best Man Cave Furniture 2018 - Uniquely Outrageous
Disclosure: Links in this post may be to our affiliates; sales through affiliate links may benefit this site. Please help support 'I Know The Barman' by using the links provided.
It won't cost you anything extra.
Introduction
Have we found some uniquely amazing man-cave furniture pieces for you to check out! We all intend to have a better man-cave than our neighbors, and a lot of this comes back to how you make your own room for escaping. Whether you just have a beer fridge, or go all out and have a bar installed, maybe even with tapped beer!
We want our mates to be comfortable when they come around to watch the game, we want them to admire the way we've designed and decorated our special place, away from the usual running's of the house. That sports premiership team framed photograph hanging on the wall, it holds a special place for you. It also holds great memories for your mates that watched the premiership with you. Your close mates will want to come and enjoy your man-cave again and again and relive that moment.
This is the ultimate feeling of joy that only comes when you're sitting in your sports team sofa admiring everything around you. But the only way to get there, is to see what's available out there, and go and get it! You have competition for the best man-cave in the street, so don't be left behind. Be the one to take the initiative and buy it first.
We've crafted a list of unique man cave furniture to set your eyes upon, but first, a buying guide to get you thinking if these products are right for you.
Man Cave Furniture Buying Guide
Size
So, is there anything you need to consider before purchasing your man cave furniture? Well, what about size for a start. Do you have the space available and if so, is it limited? This can depend on whether your man-cave is just going to be a bar, games room or sports area. Certainly, a pool room, where you'll want to feature a pool table or air hockey table, is going to require a large amount to space.
On the other hand, you may just be looking at a smaller area for drinking purposes and watching TV. This is where measurements are so important so take note of item specifications when buying units, cabinets freestanding bars etc.
Shape
Is your allocated space in an L-shaped room? If so this will also limit the size of furniture. On thing to keep in mind here is that when purchasing items such as a beer fridge, the door maybe on one side and not changeable to the other. This means you will need to consider where the unit will go so that the door will not be impeded when opened.
You may have a larger L-shaped room in which you intend to add a pool table. This is usually very awkward so make sure you have enough room to line up a shot with a pool cue in hand. Will the cue hit any walls when pulling back to play a shot? The shape of your room can be deceiving so make sure you measure correctly.
Surroundings
You may already have a man cave that you're expanding or adding to. If this is the case, you will have surroundings that you should match into. To put this simply, if you have a blue room you'll want to add more blue stuff. In other words try to buy man cave furniture that matches the existing features you already have. If you have a retro look, keep the retro feel going throughout your room. If your man cave is timber lined, you may want to add items that enhance the timber ambiance. This can still be achieved with unique man cave furniture but you'll need to make sure it ties in.
Deviating away from a theme can make your man cave haphazard and feel half finished. You want the best man cave in the street, not the most erratic.
Budget
Finally, your budget is going to play a major factor in the man cave furniture you acquire. I don't advocate over spending but it goes without saying that you generally get what you pay for. Stick within your financial limits but try to look for unique furniture to make your man cave features get noticed. This can be a balancing act but with a bit of due diligence and research, it can be achieved.
Man Cave Furniture Under $100
#1 - Personalized Custom Carved Wood Plaque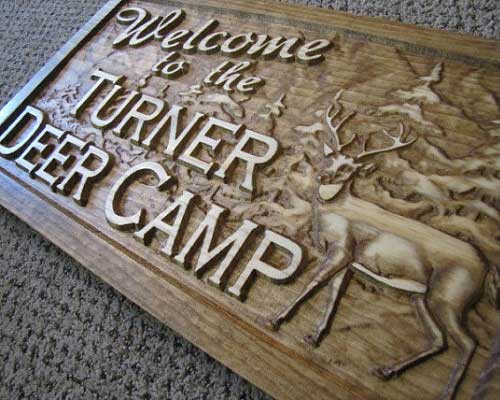 Customer Reviews





5.0
Pro's
? Personalized 3D Carving
? 9″ x 6″ measurements
? Quality pine timber
Con's
? Not totally weatherproof
Wouldn't you love to let the whole world know whose man cave they're approaching? Of course you would, you're proud of the effort you've put into this ghetto of yours. So, proudly show this off with one of these wonderfully hand-carved timber welcome signs.
The sign is 9"x 6" and comprise 'dear' and 'tree' art in the design. Have your own name carved into premium quality wood and have it displayed at the front of your cool man cave. 3D plaques like these look a million dollars and give authenticity to your favorite room.
You'll like that they are carved on ¾ inch solid pine and feature two-tones with a sealer finish. On the rear of the plaque you'll find saw tooth hangers, making it easy to fix the sign to any wall.
You will find knots in the timber plaques, do not mistake these for flaws. Knots give character and natural appeal to the wood. This company specialize is wood crafted signs, so you may find other designs that you may prefer. Once you click on the accompanying image, scroll down and you will find other wood products made with this supplier.
Exhibiting a hand carved sign like this will make all your mates want to enter and enjoy you man cave.
Great features include:
Premium wood
Personalized naming
9" x 6" plaque
Hand carved
Even though these plaques have an indoor/outdoor sealant on them, it's recommended that you don't hang them where they will be exposed to the elements such as wind, sun and rain. If positioning outside, it's best to fix your plaque under a verandah for protection.
These wood signs are highly recommended and the company manufacturing them have received over 4000 5-star reviews. Great buy.
#2 - Man Cave Recovery Hook Coat Rack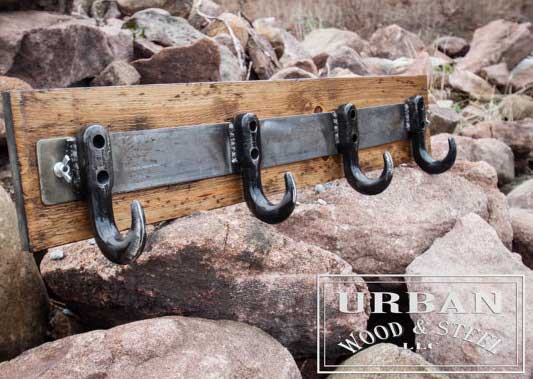 Customer Reviews





5.0
Pro's
? Industrial rustic style
? 10,000lb weight capacity
? Various sizes
? Strong & durable
Is your man cave rustic styled with a good amount of space for a steel coat rack? You remember those cold winder nights when your mates bring around a nice warming bottle of scotch whiskey. They're all rugged up with multiple layers to keep them from freezing their bits off!
Well, they need somewhere to hang their thick layered coats and what better that a coat rack with hooks that look like they've come from a fishing trawler. Seriously, you'll love these industrial steel hooks that are mounted on a strip of steel, which is bolted to a pine strip that has been given the distressed look.
The racks come in 4 sizes, ranging from a 2-hook version at 16 inches wide, right up to a 8 hook version fetching 50 inches wide which can hold up to 10,000lbs! You won't find any coat that cannot withstand these hooks.
I doubt you'll find anyone else with a coat rack as good as this. You want unique, you got it! We all like a touch of manliness incorporated into our best room, this could be yours.
Another great thing from this supplier is that they accept returns if you contact them within 14 days. They won't accept cancellations though which is understandable.
Great features include:
Various widths & hooks
Extremely durable
Holds up to 10,000lbs
Industrial style
Imagine your mates coming around for a card night and expecting to hang their jackets on the back of a chair, then spotting this beauty! They will be so impressed and envious that you bought this before they did.
Great reviews from this supplier and if you click on the link and check the reviews, you'll also see some customers that have included some photos of their own racks that have been purchased from them.
These guys do many other industrial items so check out what else they have to offer that will suit your man cave.
#3 - Mopar Timing Gear Clock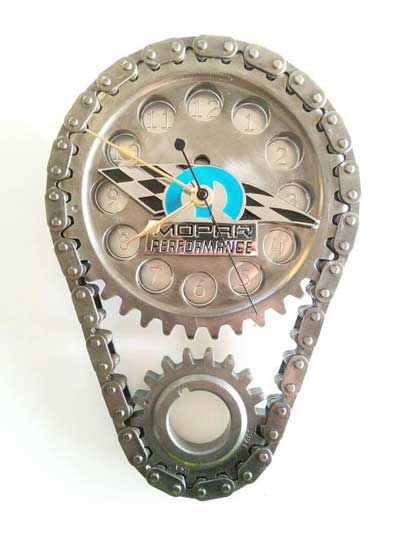 Customer Reviews





5.0
Pro's
? Welded chain links & gears
? MOPAR emblem
? Urethane protective finish
Con's
? Possible waiting period
When was the last time you saw a clock like this one? No need to answer that, you'll probably never have seen one like this as they are very rare. But if you're into cars, engines, mechanics or just intricate ornaments then you'll love this timing gear clock.
Although they are aimed at 'rev-heads', these clocks would suit many a man cave due to the uniqueness of the clock and the oddity of such man caves. You couldn't really put one in your kitchen, now could you?
The full size of this gear set is approximately 7"W x 10"H x 1"D. Made from steel, you'll find each link in the chain has been welded, and the chain is welded to the gears. This creates stability, and therefore the timing gear set clock will never lose its shape. You'll love the deep glossy protective finish that comes from the applied urethane. Several coats of urethane have been applied after the steel is polished using a grinder.
Completing the finished product sits the 'MOPAR' emblem in the center of the timing gear. And the clock numbers, they're CNC machined (pre-programmed manufacturing process where computer software dictates the movement of machinery) from billet aluminum. What a nice piece of work.
If you like this clock but would prefer a slightly different design, they have more available to check out, just click the 'Check it Out' button to see them.
Great features include:
MOPAR emblem
Welded steel for stability
Size 7"W x 10"H x 1"D
Urethane protective finish
Some of these clocks are already in stock which means they can be shipped out to you immediately. Others will be built after placing your order and could have a waiting period depending on the backlog quantity.
Note: all these clocks are made with genuine automotive components and will astound your guests when they come to check it out.
#4 - Wooden Hunters Themed Stool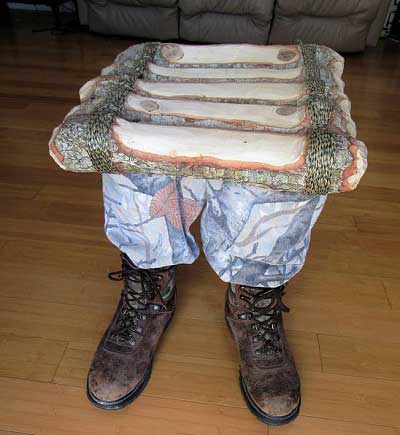 Customer Reviews





4.7
Pro's
? Hand carved
? One-of-a-Kind
? Racycled materials
Con's
? Personal taste (not for everyone)
Ahh, okay. We've really included this as a bit of fun, although it is still considered man cave furniture. It must be mustn't it? Where else would you put a stool like this! Not that it's of great taste and or style but there's got to be a hunting cabin out there that would suit one of these unusually themed stools.
No, the legs weren't chopped off a huntsman, as my son asked me when reviewing this! Although the likeness is extremely good. It's a handmade item from recycled materials such as boots, clothing and of course the wooden legs etc.
Your hunter's legs are even covered in camouflaged pants, and the boots as authentic as ever. There's 5 hand carved Oak wood branches arranged for the seat and the stool legs are also crafted from Oak wood. It sure is unusual to say the least.
Standing at 20 inches, the stool is 14 inches wide and 15 ½ inches deep.
Unusual features include:
Hand Carved Oak wood
Recycled materials
Authentic
Fast delivery
This is a One-of-a-Kind Hunters stool so if you'd like it then take a look. It certainly isn't for everyone and you'd require a certain type of place to store it. However, what a talking point. Imagine the laughs you'll get when the guys come around for a beer. So unique.
#5 - Sazerac Rye Whiskey Bottle Lamp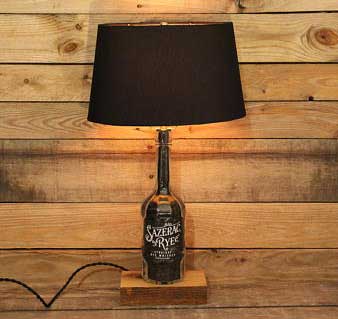 Customer Reviews





5.0
Pro's
? Bourban filled lamp
? Wooden pine base
? Brass fittings
Con's
? No exchanges or cancellations
I know the attached image looks like a sultry scene from '50 Shades of Grey' but this lamp will provide your man cave with so much more ambience than most other lighting. That's if ambience is what you are after, other's may prefer full on downlights. There are however, some single men that own man caves, and lamp lighting like this may just prove to be a exactly what they want!
The main bulb of the lamp is made from an upcycled Sazerac Rye Whiskey bottle and can you believe it, filled to the brim with authentic Bourbon Barrel Char. It's then attached to a reclaimed pine wooden base which has been hand carved. It is completely handmade and features a 6-foot wire that has been covered in black twisted cloth.
You'll love the brass fixtures which encompass an easily accessible keyed socket, heavy duty brass socket with harp and vintage reproduction plug. These brass fittings go extremely well against the dark Bourbon bottle lamp. Take note though, there is no lamp shade included but you may inquire with these guys as to acquiring one.
The size of the lamp is 1'10" tall x 4" wide x 6.5" long. Yeah, it's a really good size and any bottle of Bourbon is going to get noticed in a man cave. Your guests will love it and look on with envy. The supplier also has other bottle lamps available so if you're not a Bourbon fan, you may find a different liquor type.
Great features include:
Handmade Bourbon filled lamp
1'10" tall
Pine wooden base
Brass fittings
Note that exchanges or cancellations are not accepted but returns are