Best BBQ Aprons for Men 2021
Introduction
I know it can be immature but some of the best memes can be the naughtiest or raunchiest. And what better place to have a great slogan than on a BBQ apron. It's the ideal location for inappropriate messages, as an apron can quickly we whipped of when mum brings the kids home!
But you won't have to worry too much here, we've added a few funny slogan aprons, but nothing worth too much shock value. Yes, a few may have sexual connotations, but they are quite mild compared to some we've seen.
Wearing a BBQ apron doesn't just feel like you're the master chef, it's also practical for protection from spitting fats or oils. But before checking out our list of best BBQ aprons for men, here's our brief buyers guide to help you decide.
BBQ Apron Buying Guide
Selecting a BBQ apron should be an easy task, and it is. But we'd like to make mention of a couple of things to keep in the back of your mind. You don't want to purchase a BBQ apron and find it's not suitable and you need a different type or size. So, think about these things first.
Material
BBQ aprons come in a range of materials but just remember the old saying, you get whet you pay for. This rings true when you're talking about the material of an apron, as a cotton cover could go up in flames if licked by fire embers. The same goes for PVC aprons, they'll just burn a hole in your apron.
On the other-hand, leather or suede make for more robust and durable wearing so maybe these need to be considered. The one slight downside to these materials are that they may require more cleaning. Deciding on textiles all comes back to your budget as these more durable materials are more on the expensive side.
A great thing to look out for is 'Flame Retardant' which can be incorporated into various types of apron finishes. Unfortunately, not many aprons advertise this feature (not sure why), they seem to prefer their offering of machine washable which Is also a nice feature.
Neck Strap
Note to manufacturer's. Not all necks are the same size! The times I've tried on a BBQ apron only to have the front hang down because I'm not a huge person. It's very frustrating but there is often now a choice. Enter the adjustable neck strap.
Obviously not available on all BBQ aprons, if you do find this option you may benefit greatly, as a well fitted apron makes a happy BBQ chef. Alternatively, back straps are great for keeping your posture.
Apron Pockets
Not all BBQ chefs require pockets on their apron as some BBQ areas have plenty of storage for utensils. You may have a large full-scale BBQ area with cupboards and drawers that accommodate all your cooking essentials.
If this is not the case, you may do well by purchasing a BBQ apron with built-in pockets. Afterall, you don't want to hold your tongs in one hand, spatula in the other and contemplate how you'll get your beer to your mouth!
So, think about these things before purchasing a BBQ apron, so that the apron you choose is the one that you'll be proud and comfortable to wear.
#1 - Professional Grade Chef BBQ Apron with Towel Loop
Customer Reviews





4.9
Pro's
Multiple storage pockets
Fits anyone – adjustable straps
Premium quality
Towel hanging loop
If you're in the market for a BBQ apron that can store all your cooking essentials, then this is one you must consider. The reason for this is because the pockets built into this apron allow for maximum storage whilst still protecting you. All at a reasonable cost too.
While its built to last due to the heavy-weight material, it's also comfortable as the 10-ounce cotton is soft and breathable. I've found this is also a very versatile BBQ apron as it can be folded down to wear only from the waist down if you'd prefer.
You'll also like the 'rugged manly' gun-metal grommets and rivets that help support the apron along with the double stitching along the apron pockets. Guests will know you mean business when BBQ cooking and will not mix you up with cooking cup-cakes in the kitchen!
One of my favorited features is the pockets that seem to hold a lot of cooking implements. There is a main pocket at waist high that is split in 2 for stability. These compartments can store your tongs, spatula, fire lighters or anything else cooking related. You can even store your beer in a pocket.
Above this main pocket are two smaller openings that can store smaller items such as a bottle opener, or even just put your hands in there for warmth! There's one more pocket that you will adore, it's on the chest and is awesome for keeping your mobile phone within easy reach.
They haven't finished there either. How about a loop on the hip for hanging a small towel? Always handy for cleaning up messes around the Barbeque.
As far as comfort is concerned, you'll benefit from the cross-back straps and neck strap which are adjustable to suit your size and posture. I really love this feature as you require a comfortable BBQ apron if your serving a party of guests. There's also a quick-release buckle to easily remove the apron.
Great features include:
Premium heavy-weight cotton grade
Multiple storage pockets
Adjustable straps
Gun-metal grommets & rivets
As you can see, there's a lot to love about this apron. The bib measures 27" W x 34" H and can be used by anyone from the smallest the largest people with XXL sizes.
Maintaining aprons can be a pain in the rear. However, you'll need to regularly clean any apron to keep it looking its best. You'll be given instructions on how to best do this, but it's advised to wash separately at first to avoid the colour bleeding, then machine wash in cold water. You can even tumble dry it on low.
The only downside we can see to this apron is that it is not waterproof, but the thickness will repel small amounts of water.
308 customers have rated this 4.9 stars out of 5, top buy.
#2 - Rubbed, Jerked & Pulled BBQ Apron
Okay, we all have a humorous side, don't we? And if guests turned up to your BBQ whilst you are wearing this BBQ pinny, you're sure to get a few laughs. The jest is so appropriate, as that's what BBQ's are all about, MEAT!
The quality of this BBQ apron is not as good as the previous apron we reviewed but I suspect if you're purchasing this one, you are looking out for the comedy side of things more than the durability. That said, many of the customer reviews have stated that they are very happy with the apron and the quality it presents. It's made of a heavy-weight absorbent cotton so its still very acceptable.
You must be careful at which BBQ's you decide to wear this humorous type of apron to. Adult get-togethers are fine. So are kid's party's as the joke goes straight over their heads. It's the early teenagers you need to be aware of. Actually, it's the parents of the early teenagers you need to be worried about!
Back to the apron itself and you need to be aware of something. There are no pockets for storing utensils and there are no adjustable straps. It's basically one size fits all and has self-fabric ties and a neck strap. However, it does fit most people of a general size. The actual size is 60cm in width and 87cm in length.
A feature I like with these aprons are the various colours available.
Great features include:
Neck strap and fabric ties
One size fits all
Heavy-weight absorbent cotton material
Bloody funny
You'll find the shipping is quick and they try to get the item out within a 5 working days. As the aprons are made to order, this is absolutely acceptable.
Great reviews by customers give this a high rating. That's why it's on our list of best BBQ aprons for men!
#3 - Man Law BBQ & Tool Apron
Customer Reviews





4.6
Pro's
Adustable straps for comfort
Genuine leather
BBQ or trades
Large pockets
So, you're a chef by night and a tradesman by day. Maybe this apron will serve two purposes for the price on one! It's durable, extremely well built and can hold either cooking utensils or tradie tools. Or even your beer for that matter!
Yes, I know you think its yellow, but you'd be wrong, it's tan. Genuine leather tan! Not fake leather tan, the real stuff. And look at those pockets. They're not just a great size for holding your essentials, they're also riveted to prevent the pockets from tearing or splitting. I really love that the pockets are deep for long handled tools or utensils and there's even a chest pocket for your mobile phone and pencils.
You'll also benefit from the adjustable waist & neck straps that will extend or retract depending on your body size. Each strap has clips for easy attachment. We've already mentioned how important adjustable straps are for your comfort levels.
The protective leather will keep the heat from getting to you, so your body temperature levels will not be an issue.
But obviously the main benefits of this BBQ apron, is that it's not just a BBQ apron. The versatility to use this apron for welding, carpentry or other trades is worth the small extra cost of some others.
Great features include:
Versatile for BBQ or trades
Deep tool pockets
Genuine leather
Adjustable straps
The dimensions of this apron are 42" long x 23" wide which would suit the majority of men with the adjustable strapping.
From a minimal amount of sales, a 4.6-star rating has been achieved. You may find that the back strap can be too short. This can be amended by lengthening it yourself, but you shouldn't have to. It's the only flaw we can find.
#4 - May I Suggest The Sausage Apron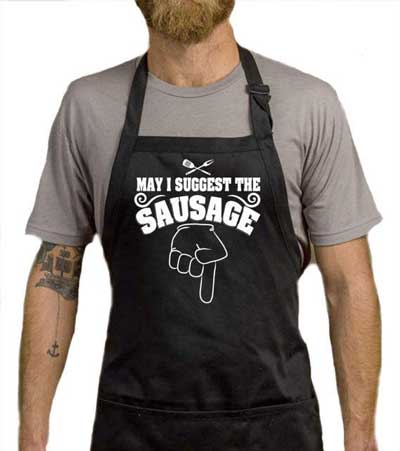 Customer Reviews





4.5
Pro's
Strong ringspun cotton
Adjustable neck strap
Damn funny!
Well, not too dissimilar to the other funny slogan apron but you will find a few extra benefits to this one. What I love about this insinuation, is the fact it's up to your own interpretation of how you read it. It's a great BBQ apron that will have adults in stitches.
The quality is not too bad either with the material 50% combined ringspun cotton, which means it feels smoother and is more durable. This is because the cottons have been through a process of thinning and twisting the fibres. The outcome of this, is that the fibres become stronger.
The hems are twin needle sewn to prevent tearing or ripping. The large pocket, which is sewn the same way, is large enough to hold multiple cooking utensils so you won't need to look for a surface to lay equipment. What this apron does not have that some others do, is an extra pocket for your mobile phone.
Even though this is a one size fits all, it does have an adjustable neck strap which is great for lifting the apron up or down your torso to suit. It just takes something small like this to make the difference in a nice garment.
I haven't found this apron to be too heavy either, as it weights in at only 195gsm (grams per square meter).
Great features include:
Adjustable neck strap
Funny slogan
Ringspun cotton
Fast shipping
We've noted that the shipping is extremely fast, so you should have your apron within 2-3 days domestically or 10-14 days international.
May I suggest these are great for adult parties, maybe as a gift for a 40th birthday or similar. Your recipient will get a kick out of it and so will any guests.
#5 - The Grill Sergeant BBQ Apron
Customer Reviews





4.6
Pro's
Heaps of pockets
Bottle opener attached
Great for camping
Con's
Less comfortable with more weight.
Not as strong as others
Haha! Yes, it may look like a gimmick, but this apron does have a multitude of benefits. But let me start off by saying, this is more an attention seeker apron. I know it has camouflage colouring but trust me, you'll stand out like a bald actor in a revival of "Hair." I use mine for camping, as there's never enough room to place things down and it comes in really handy for times like that.
Firstly, lets go over all those pockets, there's a hell of a lot! What sticks out immediately is the beer (yes, only beer!) holders. With six of these lined up like ammunition, it looks amazing but how practical is it really. To be honest, I don't like my beer getting warm, so I'd only have 1 or 2 used at a time. The other issue is the weight. The more you store the more pressure you have on your back. But drinking more beer slightly fixes this issue!
Oh yeah, there's a bottle opener attached to the apron right next to the top beer pocket, nice addition.
The sauce pockets are a great inclusion and comes in handy where serving at a charity sausage sizzle. There are pockets for BBQ utensils and a side pocket for whatever else you want to ad, such a water or BBQ oil. Look above the sauces, there's even pockets for salt & pepper!
Your comfort levels really depend on how much you stock up the camouflage apron. When full it can droop slightly but this also is determined on your physical size. Mostly it's fine if all 6 beer holders are not full.
Great features include:
Pockets and more pockets
Bottle opener
Great for camping
Holds everything
Lots of great reviews giving this a 4.6-star rating. There's one hilarious review you want to read. Click on the image and look for a very long review from 'Reverend Soupbone'.
If you're after a strong, robust and very comfortable apron, I'd suggest one of the others but if you're after a bit of fun, go for it. It's still a very handy apron.
#6 - Smoken Hot Hubby Apron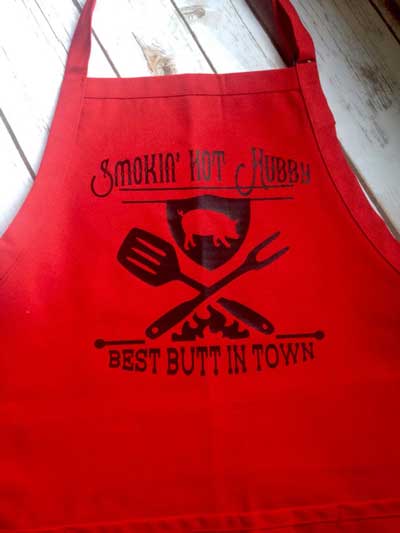 Customer Reviews





5.0
Pro's
Black or Red colour
Good size pocket
Adjustable neck strap
Con's
Not as durable as some others
The ultimate complement if your wife buys this apron for you. You may be in a bit of trouble should your lady friend down the street get you one! Whatever the case though, you'll feel privileged and enriched if you are gifted one of these awesome aprons.
Suggesting that, as the man of the house, your tush is the best in town, you'll be proud to wear this whilst cooking up a storm on your latest BBQ.
Maybe YOU ARE the Mrs, then your man would really love this apron. Trust me, I'm a guy and I'd be over the moon if my wife bought this for me. It's subtle and an obvious statement that you'd never buy for yourself. The notion is one that your hubby would appreciate. Who cares if your hubby doesn't have a great butt, it's the insinuation that you appreciate his cooking that counts.
The apron as stylish and well-crafted with quality materials (7.5oz 65/35 Poly/Cotton Twill). It's crease resistant, even if hubby has had a few beers and starts rolling around with you later in the evening, creases will not appear! It has reinforced stress points for added durability. You have the added two-piece slide neck adjustment strap for creating the correct length to feel comfortable in.
If you're looking for a man cave gift, this makes a wonderful Father's Day, birthday or Xmas present.
Great features include:
Adjustable neck strap
Complementary 'Hubby' slogan
Choice of Red or Black colour
Good size pocket
If you think hubby would prefer a different colour than red, it also comes in a black version. Both colours are popular, but I know that Black seems to appeal to men more.
The company also offer other great funny products. Click on the 'Check it Out' button to view these, and all the great reviews.
#7 - SPEKLAB Caramel Leather Pocketed BBQ Apron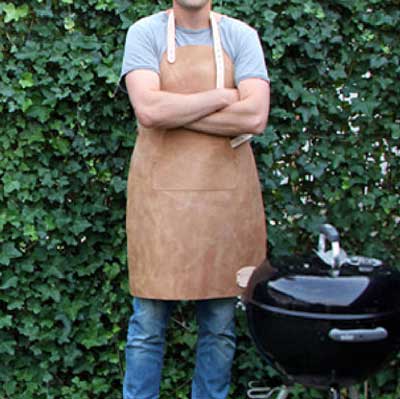 Customer Reviews





5.0
Pro's
Dutch cowhide leather
Caramel in colour
Un-dyed leather belt and neck strap
Con's
No beer holder (unless you use the main pocket!)
From one extreme to the other, this is this Mercedes Benz of quality BBQ aprons. No, it doesn't have 6 ammunition style beer can holders or an attached bottle opener. But this is no gimmick apron. It's made for the master chef of BBQ's and feels extraordinary.
As it's handcrafted with tough genuine Dutch cowhide leather, it will protect you from spitting and splatters from your BBQ when cooking up your next feast. If you like the Caramel colour, then you're in luck. This is the only colour it comes in!
You'll love the attached pocket that is centered on your torso, meaning it's higher than hip height but lower than chest height.
One on the great benefits that I love about this apron is the natural un-dyed leather waist-belt and neck strap. Each are adjustable via the belt holes rather then the cheaper clips that support the other aprons. If you are after pure quality and style in an apron, then this is the one.
Even though this is a one size fits all design, the adjustable leather straps make it suitable for anyone to wear.
Great features include:
Genuine Dutch cowhide leather.
Un-dyed leather straps.
Caramel colour
Easily cleaned.
You'll want to make sure that your leather apron is in the best condition possible, each and every time you cook. Simply clean your apron with water or a moist cotton towel. This is something anyone can do, it's just a matter of remembering to do it! There's always the option to buy the manufacturers 'Speklab grease' to keep your apron clean also.
An apron like this would be a special gift for a special person. Click on the image to check out any other specifications or reviews.
Conclusion
The type of BBQ apron you decide on is dependant on your circumstance. All these aprons we've reviewed are very well rated, but some are more professional grade for high-end BBQ experts. Others are still well designed and great quality but are more suited to parties and leisure BBQ-ers!
I find it hard to go past a humorous slogan, but you'll never get the leather quality with funny connotations emblazoned across the front.
So, if you're buying a BBQ apron for a friend or family member as a gift, make sure you buy the correct type of apron for your recipient. If you know they are a full-on BBQ aficionado, maybe the pure genuine leather option will be best.
On the other hand, you'll know if a funny slogan apron is right for the joker in your family!
If you're on the lookout for a different type of gift, head over to out unique man cave gifts for a browse.
If you'd like to share your favorite apron with us, please feel free to add to the discussion below.
Disclosure: Links in this post may be to our affiliates; sales through affiliate links may benefit this site. Please help support 'I Know The Barman' by using the links provided.
It won't cost you anything extra.