Disclosure: Links in this post may be to our affiliates; sales through affiliate links may benefit this site. Please help support 'I Know The Barman' by using the links provided.
It won't cost you anything extra.
Introduction
PLEASE, PLEASE, PLEASE… Make sure you scroll down to our section on SPHERE FIRE PITS. They are absolutely amazing, and you won't believe the image templates they portray!
---
Looking up at the stars, sitting around with great friends, surrounding a nice warm fire is one of life's pleasures. I remember my friend's dad often firing up the outdoor fire pit, and us 15-16-year old's keeping the fire lit with pre-selected pieces of wood and cut branches. Today we'd be selecting the timber from a nice outdoor firewood storage rack.We we're very lucky, as this was a safe way to learn about drinking and fire safety as we had adults with us.
Outdoor fires are more of a country thing, even though it's not undetected in the suburbs.
Although I prefer a traditional timber fire pit, living within the inner suburbs does not always allow for this. This is where a smaller and more contained gas fire can be an alternate option. The benefits of a gas fire are that when you're ready to hit the sack after a few drinks with friends, simply turn it off. You don't have that luxury with a timber wood burner.
Below is a brief buying guide for outdoor gas fire pits & non-gas fire pits. We've offered a few considerations to think about and hope it comes in handy. Following this is a list of the best fire pits for both options, gas & non-gas, that we've found for this year.
Outdoor Gas Fire Pits & Non-Gas Fire Pits Buying Guide
Size
It goes without saying that if you can't fit a round peg in a square hole, don't even bother to try. What I'm trying to say is, don't buy an open fire pit that is too large for your desired location.
This is more relevant to outdoor apartment spaces. Most apartment balconies don't fit more than a small furniture, maybe a few pot plants. Some balconies are large enough for a smaller fire pit, but make sure you measure the space you have available to you, before making a purchase.
Obviously if you have a reasonable sized backyard, there's no requirement for taking measurements, unless you intend to place the fire pit in a particular section of your garden where space is limited.
Gas or Non-Gas
When talking about gas fire pits, the gas used is propane. The reason for this is, that firstly, it's the most commonly used gas for this purpose and secondly, it's a gas that produces clean flame and can be stored in a propane tank. If you wanted to use natural gas you'd want a built-in fire pit that can connect to your household gas supply. This would require a professional to connect your permanent fire pit.
So, with a portable propane gas fire pit, you'll appreciate the convenience of portability, but you may be put off with the slightly higher cost of the propane gas.
Material
As far as fire pit materials go, you have several options. Most of these options will be available to you if you're searching for a gas fire pit. That's because a gas flame is much more controlled and therefore you can use a specific material as a surround, that will not be impacted by flame.
Common materials used for this purpose are fibreglass, bronze, stainless-steel and aluminium. You can also get decorative surrounds such as wicker or stone, although the stone is often a poly-resin made to look like stone.
When it comes to wood/coal fire pits you're basically looking at steel, ceramic or cast iron. Each have their own advantages and disadvantages. Stainless-steel is a great option as it's lightweight compared to other materials. If this is the material you like, my advice would be to get it powder coated to protect the pit from the elements such as rain & wind.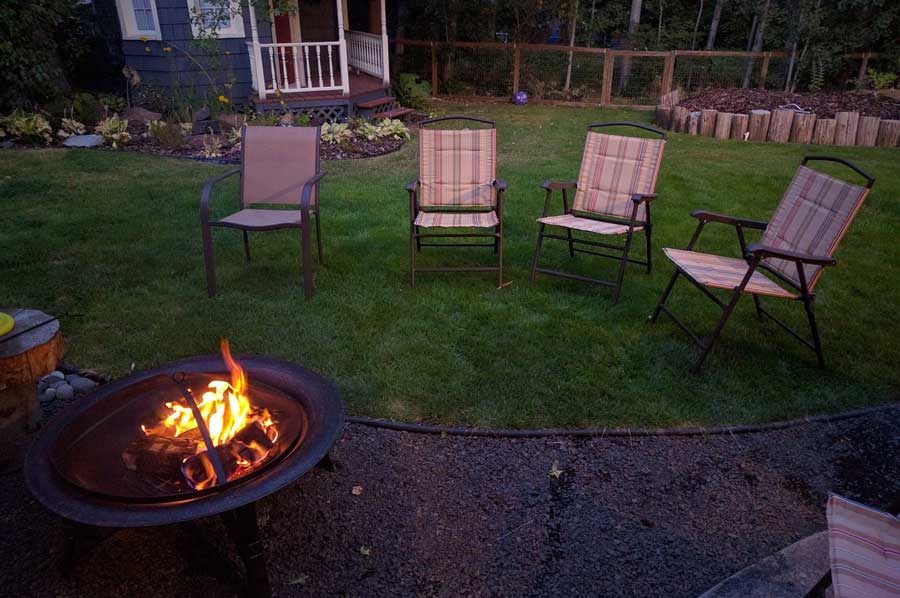 The benefits of ceramic are that the outside surface will not get as hot as steel. This is a good option if you are buying a Chiminea. Young children may not notice the Chiminea is alight if they are on the back side of it. You cannot see through a Chiminea as there's only an opening at the front and a smoke hole above. So, if little hand touches a ceramic Chiminea they are less likely to have a major injury as they would if it was steel. Mind you, it would still leave a nasty mark.
Cast iron on the other hand are gaining in popularity but also become very hot when touched. They are also heavy but on the plus side, they are extremely durable and keep their warmth well.
If you're looking for a fire pit like the sphere fire pits further down this page, they are made from steel or cast iron which is perfect for the sphere style. You're always going to see that they are alight as you can see through them. They'll also keep as much heat as possible, keeping you warm whilst you sip on a cold beer from your beer fridge!
Mobility
Stainless steel is an ideal material for mobility as its light, allowing you to manoeuvre it into various locations. It also goes without saying that the smaller the fire pit, the easier the mobility. There's also the option for wheels on your fire pit, otherwise a low base trolley with wheels may be an option to place your fire pit on.
Now just a safety tip on open non gas fire pits. It can be a good idea to wear a BBQ apron to protect you from embers that may fly from the fire. We have an article on BBQ aprons and some of them are extremely robust and perfect for this kind of protection.
There's a lot more we could talk about but I bet your itching to see out list of the best outdoor gas fire pits & non gas fire pits, so lets get going.
#1 - Stonecrest Outdoor Propane Fire Pit
Customer Reviews





4.9
Pro's
2 x Styles, Square/Round
No Assembly Required
Natural Stone or Grey color
Your wife will love you for buying this classical designed gas fire pit that would enhance any outdoor area. All you need to add is the propane gas cylinder, which is not included. Then you can relax and enjoy that beer or glass of wine in front of an elegantly styled feature gas fire pit.
You'll be inspired by the 4 variations available, 2 colours and 2 styles. The colors available to you are Grey or Natural Stone and you can choose from a square fire pit like in the attached image, or a round fire pit if this would suit your desired location better.
You will not have to worry about assembling it once you get it home either, the fire pit comes fully assembled so you only need to connect the propane gas tank to the internal connection. No more assembly instructions like Ikea! Then simply light it with the starter ignition.
Don't worry about your deck burning either. There is a plate for the propane gas tank to sit on which is off the base surface and the heat is roughly 3-feet above the ground.
Before purchasing, you may want to take note of the dimensions which are as follows:
Height=24"
Width=34.5"
Depth=34.5"
Approx.36" Diameter
Weight =Approx. 120lbs
You will also receive a cover for the fire pit, so if left outside, it's a good idea to secure it under this supplied cover. The pit also comes with lava rocks, but you may prefer to change these lava rocks with rocks of a different color. You will have to buy these separately, but some customers have suggested using blue glass rocks, they look amazing. You'll need approx. 25-30lb of glass rocks.
Great features include:
Square or Round design
No assembly required
Grey or Natural Stone finish
Cover & Care instructions included
If outdoor gas fire pits are your thing then this is a great option that's had over 20 great customer reviews giving a 4.9-star rating. Click the image to check out more specifications or the reviews.
#2 - Wine Barrel Fire Pit Table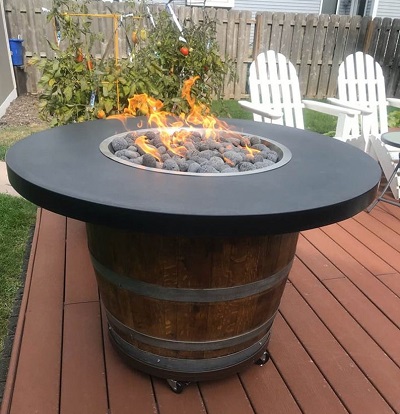 Customer Reviews





5.0
Pro's
Propane tank or natural gas
High quality craftsmanship
High performance GFRC concrete tops
Now isn't this a beauty! Can you just imagine sitting around this wonderfully crafted barrel gas fire pit enjoying a few bevies with the boys? Of course you could, and it could be yours with a bit of coin. Admittedly, they are not cheap, so you'll be paying over 1K, but just look at the quality of this barrel fire pit.
It's the signature piece from this company and the craftsmanship is first class. The burner and burner pan for these fire pits are constructed of 316 stainless steel and these two components carry a lifetime warranty from the manufacturer.
The fire pit tops are made of GFRC concrete, and come in various sizes and colors.
The utmost attention to detail is offered to each fire pit, and each handmade piece has its own characteristics from the process used to create it. 
I like that this fire pit can be hooked up to either a propane tank or natural gas.
Great features include:
Solid GFRC concrete
Various sizes available
High quality craftsmanship
Stains available
As you can see, there's a lot to love about this Wine barrel fire pit. You can check out the reviews on Etsy by clicking on the accompanying button. You will also find the specifications and returns & exchange details.
#3 - Wine Barrel Fire Pit Coffee Table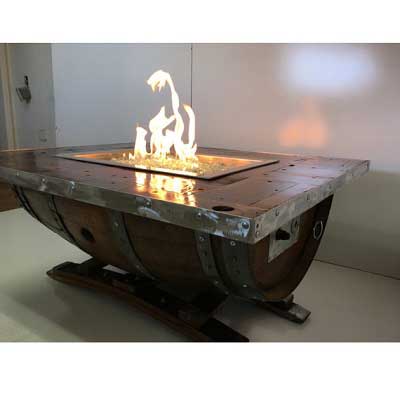 Customer Reviews





5.0
Pro's
3 Flame Settings
2 Styles of table available
Highest quality craftsmanship
Con's
No starter ignition button
From the same manufacturers as the fire pit above, you'll love the coffee table version!
Nobody wants to see old wine or whiskey barrels falling apart and destined for the scrap heap. So, if you appreciate the recycling of materials then you're going to love the way these barrels have been carefully looked after and used so effectively in a coffee table fire pit.
The craftsmanship is high quality and the various finishes to each individually made piece are smooth, yet strong.
Hypnotize your mates with the dancing flames as they sit around this awesome fire pit enjoying a few laughs. Trust me, the complementary comments you'll receive will flow after every occasion and will warm the cockles of your heart.
There are two variations of this fire pit coffee table with the first being exactly shown as in the image. This is the 'plank style' with straight timber planks crafted for the table top surround. The second option is the 'cross hatched style' which is a different cross hatch pattern. Both look amazing and the preference will be to your personal liking. Coated in a high heat paint to keep the timber and barrel protected, it also shows off the authenticity of the timber.
Unlike the previous barrel fire pit, there is no start up ignition button, instead you'll have to get your matches out! Although very much like the previous one, there are 3 various settings of low, medium and high.
Great features include:
High heat paint coating
3 Flame setting
2 x Styles available
High quality craftsmanship
This company pride themselves on making quality wine barrel fire pit products that will last for a long time. The hand crafting makes each piece unique and due to this, the dimensions may vary slightly.
Click on the 'Check it Out' button if you'd like to find more details & specifications.