Best Man Cave Coffee Tables for 2021 - Rock Solid Style
Disclosure: Links in this post may be to our affiliates; sales through affiliate links may benefit this site. Please help support 'I Know The Barman' by using the links provided.
It won't cost you anything extra.
Introduction
So, who doesn't need a coffee table in their man cave. I don't necessarily mean to place your coffee down, there's more chance of it being your beer placement device.
There's loads of different styles and designs for coffee tables, but I like to search for the unique ones. The coffee tables with more pizazz and X factor. Which is why I decided to write about the best man cave coffee tables I've seen this year.
Some may not be your taste, others may just be a little too out there. But I'm providing options that are not found in your everyday store. Many of these are custom made and/or handmade, so you know your item will be unique.
But first, here's a brief guide on what to look for in YOUR man cave coffee table.
Man Cave Coffee Table Buying Guide
There are several things you may want to consider before purchasing a coffee table for your man cave. Have a browse through these categories and see what applies to your situation.
Size – One of the first things you need to weigh up is the amount of room you have in your required space. You need enough room to walk around your coffee table, and not just squeeze by.
Also think about other furniture that may protrude into your area, such as bar stools or chairs from another table that stick out. You may have a pool table nearby, so pool cues could be a hazard.
If you need to down size a little, so be it. There's nothing worse than a cluttered and crammed man cave.
Storage – Some coffee tables come with their own storage. Usually this is not a necessity, but some of you may want extra drawers built into a coffee table, or just a shelf underneath. After all, having somewhere to store pizza boxes after a big night could be handy!
Weight – Depending on where your man cave is situated, you will want to consider the weight of your coffee table. Too heavy and it could be difficult to get upstairs, or downstairs for that matter. Shape can also be an issue in these circumstances, as too wide may not allow access in stairwells.
I know you'd rather get into browsing coffee tables for your man cave, so I'll leave this buying guide short. So, check out our list below, and see if there's a man cave gem that will suit your room.
#1 Classic car Engine Coffee Table For Man Cave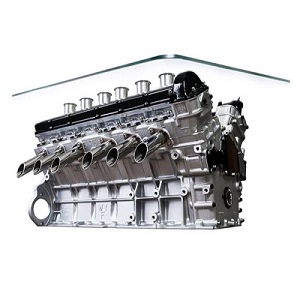 Pro's
5 Models Available
Authentic Car Parts
LED lights & Machine Finish
What a wonderful piece of craftsmanship. Although I'm not a rev-head, or a motoring enthusiast of any kind, I was still blown away by this engine coffee table. It looks absolutely amazing, and if I was into my cars, this would be on my bucket list of accessories.
There's even 5 different car models to choose from, each with distinct differences.
Jaguar V8
BMW V8
Rover V8
Mercedes AMG V8
Jaguar V12
Each piece is made by using authentic car parts, by quality craftsmen in Yorkshire, UK.
These amazing pieces are made from damaged or no longer running engines. There's also optional features that can be added to the base product.
Here's what you'll get with the 3 different options:
Standard – Glass supports, stainless steel fixings and adjustable feet are all included in the standard purchase.
Advanced – Along with the standard features, you'll also get castor wheels, LED lights and a manufacturer top plate.
Premium : Along with the advanced features, you'll also get a special machined finish.
Please note that the glass top is not included with the engine. You can get a glass top as part ordered at the same time, but you'll have to contact them about this.
It's recommended that due to shipping and packaging costs they recommend their customers to get a quote from a local glazier.
Subject to availability, the waiting time can be 3-5 weeks. Although in my opinion, it will be worth the wait.
#2 - Golf Sports Coffee Tables for Man Cave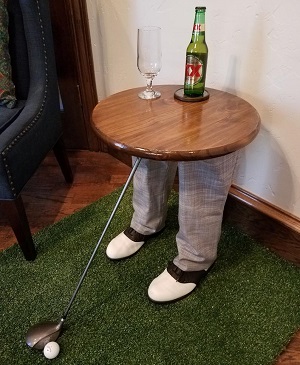 Pro's
Multiple colors/styles
Nice Timber Finish
Uniqueness
Con's
Grass Mat Could Take Up Room
​Whether you call this a coffee table or an end table, it certainly makes a statement. The ideal place to put your beer or coffee while shooting some pool or darts. 
It's not as large as your traditional coffee table, but will serve the intended purpose. 
If you're a golfing fan, this will be right up your street. It will certainly get a lot of comments when your mates come to visit.
I really like that these come in a variety of colored pants and shoes, so you're not restricted to the one design. The link with this review will take you to all varieties. 
There's generally a 3-5 day dispatch time, and your delivery is free to most countries.
As of writing this article, it's a fairly new product so there are no reviews from customers.
#3 - Cadillac Table For Man Cave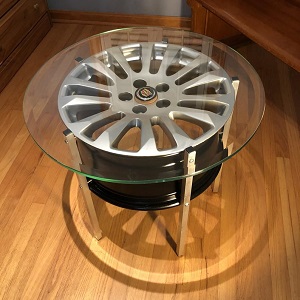 Pro's
4 Car Varieties
Requests accepted
Tempered Glass
Recycled Wheels
Car Emblem Included
​If you're after a repurposed wheel to impress your friends, then seeing it used as a new coffee table will do the trick. Who better to create this kind of product than a retired aircraft mechanic!
Along with the Cadillac table, there are several other options:
Mazda SUV
BMW Mini Cooper
Cadillac SUV
2000 Ford Crown
In fact because these are custom made, you can contact Mark (craftsman) to have your own specific wheel table made.
With a glass top and aluminium legs, the design is very sturdy. The glass top varies in size, from 22-26 inch in diameter. The glass is also tempered, so it's extremely safe.
Because each wheel has been recycled from actual real cars, an emblem of the original car is placed in the center of the glass table.
One thing I really like is the authenticity, which is displayed in each wheel. This has come from the "character and flaws" that were made during its lifetime.
These wheels are usually ready to dispatch within 3-5 business days.
#4 - Antique Wooden Coffee Table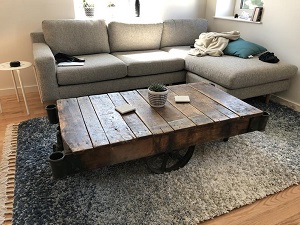 Pro's
Genuine Antique
Original Wood, paint & Metal
Nutting Name Engraved
Not your average coffee table, but it sure will turn heads. More on the expensive side, this antique vintage wooden cart coffee table is an ideal centerpiece for the right man cave.
I must admit, it needs to suit the correct location and ambiance. However, if you've got the spot, this is the right item.
I understand this is the last one left, so if the link to this cart doesn't work, the cart has been bought.
The reason there's only one left is because it's a one of a kind. It's a vintage wooden factory cart made by Nutting in the early 1900s, and the wood, metal, paint, and stain are all original. You will not get anything like this again.
The authenticity of this cart is genuine and even the end wheels and side panel have the original Nutting name engraved.
It's an absolute beauty, but will cost you.You get what you pay for, and this 100 year old piece is in excellent condition.
#5 - Officially Licensed NFL Coffee Table
Pro's
Made From Hardwood
Center Panel Team Logo
Reversible Center Panel
​
From the more expensive to the least. There's a good reason for that though, these NFL coffee tables come from a production line. Not that it matters, because they're a good addition to any man cave.
This is an Amazon product and may not support all teams, so you'll want to check it out to see if your team is available.
These durable and easy to clean tables are constructed from select hardwoods that resist scratching and marring. Because of the dark color, it will match just about any interior.
I really like the center of this table which can be switched between game day and non game day. Your team logo will be printed on the center panel, which is reversible for a simple clean look.
With dimensions of 44″ L x 17″ W x 24″ H, it may be an ideal solution for your man cave.
#6 - Arcade Game Coffee Tables
Pro's
1162 Games
Chrome Stools Included
Tempered Glass Top
22″ LED Monitor
Con's
Reasonably Heavy at 185 lbs
​Alright, it may not be your traditional coffee table, but don't tell me you wouldn't place your coffee or beer down on this table. You're also getting much more enjoyment by playing up 1162 games with this cool arcade table.
Set right out of the 80's (1980's for those unfamiliar with the last millenium), this classic is all ready to just plug in and play. It comes with the two chrome stools which are sturdy for those late nights.
The table comes with a tempered glass top above a 22″ LED monitor. It weighs 185 lbs and is an original full size nostalgic classic. It also comes with a 3-Year Parts warranty.
Can you imagine having the guys and gals around your man cave for a games night with this ripper. You'll be the toast of the town.
#7 - 4 Game Featured Wood Coffee Table
I believe those that enjoy their quality timbers will enjoy this one. This table comprises reversible gaming board inserts that measure 14″ x 12″ sq. The traditional games will intrigue your guests, which the following games being accessible:
Backgammon
Chalkboard
Checkers – Chess
TicTacToe
If you like handcrafted furniture, you'll appreciate this coffee table. Which also comes with sturdy, wooden, handcrafted, easy grip playing pieces. There's 4 burlap bags for storing your pieces and a starter set of chalk and a felt pad for the Chalkboard.
Underneath the game panels are storage areas for your pieces, or anything else.
You don't need to get this table in the one color either, with 4 varieties being offered.
Red Oak
Dark Walnut
Ebony
Classic Gray
Making this coffee table easy to clean, it has 2 coats of marine varnish to protect your investment. This is a classic piece for the board game enthusiast.
Conclusion
Yep, there's a coffee table for any type of man cave. I hope these options have given you some ideas and inspiration for your next furniture piece.