OMG! The Best Man Cave Clocks Ever!
Disclosure: Links in this post may be to our affiliates; sales through affiliate links may benefit this site. Please help support 'I Know The Barman' by using the links provided.
It won't cost you anything extra.
Introduction
Surely you can't have a man cave without a character filled clock to be featured prominently above the bar. While it takes all sorts of styles to fit out a room like this, your clock is a feature piece that needs careful consideration. Some prefer a man cave with an automobile theme, others prefer a pool/games room style while gamer man caves are also on the rise.
There's a clock for every occasion and we've found some of the best custom or unique designs that would suit any cool hideaway or bar. Etsy is one of the greatest marketplaces around for custom or personalised products that ooze quality. Amazon can also provide some cool products but when it comes to man cave clocks, the former is an ideal place to find this type of product.
#1 - Customised Rustic Wooden Clock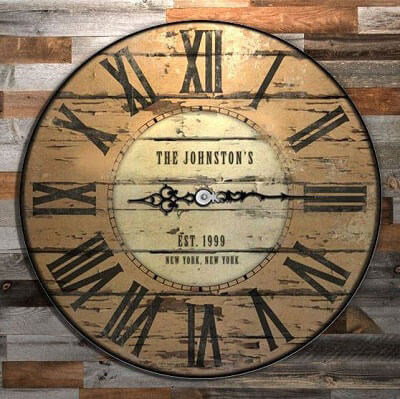 Customer Reviews





5.0
Pro's
4 Sizes to Choose From
3 Custom Lines of text
Quartz movement
Your home bar has become your retreat that you turn to whenever the boys come around for a quiet beer. But they need to know when to leave also! This is why you require a clock above your bar in the style of the room you dedicate for drinking. If your bar is decked out in a rustic style design, then a rustic looking clock is going to fit in with the surroundings.
We've found this trendy, yet rustic wooden clock that you can customize to suit your room atmosphere. I love handmade items as I know the craftsmanship is going to be more detailed and accurate. I also really like timber products, and this clock ticks that box. What I'm not too sure about is the type of timber used. Although they suggest it's made from rustic wood, I'm sure some would like to know the actual type of wood used.
However, the design works well and looks cool. Here's some of the features:
You'll have the choice of 4 different sizes to choose from with the smallest being 12-inch diameter and the largest being 30-inch diameter. If you've ever seen clocks 30-inch in diameter, you'll know that they can make a great feature, but they do need to be placed in a room that works for this size.
See the 3 lines of text in the center of the clock? This can be customized to your liking which makes it an awesome gift for somebody.
The clock itself is pre-assembled before slotting into the timber surrounds. It's a Quartz movement which I'm sure you'll appreciate great quality. To complement the clock background, you'll find black decorative serpentine clock hands.
You'll also find hanging the clock is simple as it comes with a saw-tooth hanger on the rear. It may be too good for your garden shed but would suit any indoor feature room. This is a reasonably priced clock that may just suit your style.
#2 - Custom Wooden 'ManCave' Clock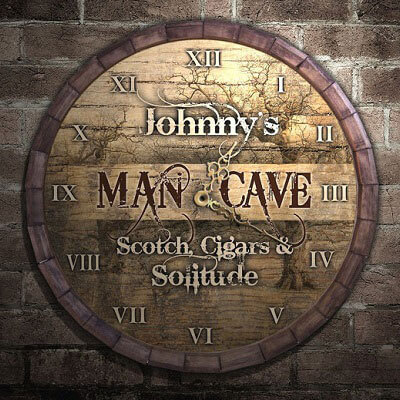 Customer Reviews





5.0
Pro's
Awesome Whiskey Barrel Clock Face
19-Inch Diameter
Handmade with Quartz Movement
Personalized
Ideal Gift
Oh yes, have we found the perfect man cave clock for your place of solitude. It's right in line with everything you could envisage in a manly retreat and your mates will be so envious. They will all want to know where you found this beauty. If I was you, I wouldn't tell them. Keep this secret man cave clock to yourself, you don't want your competitors copying you.
You'll pay a little more for this 19-inch clock which you'll notice has similarities to a barrel. Yep, the clock face is a designed as a replica whiskey barrel top. Made from USA real wood, you'll enjoy the distressed and weathered look that makes this clock look well used as if it has a story of the past. It would look perfect above your Scotch Whiskey decanter.
Features included in this clock are:
Fully handmade apart from the Quartz movement, which is added to the clock towards completion. I really love the old weathered tree image in the barrel clock face which gives an authentic feel.
You will receive a custom product as the top line of text can be personalized to whatever writing you prefer. Preferably a first name or nick-name in would be the logical replacement in this location but you could have a club or organization name.
Ideal as a gift for the owner of a man-cave or pool room. If someone you know loves their scotch or Irish Whiskey, then they'll appreciate the barrel top design this offers.
Comes as a standard 19-inch diameter clock face and uses 2xAA batteries.
Like the above clock, it comes with serpentine style clock hands which offers a little class to the timepiece.
If you want this clock as a gift for somebody or even for yourself, make sure you live in the USA. Unfortunately for those outside the USA, they don't offer shipping to other countries due to restrictions. I've seen this before however and it can change. So, just to be sure, click the 'Check it Out' button and see if the shipping details have changed.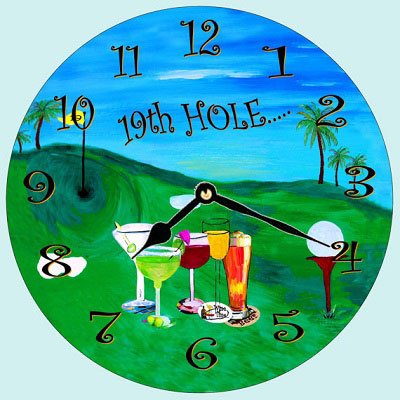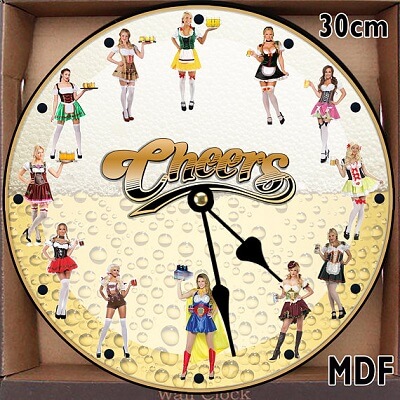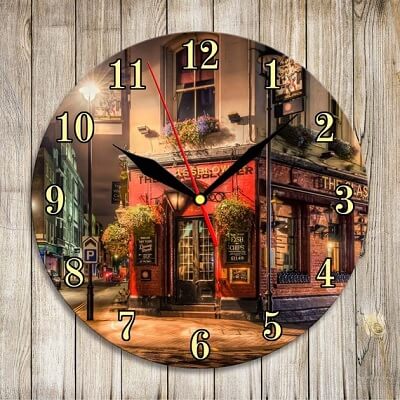 #3 - Beer Thirty Personalized Bar Clock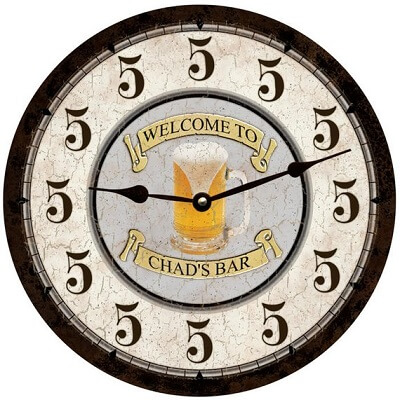 Customer Reviews





4.9
Pro's
5 o'Clock Somewhere in the world
4 Sizes to Choose from
Custom Design
The insinuation means everything with this awesome clock made specifically to sit behind your home bar. Giving the indication that it's 5 O'Clock somewhere in the world, it's always time for a fine beer. You'll receive questions from all sorts as to why is always 5 O'Clock. Many will already understand and get the joke. Once explained to others, they'll appreciate your humor.
Like most of these clocks, the timepiece is made with Quartz movement, so you know it's quality. The design itself is unique in appearance with your favorite brew as the centerpiece. Here's what other features we like with this clock:
You'll have the option of 5 various sizes ranging from 10-inch diameter to 23-inch diameter. I like having this choice as it allows for smaller spaces to enjoy the design just as much as larger man caves do.
Like all good custom clocks, you'll have the option to add your own customized wording. This is always a feature that makes the item stand out and indicate that it's a personal masterpiece.
The polished process of making this clock is meticulous. Made with a laser-cut 1/4 -inch think MDF panel, the inks used are fade resistant and comes with a UV coating, meaning it will last for many years.
My preference is always a clock that is aged in someway to make it look like it wasn't bought yesterday. That's exactly what has been achieved here.
There's also many great reviews for this clock stating that the seller is patient and wants to get the design as correct as you do. You will have a great experience buying from these guys.
#4 - It's Always WINE o'clock Bar Clock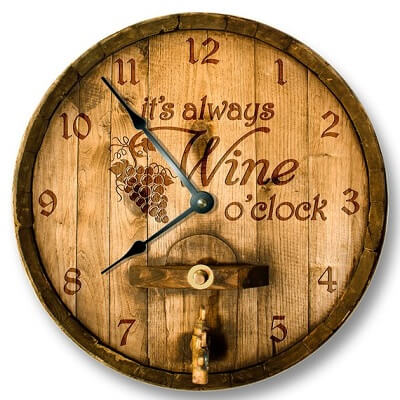 Customer Reviews





4.5
Pro's
No Frame or Cover Required
Quartz Movement
Metal Clock Hands
No Ticking Noise
Con's
? Printed Image, NOT Authentic
Awesome printed clock but would be more authentic if it was made of wood. It looks like wood in the image and the barrel tap on the front also looks real. However, this is an open face clock with printed image on the front. I guess this the reason for the rating for this clock being lower than the others.
That all said, the ratings are not too bad and there's a lot of happy customers. It's certainly not my preference but with the range of designs available, there's plenty of choice. This is just one of there designs which gives the impression of a wine barrel end with tap. It's very effective and would suit many a home bar.
Here's the features you'll find with this clock:
There's no cover of frame needed on this clock. It's a rigid open face which is 10 ½ inches in diameter. The thickness is 1/8 inch
It comes with Quartz movement so it's a quality timepiece.
The clock hands are made from metal instead of plastic which is a nice touch
You won't find a ticking noise with this clock which is handy if you're placing this in a bedroom.
You will find it has a Masonite backing which has been laser cut. The high-resolution image is then placed on the base and laminated. This company promote vivid colours and sharp pictures so expect a great print.
As each clock is made to order, the processing time is 3-5 working day before it gets delivered.
#5 - Double Neon Home Bar Personalized Clock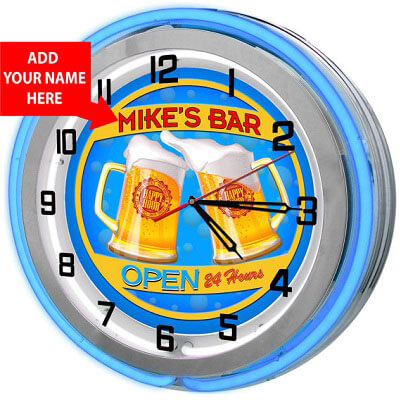 Customer Reviews





5.0
Pro's
Polished Chrome Surround
Pull-Down Chain On/Off Switch
Personalised Customization
Sweep Technology for Noiseless Ticking
Looking more like it would fit right at home on the Happy Days set, this neon clock will stand out and make a huge statement in the desired room that you've set aside. It's a solid timepiece with neon surrounds giving a glow from a retro era. This was all the rage in the 1960's but this clock is much more durable than what was built then.
The moulded resin housing of the clock is finished with high polished chrome making it a suit a pool room with retro features such as a jukebox. The clock face has silk-screen bold printed numbers making them easy to read. This is covered with a protective glass lens keeping the insides secure from bugs or in my case, children's fingers!
Other features to note are:
You'll love the classic pull-down chain that switches the neon lights on and off. A little throw back to a simpler era.
You can have this clock face personalised to suggest it's YOUR bar. Simply send this company your customising request straight after purchasing.
If the clock is to be placed in a room where people may sleep, they'll appreciate the quietness of the clock with hands that do not make a ticking sound. This is known as Sweep Technology.
You'll find two hand blown real glass neon rings of which the colours complement the style and design of the clock face theme itself.
With high-grade neon power supplies, your neon bars will last a long time. You'll find the 18.75-inch diameter is large enough as the depth of the clock is quite deep at 5.5-inches. This gives the clock a chunky feel which can work in many rooms.
There's many designs to choose from so we've added a few more below. They've been given a great rating and reviews.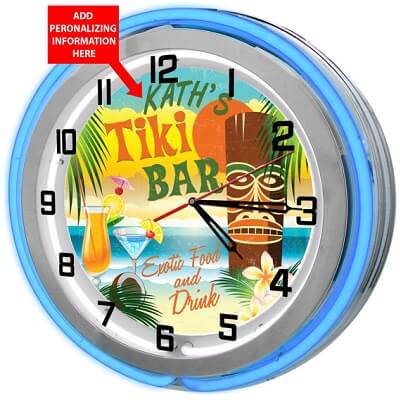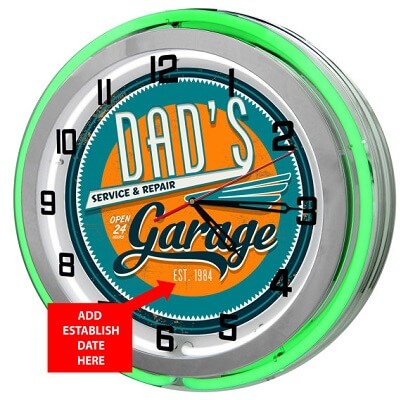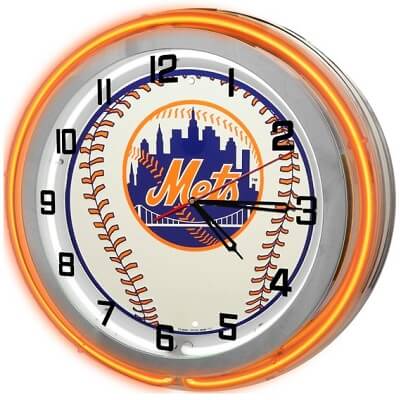 #6 - Scotch Whiskey Wall Time Clock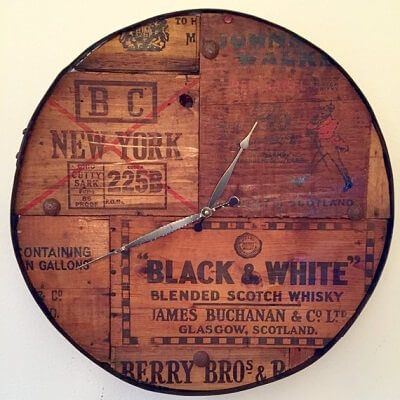 Customer Reviews





5.0
Pro's
Each Clock is Uniquely Original
Timber from Shipping in the 1940's
24-Inch in Diameter
Scotch Whiskey Authenticity
If you're after pure authenticity in a bar clock, then you may choose one like this that has been crafted from original Scottish Whiskey Shipping re-purposed wood. You will be the envy of many who enjoy their antique materials and features. The rustic appeal that this timepiece expresses shows through in each timber piece.
You'll find that these Scotch Whiskey wood pieces were used as far back as the 1940's for shipping the famous whiskey. They've been bought back to life in this amazing clock that tells a story with each timber panel. Features you'll appreciate are listed below:
Antique timber panels from a lost past are crafted into this lovely clock which Is handmade by exquisite craftsman.
Perfect for your home bar, fireplace or pool room. It would also make a great gift for Xmas, Fathers-Day or birthday.
You'll love the fact that each time piece is uniquely one of a kind and the logos and labels have been carefully preserved so that the original character is kept alive.
The size of this Scotch Whiskey clock is 24-inches in diameter which is fairly large.
I love the fact that no two clocks are the same, and you know that yours will be unique and original. If you're a Scotch Whiskey lover, you will adore this clock which would be ideally placed above your Scotch decanter.
This company create other custom pieces of furniture which you can view by clicking on the button under the clock image. You'll find reviews and ratings along with buying instructions.
#7 - Corona Extra Beer Neon Clock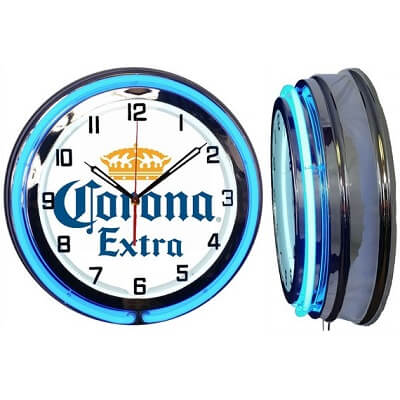 Customer Reviews





5.0
Pro's
Pull-Down-Chain On/Off Switch
Bold Numbering for Easy Reading
Customization Option Available
Much the same as the previous neon clocks above, the Corona clock is supplied by a different company. But hey, this is for your man cave or home bar, so the chances are a beer brand is going to suit your surrounds. It makes sense to have a Corona or Heineken sign displayed above your most prized piece of man cave furniture, the ultimate bar.
And as you can see below, there's more than just a Corona beer brand, in fact they've got a variety including Bud Lite, Coors and Bluemoon. So, you can choose your preferred beer clock to your liking. And if you have a friend or family member that likes a specific beer, this would make a great gift for them.
Similar features you'll appreciate are:
Classic pull-down chain as the On/Off switch
Only requires one AA battery which means you can save all your batteries for those kid's toys!
Silk-screen numbers in bold font for easy reading.
For an additional fee you can have your clock face personalised. I like this idea as it gives you a point of difference than nobody else will have.
So, with all the other features including the cool retro neon light bands, your home bar will feel more like a real bar hidden deep underground. These have great reviews and are highly recommended.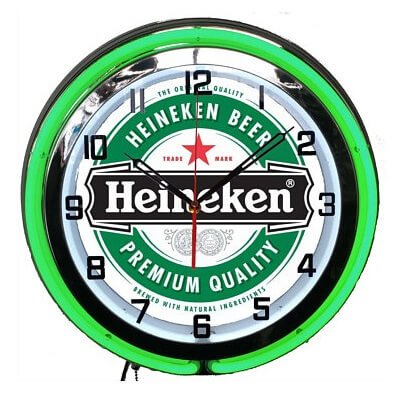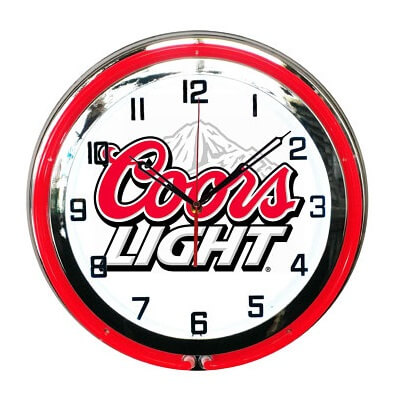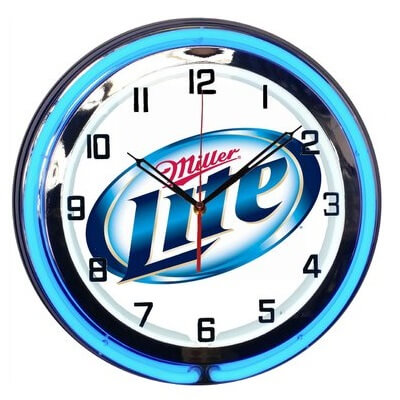 Conclusion
Let your visitors know when it's time to go home, and in recognition of clock number 3, when it's 5 o'clock beer time.
All bars need a nice pub clock and some antique versions are absolutely wonderful. All these clocks are rated highly, it just comes down to your particular style and taste as to which one you admire the most. Many of the companies that sell these clocks have variations and other furniture pieces. You can see their whole collection by clicking on the button that accompanies the image, then clicking on the company name.
If you'd like to share your favorite with us, please feel free to add to the discussion below.