Best Gamer Man Cave Ideas That 2021 Can Offer You
Introduction
When we talk about gamers, we're not talking about traditional man cave games such as snooker, darts or air hockey. We'll have another article to focus on those games but for now, we're all about electronic gamers.
You know, the video gamer that gets so obsessed with Fortnite (or Pacman in the old days!) to the point of not ever knowing what the time is. Yes, video games can be addictive, and you'll find that now days, the gamers that used to be hidden away in bedrooms of their parent's homes, now have their own allocated room.
This breed has been booted out of the family home and have a castle to call their own. So, whilst the traditional man cave (snooker table, bar, card table etc…) still well and truly exists, these guys have created a gamer man cave.
So, what does this type of man cave consist of? Whilst you may still have a bar or beer fridge, the main focus is on screens, and plenty of them. Television screens and computer monitors can take up a good portion of the room. This may be a little over the top, but can you image a set up like this?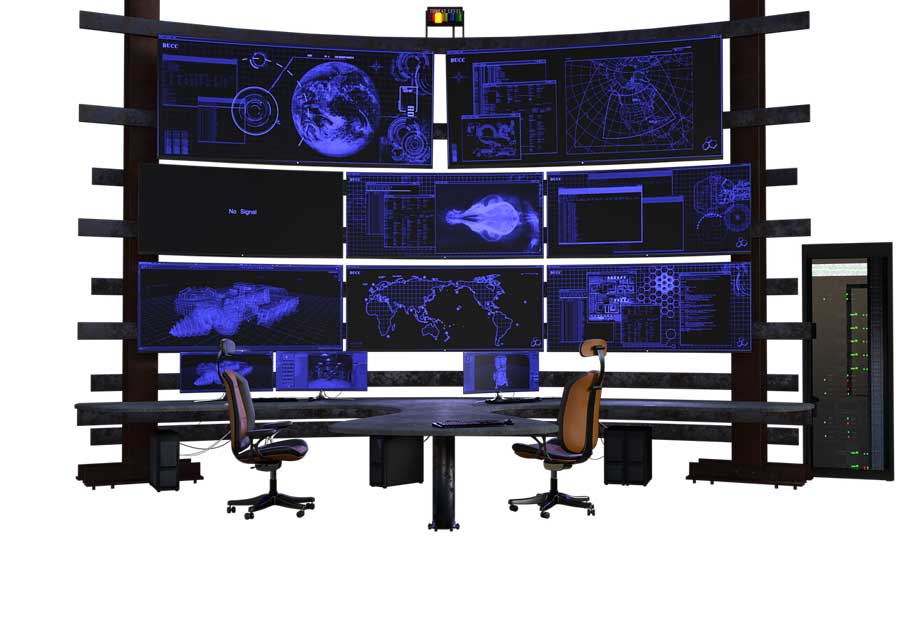 Screens are not the only part of a gamers lair. As you'll see below, we've sourced some of the top items required to give you some great man cave ideas.
#1 - Logitech Gaming Headset With Pro Webcam
Customer Reviews





4.5
Pro's
? Dolby 7.1 Surround Sound
? 2 x Ports for External Devices
? 1080p Video Calling
Con's
? Not compatible with Camtasia Studio 8
So, how can you consider yourself an advanced gamer without a decent headset with attached microphone. Not only that, this headset comes with a webcam, so you can talk face-to-face with your army of online mates.
If you love your audio sounds, you can't help but be impressed with the output this headset produces. You'll love the crisp 7.1 Dolby and DTS headphone surround sound with on-board equalizers, which, for serious gamers, allows for customizable audio. Dolby surround sound is well known, and the 7.1 version adds 2 new audio channels of sound to increase the realism.
You will also appreciate the compatibility of platform usage. This headset can be connected to PS4, Xbox One, PC, mobile devices and more, so versatility is assured.
Some other great aspects of this headset & Webcam combo are listed below:
Gaming devices accentuate lighting color which is what you'll find here. Using your favorite game macros, you'll enjoy being able to change lighting colors, customize your audio equalizer and program three G-keys (Gaming mode).
You'll love the option to answer calls or play music whilst thrashing your opponents. You will find a 3.5mm connection and a USB connection which allows for this unique feature. Nobody wants their game interrupted, especially when winning!
The microphone can also be folded back when not in use, which will give you a superior audio experience. There's also a mute setting on the microphone, in which an LED light will glow when muted.
Now for the webcam. It comes complete with Full HD 1080p video calling and has the latest version of Skype for Windows installed.
You'll find it's compatible with multiple Windows, Mac, Chrome OS, Android, USB ports and more. For more compatibility specifications, click the accompanying image.
This webcam also comes with noise reducing built-in dual stereo mics. It will also fit your tripod, laptop or monitor.
As you can see, there's a lot to like about this gaming headset & webcam. It's also possible to just purchase webcam separately.
There's been well over 9,000 customer reviews from verified purchasers that have given an overall rating of 4.5-stars and over 1000 questions answered on the sales page. Click the 'Check it Out' button to see all this & any other specifications.
#2 - Atlantic Gaming Desk Pro
Customer Reviews





4.5
Pro's
? Elevated Monitor Stand
? Charging Stand for Smart Devices
? Multiple Storage Areas
? Rear Power Strip Holder
Con's
? Low Class Packaging
So, what's the difference between a gaming desk and a normal computer desk? Simply the gaming desk has compartments for your gadgets such as gaming headset, controllers, speakers, DVD's etc. A gamer can be on the same game for hours on end but can also switch between games constantly depending on their priorities at the time.
For those gamers that appreciate the nooks and crannies for multiple gadgets, this is an ideal desk for a great price. It allows for all your pieces in all the right places.
The sleek desk top (which provides ample room) is made from carbon fiber laminate and finished in a charcoal color, supported by durable steel legs. With a slightly curved table front you'll be able to pull yourself into the desk for close-up comfort.
Other great features we like about this desk are described below:
We love the charging stand that will allow you to charge your smartphone or tablet whilst battling out a top-level shooting game.
Other great storage features provided include speaker stands, under-desk basket, controller stands and a headphone/VR headset hook. Obviously, you need somewhere to store your coffee that will keep you up playing all night, so a cup holder is also attached.
Another great addition is the rear power strip holder which will allow for more deceives to reach your gamer desk.
Your elevated monitor stand helps you view your games without being impeded by other objects on the desk. It allows you to place your laptop or tablet in front of the screen. The stand will support a monitor up to 32" which is a great size.
The desk surface is 41 inches x 23.5 inches and is 29.5 inches from floor. Speaker brackets are 6-inches x 5-inches and can be used for other gadgets if so desired. Your monitor stand is 22-inches x 7-inches in size and is 6-inches above desk height.
Customer services is based in the U.S. and is known for providing great support. There are 3 slightly different models to choose from and they're all around a similar price. To check these options out, click on the 'Check it Out' button.
With a 4.5-star rating from over 1,600 verified customers, you'll be doing yourself a favor grabbing this gamer accessory.
#3 - VIOTEK 32 Inch Widescreen LED Computer Monitor
Customer Reviews





4.5
Pro's
? 16.7 million colors
? Anti-glare technology
? Energy Saving Monitor
? 3 x Connectivity including HDMI, VGA and DVI
Con's
? Some customers noted little anti-glare difference
Remember that monitor stand mentioned on the above gamer desk? Well this 32" widescreen monitor will fit perfectly and offers an exceptional viewing area. You don't want to play 'Just Cause' on a 22" screen which loses some of the action impact.
All gamers require television size screens to get the full power and visuals to beat their opponents. This VIOTEK 32" widescreen monitor has a 16:9 screen aspect with a sleek and sophisticated design. If you're searching for a monitor that looks great with clear visuals, this is the one.
Below are some of the great features we love about this monitor:
It's hard to believe but your color array with this monitor is 16.7 million colors! This is how the monitor gets its vibrancy.
With anti-glare technology in the LED monitor, you won't have to concern yourself with sore eyes. Eye fatigue and strain is reduced which is a huge benefit. It can keep you playing for hours.
Another nice benefit is in the hip pocket, as power bills will be reduced with this energy saving monitor. Low power consumption will also make you feel better about our planet, if that's your thing.
We also like the connectivity options which allow for HDMI, VGA and DVI.
One other advantage this this monitor has is the slimline design. This means that if you'd prefer to watch the screen directly mounted on a wall, you can do so. Simply remove the T-shaped stand and fix it to a wall mount.
There's a lot to love about this gaming monitor which you can clearly see. The visual vibrancy is astounding and is perfect for the gamer. Featuring a slim T-shaped stand, it will suit all gaming stations.
Given a 4.5-star rating from over 250 customers, this has been a hugely popular seller.
#4 - Furmax PU Leather Ergonomic Swivel Gaming Chair
Customer Reviews





4.5
Pro's
? Soft Lift Arm-Rests & Foot-Rest
? Pneumatic Height Gas Lift System
? 360-Degree Swivel
Every good gamer requires the best in comfortable chairs. After all, you may be sitting in it for hours on end, switching from FIFA to GTA to whatever else beckons. A chair with all the trimmings can help with your posture and prevent you from back problems in the future.
This chair is specifically made with gaming in mind, so it has an ergonomic design with ample padding. Made from soft PU leather upholstery, you will benefit from the comforts you'd find in more expensive furniture.
I think most gamers or thrill seekers like myself, would love the racing car design that can assume multiple positions of relaxation. The bucket seat makes sure of this, along with the extra thick padding.
So what else can this racing style chair offer you? Here's what:
I really like the arm-rests which can slide vertically to find the correct position for your desired comfort. What good is a gamer chair with no arm-rests!
What about the tilting option which allows the gamer to rock back and forward. Or just sit back in comfort and enjoy your entertainment.
You'll appreciate the highly durable construction with the frame being made from tubular steel. And of course, there's a 360-degree swivel so you can switch from monitor to monitor if you have a few set-up.
You've probably never seen a chair similar to this, that doesn't have a lift system. The pneumatic gas lift system on this chair is triggered by a low handle lever which will adjust the chair to your desired height.
The chair comes packaged with all tools and instructions for easy assembly.
This gamer chair only comes in the blue color but if you click on the 'Check it Out' button, other similar chairs will appear below this one in various colors.
Something to note is that there is no lock to keep the chair from swiveling. I wouldn't have thought this a problem, but it has been bought up in the customer reviews.
With a 4.5-star rating from over 150 verified customers, it's a reliable product.
#5 - XL Non-Slip Low Friction Gaming Mouse Pad
Customer Reviews





4.9
Pro's
? Huge 425 Square Inch Surface
? Non-Slip Rubber Grip
? Low friction surface
? Multiple Colors
Con's
? Black Has no Imagery
Okay, here's a short and sweet review of the low friction gaming mouse mat. Obviously, it's for PC use and not for Xbox, PS4 or any other console type games. Any PC owner using a mouse needs a good mouse mat to stop the mouse from sticking and to roll correctly as you move it.
To have the full gaming experience when playing on PC, you'll benefit from a large sized mouse mat. This one is ideal as it measures 31.5″ in length x 13.75″ in width. Yep, it's large enough (425 square inches) to fit your keyboard, mouse and bungee or other gaming accessory.
Here's what else you'll love regarding this mouse mat:
You should get years of mouse movement out of this mat, as it has a full non-slip rubber grip covering the rear surface surrounded by anti-fray stitching along the edging.
The fabric surface is low friction which will allow your mouse to glide smoothly over the surface without sticking or gripping.
This mouse mat will reduce fatigue and rubbing pressure on your wrist as the soft padding design offers more comfort. We found the 1/8-inch think padding a wrist saver for the obsessive gamer.
You also get to choose from a range of colors including blue. Green, red and black. The black color however, does not display the awesome imagery.
With a huge star-rating of 4.9 from well over 200 customers, this mouse mat will please. For more specifications or to read the reviews, click on the accompanying image.
#6 - OpenWheeler Racing Wheel Stand Cockpit
Customer Reviews





4.7
Pro's
? Stable Deavy Gauge Steel
? Adjustable Length
? No Weight Limit
Con's
? Gear Shift & Pedals costs Extra
Not exactly for a gaming desk, but this 'OpenWheeler' Racing Wheel Stand is designed to connect to more specific gaming platforms. Who needs to head down to the old gaming arcade when you can set one of these up in your man-cave.
Available in 6 various colors, your mates will constantly be coming over to test out your racing seat. Connect it to a PS1,2,3,4, xbox, XboxOne, Xbox360, Nintendo Wii, Nintendo Gamecube, N64, Sega and yes, you can even connect it to a PC.
Although you need to be aware that the controls, pedals and racing wheel are not included, but you can purchase those as separate items in the same order. Click on the image to check the recommended additions and their specifications. Don't go in blind with these attachments, they need to actually fit the racing wheel stand.
How's this for a great gamer man-cave addition:
You'll love the supreme racing cockpit seat that makes you feel right in the moment. It's not quite the same when you're sitting on a bar stool!
The attaching chassis provides stability for a supreme comfortable race. Larger folk will also benefit from the adjustable control to lengthen the distance between the seat and pedals. There's also no weight limit, but wide people may have to squeeze in.
The frame is made from heavy gauge steel which has been powder coated. The seat wings are made entirely of foam without metal bars to rub against your rear! Great move.
When you purchase a Gear Shift (separately), it can be attached on the left or right of the seat. Just in case you're Goofy (to use a snowboarding term!)
From over 200 verified customers, an awesome rating of 4.7-stars has been achieved. So many great comments with many stating that you won't find better for the price.
One other thing to be aware of, is the racing seat is close to the floor. It's not like you're hoping into a real car. If you're clever enough though, you can rig up a height system to make it feel more authentic. Some gamers use their racing seat on crates.
#7 - Cyber Cart Wireless Vertical Ergonomic USB Optical Mouse
Customer Reviews





4.9
Pro's
? Erganomic Natural Curves
? Next/Previous Button
? Power Saving Mode
Con's
? Right Hand Preferred
Let's get one thing straight, if you're left handed, you may like to move on. The old traditional mouse is made with both left and right handers in mind and even though one of the reviews state that this mouse is great for lefties, I tend to disagree. Maybe I just feel awkward using it in my left hand, but it's advertised as a right-handed mouse.
Getting to the specifics, it's ideal in terms of ergonomics. It naturally curves to fit your hand and has a textured rubber grip for added comfort and to ease tension on your wrist and hand. In-fact they call it the handshake grip, I suppose that's a catchy term!
Whilst keeping your hand on the mouse in this handshake position, you'll be able to access the 3 functional buttons, making an all-encompassing pleasant PC or laptop experience.
Some of the other benefits of this ergonomic mouse are stated below:
For gamers (or other users) that spend long amounts of time on their PC, the 'Professional' button that allows for Next/Previous controls is so advantageous and will save you loads of time, especially when browsing the web.
You'll really like the integrated 2.4GHz RF wireless technology and the power-saving mode which provides an auto-sleep function to conserve energy and save your battery life. There's also an LED light to warn you of low battery life.
How many times have you got on someone else's PC only to find the mouse either jumping around too quickly or dragging it's heals slowly? This is all to do with the mouse sensitivity, and this mouse will give you 3 different sensitivity speeds due to the optical tracking technology.
And of course, the mouse is compatible with all Windows, Mac and Linux platforms.
This mouse is a very good seller and over 80 customers have rated it 4.9-stars which is almost a flawless score. Click the 'Check it Out' button to read the great reviews and check more specifications.
#8 - Redragon LED Backlit Wired Mechanical Gaming Keyboard
Customer Reviews





4.7
Pro's
? Brown Mechanical Switches for Great Tactile Typing
? 18 Backlit Modes
? 100% Anti-Ghosting
? Key Remover
Con's
? Driver installation required
What is it that makes this a gamer keyboard, as opposed to a normal office keyboard? There's a few things, but when there's flashy lights and a Pro-gamer mode, it's a bit of a giveaway. We'll go through a few of the features that make the Redragon a killer keyboard.
As a pro-gamer yourself, you need the best equipment available to you and a fast-mechanical keyboard is going to do just that. You also rely on durability, and the heavy-duty metal and ABS construction will see to that. So, it's durable and fast, what else can it offer you?
Here's what you'll get when you purchase this beauty:
Mechanical switches are known amongst gamers for their touch pressure. Different colors present a different touch and feel or click. This keyboard offers brown switches (under the keys) which will give you the best tactile typing experience, whilst being concurrently quieter.
Talk about flashy! How about 18 backlit modes from 6-themed backlights. Pressing FN+INS-PgDn will enter you into Pro-gamer mode where you can adjust the back lighting including the brightness.
You won't need to worry about ghosting as its 104 standard keys are 100% anti-ghosting, meaning your keys will perform accurately without missing a beat.
You'll also benefit by receiving a key remover. Not only that but 8 additional brown switches are included for those clever enough to build their own special custom keyboard. Macro keys can also be created.
Obviously, a user manual is included (which is ideal for beginners to mechanical keyboards like this). You'll receive a warranty card and CD to get you started.
This Redragon keyboard is claimed to be over-engineered which puts my mind at rest. I prefer this for durability reasons and know its going to last.
With a 4.6-star rating from over 250 customers, you know you're on a winner. For more specification and reviews, click the 'Check it Out' button.
#9 - Sony 49-Inch 4K Ultra HD Smart LED TV
Customer Reviews





4.7
Pro's
? Astounding Clarity Display
? Voice Remote Control
? Amazon Alexa Integration
? 16Gb On-board Storage
Con's
? Firmware Updates Not Provided Immediately
As we all know, TV screens can be used as a gaming monitor, but they also give you so many other options. The main factor in a TV however, is a clear picture with incredible brightness when you desire it. You'll find that the X-Motion Clarity technology along with 4K HDR Super Bit Mapping will bring you this clarity.
The technology just gets better as each year passes and these additions are made for today's slim designed TV's. I could go on and on about the display and how exceptional the screen is, but as a gamer, I'm sure you'd prefer to see what other features will help with your gaming experience.
So, here's what else you'll appreciate with the Sony 49":
You're going to love the Voice Remote Control which allows you to talk into the microphone on the remote control to search for anything. Simply press the button and the integrated microphone will be activated so you can talk to your television.
Away from gaming for a minute, the remote control also provides large buttons for Netflix and Google Play. No longer will you need to search for these through menus, go straight there at the push of one button.
16Gb of on-board storage is also a welcome addition. Great for downloaded games.
If you've ever heard of Amazon Alexa, then you'll know what I'm about to mention. If you've never heard of it, you're going to be impressed. This TV is compatible with Amazon Alexa which, through voice control, allows you to manage smart devices throughout your home. You're amazingly genius TV is helped by Android TV with Google Assistant technology. Just talk to your TV and it will follow your commands!
Add to this the wifi connectivity, ethernet port, Bluetooth support for devices such as mouse/keyboard/audio etc, built-in Chromecast smartphone connectivity, 4 x HDMI ports, Audio/headphone outputs for your sub-woofer or sound-bar and USB playback, you'll be well placed to setup all your gaming needs.
This TV is compatible with just about any device you need connected, which makes it suitable for the pro-gamer. If you're after a screen that is not overly large but big enough for representation of your favorite games, this one is hard to go past.
Be aware this is not a 3D TV. You can also download an internet browser, but this is not pre-installed.
Over 20 customers have rated this 4.7-stars with only one customer dropping the rating to achieve this score. The customer makes the point that Sony is advertising Dolby Vision, but this is down to when Sony provides the software upgrade required. You'll then need to wait for a firmware update. Although this is a valid point, only hard-core audiophiles will be disappointed as great sound is achieved through other sources such as Bluetooth speakers or soundboard.
Conclusion
Whilst every man cave is unique, the gamer man cave provides a different perspective altogether. Technology is always changing, and you need to either stay ahead of the pack, or at least keep up with the Jones's.
The above gamer equipment is this year's best sellers on Amazon so if you're in need of an upgrade, go check them out. You can never have too much of a good thing!
If you'd like to share your favorite with us, please feel free to add to the discussion below.
Disclosure: Links in this post may be to our affiliates; sales through affiliate links may benefit this site. Please help support 'I Know The Barman' by using the links provided.
It won't cost you anything extra.