7 Top Wine Glass Shelves With Class
Disclosure: Links in this post may be to our affiliates; sales through affiliate links may benefit this site. Please help support 'I Know The Barman' by using the links provided.
It won't cost you anything extra.
Introduction
Still decking out your man-cave or searching for that awesome compliment for your wine accessories! Well we've been snooping around, and the barman has given us some great advice on the best wine glass shelves currently trending.
The rustic style has been trending for a number of years now and doesn't look like slowing down anytime soon. Timber and metal are both still acceptable materials and we've found both in our list below.
Having a wine shelving rack displayed in your cellar, kitchen or bar will attract lovely complements from all your guests. This is not only beneficial for your soul, these wine glass shelves and racks are extremely practical.
Have a browse through this selection and let us know in the comments below what you think. You can always get more information or purchase a product by clicking on the 'Check it Out' button under each image.
#1 - Rustic Pickled Stained Wall Mounted Wine Rack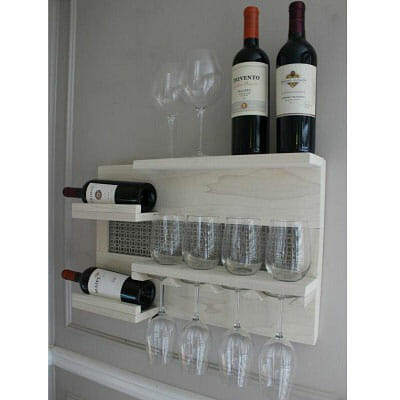 Customer Reviews





5.0
Pro's
? 4 Stemmed Glass Under-Hanging Rack
? Made with Poplar Hardwood
? 2 Wine Bottle Shelves
? 2 Shelves for Stemless Glasses or Bottles
? Multiple Stain Choices
Con's
? Hanger May Not Accommodate Large Wine Glasses
Stunning wine glass racks that can also accompany a small number of bottles for easy access provide a nice point of difference. It's always nice to have wine glasses at hand, to have a shelf for a wine bottle or two is also beneficial, even if it's just for adding wine to your cooking.
There's a small company that executes precision craft-work in wine glass shelves which we're happy to advocate. This is one of their lovely wine glass shelves with bottle storage that looks amazing. An enticing feature with this unit is the available choice of stains, 36 in-fact! This gives variations of stains in the whites, blues, pink/purples and browns. For a full list of the list of stains, click on the button under this image.
If you can't decide on a stain with this many to choose from then you'll struggle to find the perfect tone anywhere.
Here's what else we like about this featured wine glass shelving unit:
You'll have a wine glass hanging rack under the centre shelf that can accompany 4 wine glasses. This is a dedicated place for your stemmed wine glasses, but you can also sit them on a shelf.
The shelving unit is constructed out of poplar hardwood. This type of timber from the tulip tree and is nearly as soft to work with as pine which allows for great craftsmanship. It's also built with screws and glue, rather than glue alone, so it's stronger than many others.
I really like the 2 wine bottle shelves which come with a lip, so the bottles cannot roll off. Preferably these would store your red wine, your white's get stored in the wine refrigerator.
You will also notice the 2 shelves (one with the wine glass rack underneath). These can accommodate extra wine bottles or possibly un-stemmed wine glasses if this is your preference.
Another option you will have is the mesh that can be found displayed on the timber front. There's 2 choices, Mesh or Elliptical. Each are a traditional pattern which can be better viewed on their sales page (Click 'Check it Out').
It's easily mounted on your wall via the two 30lb. wall hangers which are placed on the rear of the unit. The size of this wine glass shelving unit is 24″(W) x 15″(L) and has a depth of 5.25″.
One thing to make note of, is the allocated room in the hanging wine rack. It will accommodate a wine glass base of 3-inches or less which is a standard wine glass size. Large glasses with a wide base may not fit.
Wine glass shelves and racks in the one unit are not commonplace but are out there, and this is one of the better options.
#2 - Wall Mounted 4 Bottle, 10 Glass Wine Rack with Shelves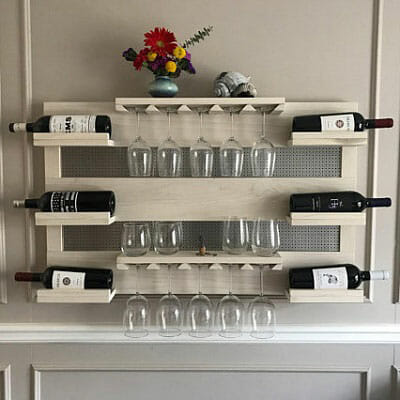 Customer Reviews





5.0
Pro's
? 6 Wine Bottle Shelves
? Accommodates 10 Stemmed Wine Glasses
? 3 x 50lb Wall Hangers
? Poplar Hardwood
Con's
? Hanger May Not Accommodate Large Wine Glasses
If you can notice a similarity between this wine shelving unit and the previous one, you'd be correct. They are both made by the same small company which offers a variety in all types of shelving units, not just wine glass shelves.
Although you'll notice variations in the design, the various options for stain and mesh are the same. The previous wine shelving unit is a little smaller and spontaneous, this unit is more symmetrical and even, with the shelves being directed outward from the center.
You will pay a little more for this wine glass shelving unit as it's larger in size and comes with more storage space. So, what else makes this different from the above model:
6 wine bottle shelves, with lip to stop the bottle from rolling off. This is opposed to 2 wine bottle shelves on the above model. I really like the addition of the extra shelves and with the amount of wine I drink (and my wife!), it's a winner in our house.
The central shelves will allow for many more wine glasses to be hung underneath. 10 stemmed wine glasses to be precise, can be hung in the under-shelf rack.
As these central shelves are longer in size, it allows you to place more items on top of them. Similar to the image shown, stemless wine glasses or ornaments can be arranged here.
Obviously as the wine glass shelving unit is larger, it's also slightly heavier. For this reason, you'll get 3 x 50lb. wall hangers on the rear of the timber piece. This will adequately hold up your new wine glass shelves.
The size of this unit is 39″(W) x 24 (H) with a shelf depth of 5.25″
Just like the previous model, the timber used to craft this piece of wine furniture is poplar hardwood and is built strongly with screws and glue.
You'll have more options for the decorative mesh that comes as a background to this unit. These choices are between Chrome, Dark Bronze, Gold, Chrome Clover or Gold Clover. They can all be viewed with the any other specifications and reviews if you click on the 'Check it Out' button.
#3 - Wine a Little Laugh a Latte Wine/Coffee Rack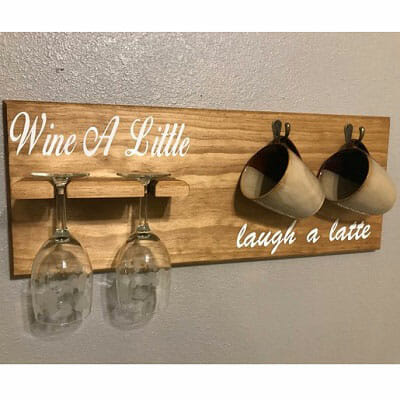 Customer Reviews





5.0
Pro's
? Made to Order & Custom Made
? 24 Stains to Choose From
? 2 x Wine Glass racks
? 2 x Coffee Cup Hooks
With a country cottage feel I absolutely love, this dainty yet bold statement piece would complement any home kitchen. This a custom order from a small company where timber is their business. I really like the style and simplicity of this wine glass rack that is small in nature and large on spunk.
Made from solid wood it has dimensions of 24" (L) x 9.5" (H). I feel that it would suit a country home style house, but that may depend on the stain you choose. You'll have the option of 24 different stains, which is a huge selection. You could not possibly decide that none of these stains would suit your circumstance.
Let's go through the stain choices:
Natural – Golden Oak – Provincial – Red Oak – Puritan Pine – Ipswich Pine – Sedona Red – Colonial Maple – Special Walnut – Red Mahogany – Early American – Gunstock – Red Chestnut – English Chestnut – Cherry – Fruitwood – Golden Pecan – Pickled Oak – Driftwood – Dark Walnut – Ebony – Jacobean – Weathered Oak – Classic Grey. All stain colors are available to view on the sales page by clicking the accompanying image.
Custom orders are also welcome if you'd like your own lettering to suit your wine rack.
You'll find 2 Hooks for your coffee cups along with a double, stemmed wine glass rack.
With so many of the large companies offering items like this but with less durable materials, it's nice to help out the little guys every now and again who offer a better product. You'll find the quality and craftsmanship so much better than factory-built replica's. This is because the craftsman is prouder of his work and has a reputation to uphold.
This company also offers other woodworking gifts which can be found by clicking the 'Check it Out' button.
#4 - 8 Wine Glass Rack with Shelves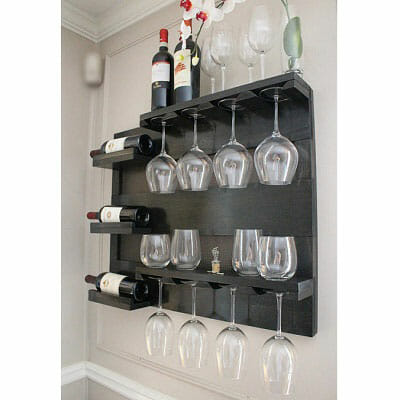 Customer Reviews





5.0
Pro's
? 36 Stain Variations
? Accommodates 8 Stemmed & Non-Stemmed Glasses
? 3 x Wine Bottle Shelves
? 3 x Choice's of mesh
Con's
? Made to Order Takes 3-4 weeks Delivery
Smack bang in the middle of the first two reviewed wine glass shelves, this unit from the same supplier offers an intermediate size for those that don't want to fork out for the large symmetrical version. You can tell it's made by the same company just by looking at the quality of the work put into it.
Although you've got just as many finishes to choose from as the other racks, the image shown is stained in Ebony to give you an idea of this tone. Although I like it, my favourite is still the lighter of the 36 variations. In saying that, the darker stains would look great in a man-cave or pool room. When it comes to the stain color, if you have a beach house I'd suggest one of the blue finishes would look amazing in the right environment.
What you'll get with this unit are described below:
Accommodation for up to 8 stemmed wine glasses can be housed underneath the shelving. Like the other models though, wine glasses with a base above 3-inches in diameter may not fit in the hanging rack.
3 specific shelves for wine bottles with the required lip to prevents rolling.
You'll find this unit comes with 2 shelves (with the hanging racks beneath). Each shelf has a nice amount of room for standing wine bottles, stemmed or stemless wine glasses or ornaments.
The mesh feature on this rack comes in a choice of 3. Those options being Dark Bronze (Shown), Chrome or Gold.
You'll need to be able to hang this wine glass shelving unit safely, so 2 x 50lb wall hangers are provided on the back for this purpose. As we've mentioned before, this small company craft some lovely timber furniture pieces which you can also check out by clicking on the attached image. These wine glass shelves make an interesting feature to any room, especially a nice piece of man cave furniture. I bet you'll be inundated with compliments!
#5 - Reclaimed Wood Wine Rack with Chalk Board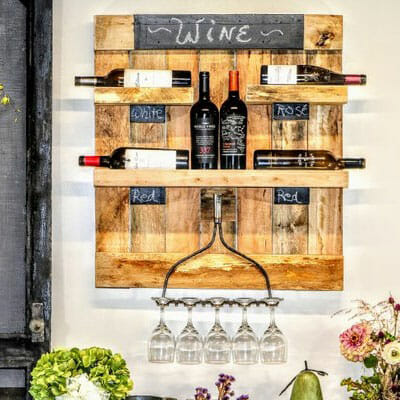 Customer Reviews





5.0
Pro's
? Ingenious Rake Design for Hanging Glasses
? Various Timbers Used
? 6 Wine Bottle Storage
? Chalk Board Labelling
Con's
? Only Holds 5 Glasses
Now here's a wine glass shelf rack with a point of difference! What immediately draws my eye to this piece, is the reclaimed timber which seems to dominate the look. I absolutely love it, as no two pieces of lumber look the same. The rustic wood looks driftwood like and compliments bottles of wine perfectly.
The unusual vintage salvage rake which acts as the wine glass rack, entertains 5 stemmed glasses which hang from the base of the unit. It's an ingenious and unique design which has been crafted by the Reclaimed Addict owner. Each design is individually handcrafted from recycled materials used in old barns or unused pallets.
Here's what you'll find will impress you with this gem:
Various timbers have been used in construction of this shelving unit such as Walnut, Maple, Oak, Cherry or similar wood types.
You'll find room for up to 6 bottles of wine on the provided shelves. The depth of each shelf is 4" so you'll only be able to place one wine bottle per position as in the image.
Here's a unique aspect of this cool wine storage facility, check out the small chalk boards under each wine bottle placement. This allows you to label each bottle as you see fit, with a larger title at the top.
You won't have any problems mounting this unit either. It looks heavier than it actually is, but the mounting system can hold up to 100lbs with the main piece weighing in at 44lbs.
When you receive the item, you'll find it's 90% assembled. All you need to do is attached the rake (that holds the wine glasses) with a simple screw which is provided. A pre-drilled hole has also been made for easy assembly of this piece.
I like a company that back up it's products, and you be provided with a 100% money back guarantee.
#6 - Rustic Luxe Tiered Glass Rack- Set of 2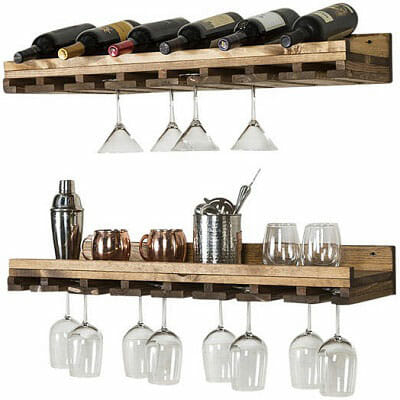 Customer Reviews





5.0
Pro's
? 2 X Shelves/Racks
? Wine racks Hold 24 Glasses Each
? Walnut Finish
? Simple Mounting
Con's
? Need to Align Shelves
So, you won't just get a single wine glass shelf rack here, you get two. It's a bit of a twist on the other wine glass shelves we've shown here but it gives you some flexibility. Having 2 separate shelves gives you the option to place them in varying positions.
You could place them one above the other like in the image attached or have them offset by half length. If you have a wider room, maybe position them side by side. I do like this flexibility of arrangement as it offers a uniqueness to the design.
Here's some of the specifics with this unit:
Each shelf can accommodate up to 24 stemmed wine glasses to hang underneath on the hanging racks. There's 8 slots for the base of the glasses to slide into and each slot can fit 3 glasses each.
The shelves and racks are crafted from high grade pine and have been stained with a walnut tone to offer a classy finish. Unfortunately, there are no other stain variations of note. However, as these are a hand made item, you may be able to request a change of stain.
The shelves measure 6″(H) x 36″(W) and have a depth of 10″. I've found this to be a really nice size to fit a few wine bottles, decanter and non-stemmed glasses atop.
You'll find assembly is simple as each shelf comes with pre-drilled holes. This is a huge benefit as you won't have to go making holes yourself and have the possibility of drilling in the incorrect location.
The one thing to note with these shelves as opposed to the others is that you'll need to align the shelves. No matter whether they are offset or symmetrically aligned, make sure this is done properly or they can look wonky. Make sure you use a spirit level.
The turnaround time for these shelves is approximately 14 days which is acceptable as they are a custom-made item.
For more information and reviews, click on the image that accompanies this review.
#7 - Giantex Wall Mounted Wine Rack Organizer
Customer Reviews





4.6
Pro's
? Diamond Shaped Wine Bottle Storage
? 2 x Metal Glass Racks, Holds 6 Glasses
? Simple Installation
Con's
? Only Comes in White
More in the mold of a formal wine glass shelving unit than a rustic version but extremely nice and well rated. You'll notice this one has more clean lines rather than sanded timber due to the material used. It's made with high quality
MDF
making it more cost efficient. It's a cheaper unit than the others so this could advantage some who are not looking for a more classic piece of furniture but still appreciate style.
There's still lots to like about this wine glass and bottle shelving unit which is lightweight and extremely organized. Here's what I like with this unit:
The cross-diamond design can entertain up to half a dozen bottles of wine very neatly and compactly. More bottles can be placed upright at various locations on the shelving unit along with ornaments or vases.
You'll like the 2 metal glass racks below the shelves which can each hold 3 standard stemmed wine glasses. Alternatively, if you have over sized wine glasses, you can fit one on each end of the racks and leave the middle placing free. This way 4 oversized wine glasses will fit.
 Installation can often cause a problem but not in this case. You'll receive a detailed manual and all hardware required to mount the unit easily.
Unfortunately, this only comes in the single white color which may not suit some environments. Never the less, it will be perfect for a lot of situations.
A second larger option of wine shelf is also available for a few more dollars but it stores 10 bottles of wine, comes in a natural timber color and has more storage space on the shelves.
If you're after cheaper wine glass shelves, this unit could be your perfect solution. It's rated 4.6-stars with only one customer dropping this rating from a perfect score.
Conclusion
Some many variation of products are available in today's market, we've suggested the top wine glass shelves, many in which you can store wine bottles also. They are a classic furniture piece that will enhance any kitchen or man cave.
If you sell your own wine glass shelves then let us know, maybe we'll promote it for you.
If you'd like to share your favorite with us, please feel free to add to the discussion below.