7 Top Wine Glass Shelves With Class
Disclosure: Links in this post may be to our affiliates; sales through affiliate links may benefit this site. Please help support 'I Know The Barman' by using the links provided.
It won't cost you anything extra.
Introduction
Still decking out your man-cave or searching for that awesome compliment for your wine accessories! Well we've been snooping around, and the barman has given us some great advice on the best wine glass shelves currently trending.
The rustic style has been trending for a number of years now and doesn't look like slowing down anytime soon. Timber and metal are both still acceptable materials and we've found both in our list below.
Having a wine shelving rack displayed in your cellar, kitchen or bar will attract lovely complements from all your guests. This is not only beneficial for your soul, these wine glass shelves and racks are extremely practical.
Have a browse through this selection and let us know in the comments below what you think. You can always get more information or purchase a product by clicking on the 'Check it Out' button under each image.
#1 - Rustic Pickled Stained Wall Mounted Wine Rack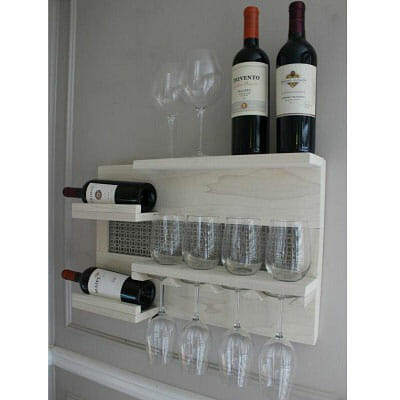 Customer Reviews





5.0
Pro's
? 4 Stemmed Glass Under-Hanging Rack
? Made with Poplar Hardwood
? 2 Wine Bottle Shelves
? 2 Shelves for Stemless Glasses or Bottles
? Multiple Stain Choices
Con's
? Hanger May Not Accommodate Large Wine Glasses
Stunning wine glass racks that can also accompany a small number of bottles for easy access provide a nice point of difference. It's always nice to have wine glasses at hand, to have a shelf for a wine bottle or two is also beneficial, even if it's just for adding wine to your cooking.
There's a small company that executes precision craft-work in wine glass shelves which we're happy to advocate. This is one of their lovely wine glass shelves with bottle storage that looks amazing. An enticing feature with this unit is the available choice of stains, 36 in-fact! This gives variations of stains in the whites, blues, pink/purples and browns. For a full list of the list of stains, click on the button under this image.
If you can't decide on a stain with this many to choose from then you'll struggle to find the perfect tone anywhere.
Here's what else we like about this featured wine glass shelving unit:
You'll have a wine glass hanging rack under the centre shelf that can accompany 4 wine glasses. This is a dedicated place for your stemmed wine glasses, but you can also sit them on a shelf.
The shelving unit is constructed out of poplar hardwood. This type of timber from the tulip tree and is nearly as soft to work with as pine which allows for great craftsmanship. It's also built with screws and glue, rather than glue alone, so it's stronger than many others.
I really like the 2 wine bottle shelves which come with a lip, so the bottles cannot roll off. Preferably these would store your red wine, your white's get stored in the wine refrigerator.
You will also notice the 2 shelves (one with the wine glass rack underneath). These can accommodate extra wine bottles or possibly un-stemmed wine glasses if this is your preference.
Another option you will have is the mesh that can be found displayed on the timber front. There's 2 choices, Mesh or Elliptical. Each are a traditional pattern which can be better viewed on their sales page (Click 'Check it Out').
It's easily mounted on your wall via the two 30lb. wall hangers which are placed on the rear of the unit. The size of this wine glass shelving unit is 24″(W) x 15″(L) and has a depth of 5.25″.
One thing to make note of, is the allocated room in the hanging wine rack. It will accommodate a wine glass base of 3-inches or less which is a standard wine glass size. Large glasses with a wide base may not fit.
Wine glass shelves and racks in the one unit are not commonplace but are out there, and this is one of the better options.
#2 - Wall Mounted 4 Bottle, 10 Glass Wine Rack with Shelves