Do you remember hitting the old British pub and being served a traditional pint. I mean in a traditional dimple pint glass, not the more modern sleek design.
Well, they're still popular and you can buy them with a personalized touch.
I adore these dimpled design pint glasses as I lived in London for 3 years back from 1997-2000. Drinking out of a traditional pint glass like this takes me back and triggers my memory to those wonderful days.
Today though, it's possible to purchase the traditional dimpled pint glass with personalization. These are ideal as gifts for a certain occasion, such as for groomsmen, birthday or other celebration.
Here's a few I've sourced.
1) Britannia Dimple Beer Mug
Home Wet Bar has some brilliant products and their personalized 20 oz. Britannia dimple beer mug is really nice.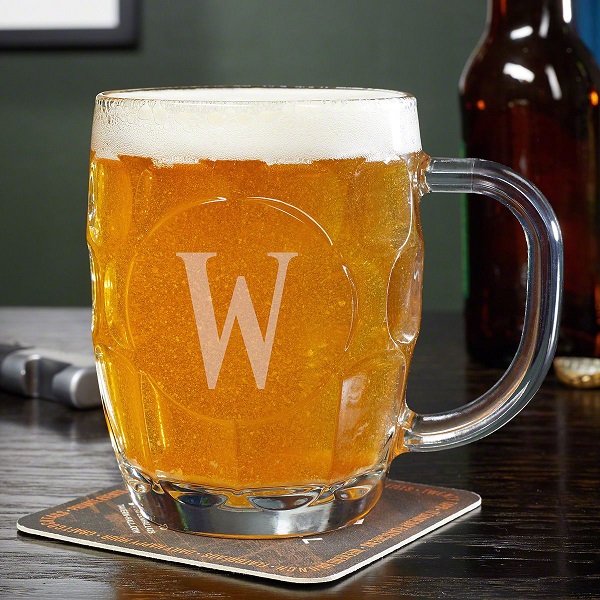 With a flat circular place for a letter, the remainder of the pint glass is dimpled just like you'd receive in a traditional English or Irish pub.
The glass is extremely sturdy which includes the strong handle.
Standing at 5″ tall with a wide mouth opening for your beer of choice to breath, the capacity of 20 oz. is ideal when drinking out in your man cave.
You'll have 4 different fonts to choose from to highlight a single letter. Ideally the first letter of your name.
Includes
Price includes personalization of one letter on the front (4 fonts)
Measures 5″ tall and holds a hearty 20 ounces
Sturdy dimpled glass construction and smooth plate at front for personalization
Wide mouth and a large side handle
We found this over at Home Wet Bar here.
2) Personalized Dimpled Beer Glass Various Occasions
All available from the same store called TreatRepublic, these personalization variations are all possible. Etched onto a traditional single pint mug, it makes an ideal gift for anyone.\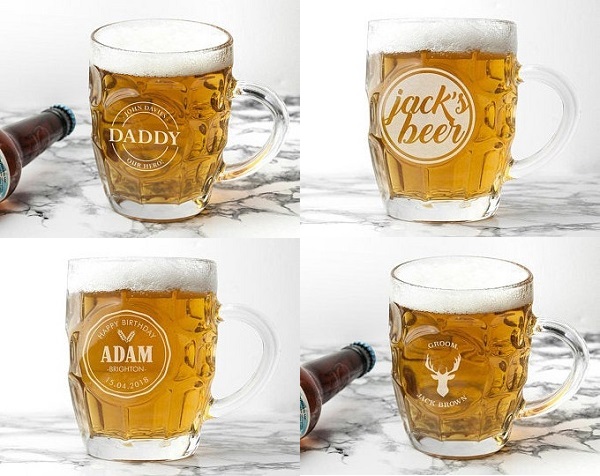 Who wants to just drink beer out of any glass, when you can have your own name emblazoned on the glass.
As you can see in the above image, these are several options that can be selected with a name of up to 12 characters.
With strong glass to cope with etching and the rough and tumble of a man cave, it's hard to go wrong here.
Includes
Single dimpled Pint Glass.

Strong quality glass.

Hand etched with name & two short messages.

Ideal gift.
We found this at TreatRepublic Store (via Etsy) here.
3) Oakmont Personalized Oktoberfest Beer Half Steins x 2
Drinking from full beer steins may not be your preferred choice, therefore half steins are available. This set of 2 x personalized 16.75 oz. beer mugs may be that perfect choice for you.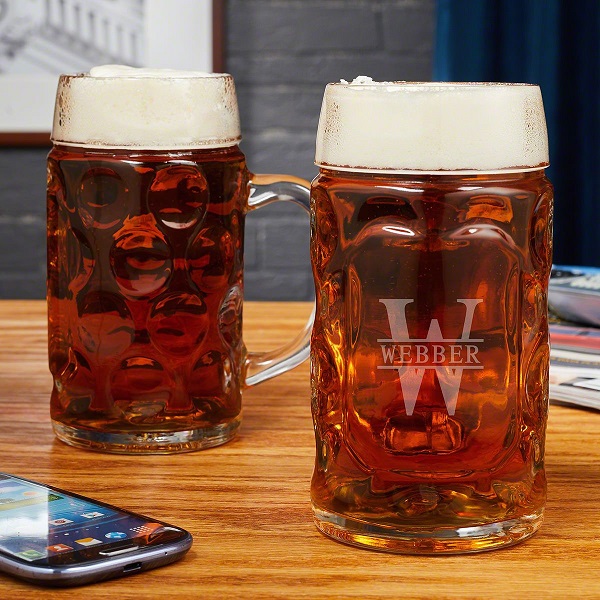 After all, the beer can get quite warm by the time you get to the end of a full stein. I know, I have a boys catch up at The Munich Brauhaus in Melbourne Australia each year, and full steins are the go.
But, the smaller option of half steins which mirror their larger brother are just fine. They are dimpled steins made from durable glass with a tapered top, allowing the beer head to rest nicely for optical aesthetics.
The beer steins measure 6.5" x 3" and each are personalized with name and initial.
Includes
Crafted from tough durable glass.

Personalized with name and initial.

Oktoberfest beer mug measures 6.5" x 3", holds 16.75 ounces

Ideal gift for partner or any occasion
We found this over at Home Wet Bar here.
4) Oktoberfest Giant Full Steins
Now we're talking!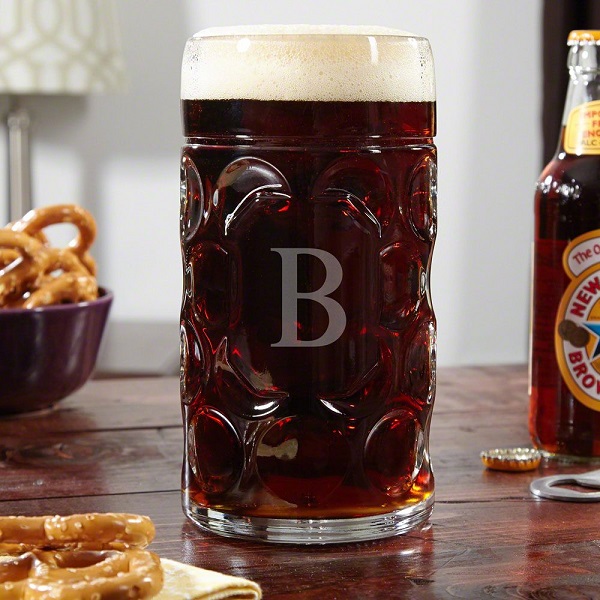 Have you ever drunk out of a full beer stein before! Having been to the Oktoberfest in Munich in 1999, I've had the experience. Although I probably didn't need to drink as many as I did.
Anyway, if you haven't experienced drinking out of a full beer stein, I recommend you try it at least once. You'd be amazed at how heavy they are when full with beer.
As far as purchasing one for yourself, you could get one at the Oktoberfest, but it's a long way to go just for a beer stein. You can however pick one up here, and even have it personalized.
This extra-large beer mug holds a massive 35 ounces and is made from extra-thick glass. You need that extra toughness when toasting!
Just like the smaller version above, you will have a choice of fonts to add to the allocated personalization location.
Includes
Holds 35 oz.

Measures 8″ tall and 6.5″ diameter.

Made of extra-thick glass.

Personalized initial available
We found this over at Home Wet Bar here.
These are all lovely versions of the dimpled style of pint or stein glass. And more than that, they can be personalized for a gift.
I've also sourced some of the best personalized beer pint glass sets, which come in sets of either 4 or 2 pints. Some of these even are exquisitely displayed and gift boxed with extra bonuses, so be sure to check them out.