The Barman Knows His Bars
Best Cocktail Bars London Can Offer You
You want the best bar, right? Whether it be a cocktail bar, sports bar, blues or rooftop bar, you need to know what it's going to be like before you go. This is why we've scoured through many comments, reviews and critic websites to find you the best. We could just go and try it for ourselves (which we love to do anyway), but that doesn't give a full representation from a range of different types of people.
So, below you'll find ratings from a variety of review websites, along with a brief write-up of the top 5 bars for the titled category and location. Check them out, and have a great night!
Yelp Customer Reviews





4.5
Foursquare Customer Reviews










9.4
Timeout Customer Reviews





4.0
Location
129 City Rd, London, Hoxton, EC1V 1JB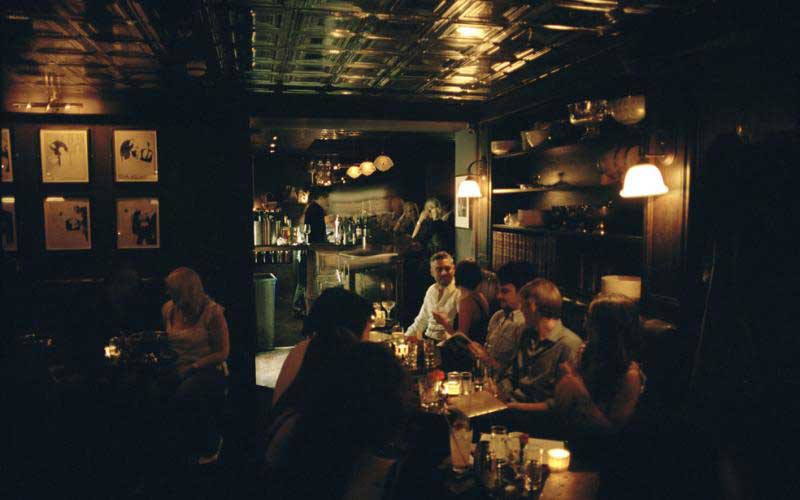 You'll have a hard time choosing from the array of cocktails on offer at Nightjar. Since opening in 2010, the menu has expended and you're bound to find some drinks you've never experienced before. Meals are also on offer including awesome meat & cheese boards and tapas.
If you love a low-lit ambiance with historical overtones and creature comforts, you'll love this place.
Live music such as Jazz or Blues is always on offer at Nightjar, but be aware that you will be required to book for a table as it's so popular. There's also a cover charge for live music but if you go on a Tuesday, Sunday or Monday, the music is on the house.
Yelp Customer Reviews





4.5
Foursquare Customer Reviews










9.2
Timeout Customer Reviews





5.0
Location
343 Cambridge Heath Rd, Bethnal Green, London, E2 9RA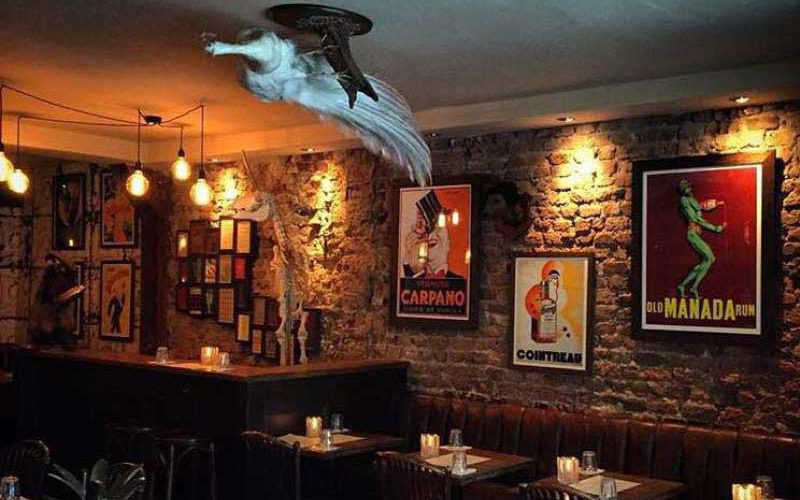 More of an understated or unpretentious cocktail bar than some of the high-end places, you can only love this little gem if you're into unusual decor. With skeletons, taxidermy animals and a snake-headed chicken, they weirdly complement the vintage French pictures adorned here.
You'll have to keep your eye out for 'Satan's Whiskers' as it blends into the shops surrounding it. But once you arrive, and finally get in, if it's not too busy, you will be pleasantly surprised.
They have a vast array of well-priced cocktails which change daily. You'll also find they have great food and a great vibe. Totally different and well worth a visit.
Yelp Customer Reviews





4.0
Foursquare Customer Reviews










9.1
Timeout Customer Reviews





5.0
Location
20 Upper Ground, South Bank, Southwark, London, SE1 9PD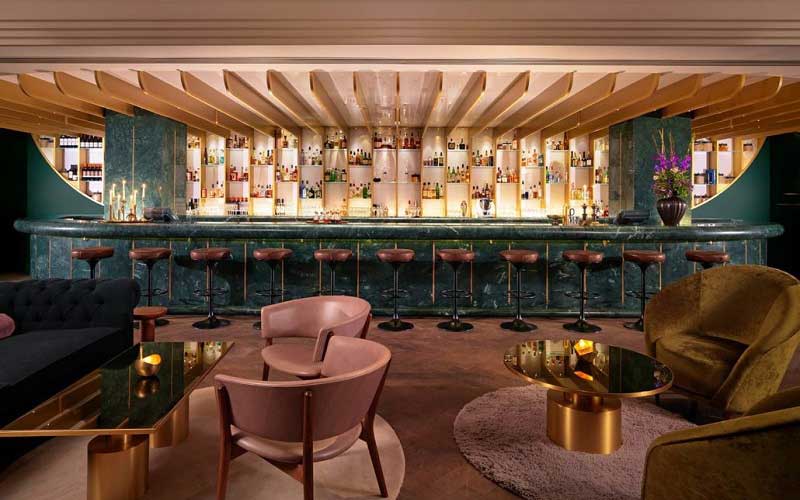 Much easier to find is Dandelyan's, an upmarket cocktail bar nestled at the base of the new multimillion-pound Mondrian Hotel. Perfectly positioned on the banks of the Thames right in the heart of London, you may find legendary barman Ryan Chetiyawardana serving your cocktails or teas.
Along with some of the most unusual and groundbreaking cocktails, Dandelyan is also equipped with savory's and sandwich's as their afternoon tea is just as famous as their cocktails.
If you're not one for loud scenes and prefer the luxury and ambiance only this part of the city can provide, this is the place for you. It was also voted 'Drinks Menu of the Year, Bar of the Year, Bartender of the Year (2018)' – CLASS Awards.
Yelp Customer Reviews





4.0
Foursquare Customer Reviews










8.1
Timeout Customer Reviews





5.0
Location
12 Old Compton St, Soho, London, W1D 4TQ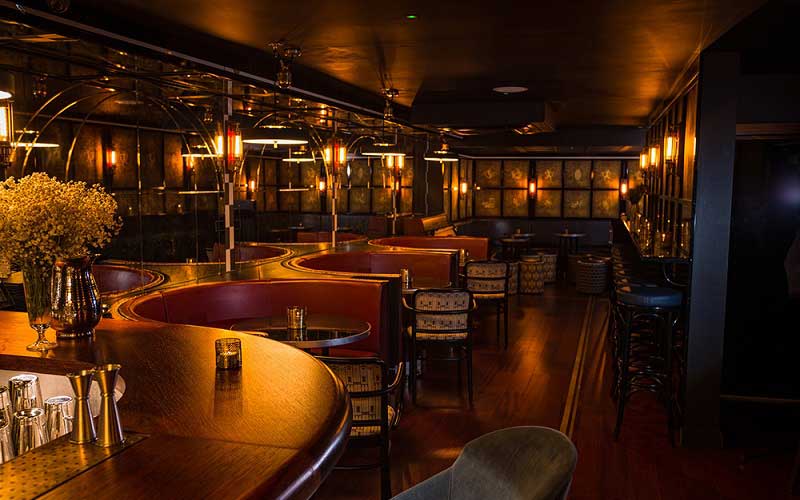 If you're up for a Swift cocktail and want a recommendation, the bar staff will provide plenty of help as they're extremely knowledgable. Swift is split into two halves with the ground level providing a casual, swanky bar with high tables and stools.
Below is where you'll bring a date, this is the low-lit moody lounge area which offers a more romantic atmosphere with a Whiskey bar.
The smallish food menu is nice and the Oysters seem to be their speciality. The cocktail menu is supurb and you'll appreciate paying £5 for a Martini.
Bar #5 - Happiness Forgets
Yelp Customer Reviews





4.5
Foursquare Customer Reviews










9.4
Timeout Customer Reviews





5.0
Location
8-9 Hoxton Sq (Basement), Hackney, London, N1 6NU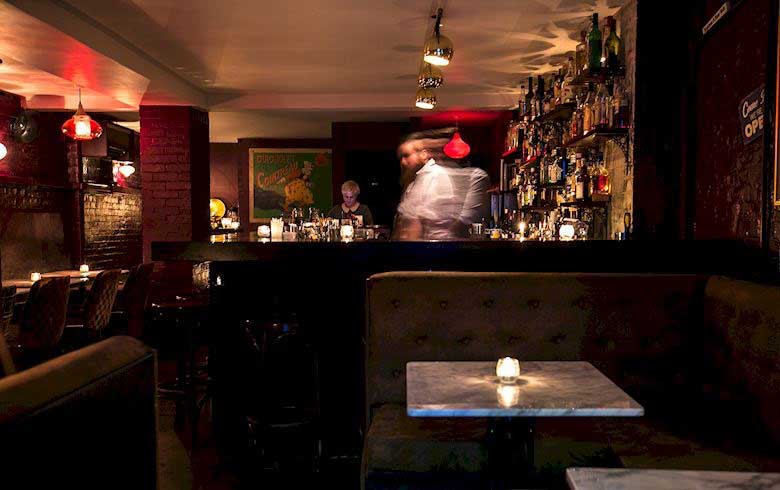 If you're in the East of London searching for that ideal place to settle in for a modern cocktail, check out Happiness Forgets. The mixologists behind the bar are happy to chat and offer custom made cocktails.
The traditional cocktail names are substituted with a variation such as a Tokyo Collins in place of a Tom Collins.
You will need to book a reservation at Happiness Forgets as all days of the week are hugely popular. No standing is permitted here either and you'll love the candlelit tables.
It's a no-frills cocktail bar in a basement, that's why people love it.
Appologies to the below bars for not making the top 5. These are also some of the best cocktail bars London can offer you, where a good time will be had by all.
American Bar at The Savoy (The Savoy Hotel, Strand, London WC2R 0EU)
Bar Américain (20 Sherwood Street, London, Soho, W1F 7ED)
The Connaught Bar (The Connaught, Carlos Place, Mayfair, London, W1K 2AL)
The Blind Pig (58 Poland Street, Soho, London, W1F 7NR)
Bar Termini (7 Old Compton Street, London, Bloomsbury, W1D 5JE)
<center><script type="text/javascript"><!-- [et_pb_line_break_holder] -->amzn_assoc_placement = "adunit0";<!-- [et_pb_line_break_holder] -->amzn_assoc_search_bar = "true";<!-- [et_pb_line_break_holder] -->amzn_assoc_tracking_id = "affiliateretu-20";<!-- [et_pb_line_break_holder] -->amzn_assoc_ad_mode = "manual";<!-- [et_pb_line_break_holder] -->amzn_assoc_ad_type = "smart";<!-- [et_pb_line_break_holder] -->amzn_assoc_marketplace = "amazon";<!-- [et_pb_line_break_holder] -->amzn_assoc_region = "US";<!-- [et_pb_line_break_holder] -->amzn_assoc_title = "The Barman's Recommended Bar Books";<!-- [et_pb_line_break_holder] -->amzn_assoc_linkid = "66c16219072bedfd85bbc562a09c80fa";<!-- [et_pb_line_break_holder] -->amzn_assoc_asins = "145211384X,0848752198,0399579311,1367231795";<!-- [et_pb_line_break_holder] --></script><!-- [et_pb_line_break_holder] --><script src="//z-na.amazon-adsystem.com/widgets/onejs?MarketPlace=US"></script></center>
Go Find Your Bar
Heading out on the town with your mates is a pure joy, getting the location right is a must. Especially in London. The last thing you want is to be searching for a great drinking establishment in the rain!
If you'd like to share your favorite bar with us, please feel free to add to the discussion below.