Mans Best Daypacks for Hiking 2021
Disclosure: Links in this post may be to our affiliates; sales through affiliate links may benefit this site. Please help support 'I Know The Barman' by using the links provided.
It won't cost you anything extra.
Introduction
Although lightweight products have been the trend since the discovery of lighter materials with proactive design, it doesn't mean these items are necessarily the best. It usually helps to have lighter equipment when it comes to back support but sometimes balance is also required.
When it comes to daypacks for hiking use, because they are smaller than full backpacks, the weight of the daypack will make little difference. All daypacks and backpacks are made from much more lightweight materials than they were 30 years ago.
We're just making you aware that although lightweight daypacks are awesome, they are not the be-all and end-all of what you should be searching for in your next luggage accessory.
Daypacks make for a nice carry option that is not just useful on hiking trips but can also be seen around city streets. Even businessmen can be seen sporting a daypack on their way to work. In this article we'll be concentrating on the best daypacks for hiking which includes mountain trails, local tracks or alpine plains.
As a guide, here's a few features to look for in your next daypack addition.
Daypack Buying Guide
Size / Capacity / Weight
Storage room within your daypack has got to be in alignment with your hiking tasks and seasonal weather. If you're going on a winter hike, then room for extra clothing layers may be required. This is where you'll want to think ahead. Be aware that if you intend to get a larger capacity daypack to store more items, you may want to opt for a more lightweight pack.
It goes without saying that a smaller daypack will not require due diligence in terms of weight. But keep in mind how long you intend to be hiking for. A 2-hour trek will not require as large a space, as a 6-7 hours hike, which will require food to be stored in your pack.
Ventilation
Nobody desires their pack to stick to their back. For this reason, most daypacks feature ventilation mesh padding which will allow your pack to sit slightly off your back, allowing a bit of breathing room. No only does this benefit your body but also the items inside your daypack such as food or clothing.
Features
You'll find that some daypacks come with various sized loops or clips. These can be a very handy accessory if you need to store external equipment such as a walking pole or drink bottle. Most packs will have a side pocket dedicated to a drinking container, but some drinks bottles come with a loop for attaching to a daypack clip.
If you're trekking through the snow, you may want to attach an ice pick, these are the things you want to think about before purchasing a new daypack.
Another feature to keep an eye out for, are pockets or compartments. Some adventurers don't mind storing their items all together, whereas others like to have a pocket for gloves and hat, another compartment for food and another for maps, keys etc. Here's a tip when you go hiking, take an extra plastic bag or bin liner for wet clothes or garbage such as food scraps. Oh, and spare batteries should you camera require them.
Durability
As with any purchase in this era, you'll require a strongly made pack that can handle any environment. Better brand names are usually made with these more superior materials, but you want to check before you buy. Great materials include tough nylon or canvas.
Fit
Depending on whether you're male or female, some daypacks can fit particular body shapes better than others. You may even find that daypacks can be advertised as such. In my experience as a male, I must admit, I've never bought a daypack advertised as a women's pack and probably never will. We'll take their word for it!
However, it's always a good idea to fit your daypack as well as you possible can by 2/3 filling it, loosening the straps and slipping it on. Then tighten the straps to suit. Just don't fill it in a store unless you know the owner!
Obviously, you can't try a daypack on if you're searching online. This is where you'll need to read the reviews and the questions that have been answered. There's great information here.
Hopefully you get a little knowledge out of this buying guide. Here's our list of the best daypacks for hiking that we've found for this year.
#1 - Osprey Escapist 32 Daypack
Customer Reviews





4.7
Pro's
? BioStretch Harness & Hipbelt
? Zippered Front Panel
? Internal Zippered Divider
? Shoulder Strap Pocket
Con's
? Zippers Possibly Not Large Enough, Nit Picking!
The range of Ospray daypacks are vast and you'll benefit greatly if this is the brand you decide to have faith in. Not only are they a reputable brand you can count on, but their guarantee promises to repair any damage or defect (for any reason) free of charge. I love it when a brand stands by their products like this.
This Ospray Escapist 32 daypack is the ultimate for cyclists that want to escape the city. Its anchored by a BioStretch harness and hip-belt, meaning it is made to fit a range of body shapes and sizes. Ventilation is also your best friend when it comes to pushing up those hilly tracks. It has an Airscape mesh back-panel to help you out in this regard.
Some of the other specifics of this Ospray model that we adore are listed here:
A zippered front panel allows for easy access to the main compartment. Ideal when you need to glance inside.
The base of the daypack provides a zippered divider which means you can separate particular items from others, such as shoes or wet clothes.
3 handy stretch mesh pockets for storing hydration or digital items. Great to store your drink or cell phone whilst riding or hiking.
Alternatively, you could place your phone in the shoulder strap pocket which is made for this purpose. You'll also benefit from the 2 hip-belt pockets which can provide snacks.
You'll love the external hydration sleeve which can be easily refilled at your next reservoir stop. Note the hydration pouch is not included.
Along with these additions, you'll also have reflective accents to notify drivers at night that you're about. A blinker light attachment will also help you out here. Oh, and there's even an integrated rain cover should it start to rain. They've thought of everything!
With a brilliant rating of 4.7 from over 60 reviews, this will suffice for many a hiker or adventure cyclist. For more specifications or to read the reviews, click on the 'Check it Out' button.
#2 - NEEKFOX Lightweight Hiking Backpack
Customer Reviews





4.7
Pro's
? Great 35-Litre Size
? Breathable Mesh Padded Straps
? Store in Own Zip Pocket
Con's
? Not as Durable as Others
On the cheaper side of things, you'll find this one of the better equipped daypacks with lots on offer for the occasional day tripper. You also get 8 different colors to choose from, so pick one that best suits your outfit. Only kidding, this is a bloke's website!! We don't do that. But you will have these available colors.
It's actually made of ripstop nylon which is a thickened nylon fabric and is water resistant, meaning it will shed rain much better than cheap polyester materials. They claim it's puncture resistant also, I expect that remains to be seen. It would depend on what the item doing the puncturing is! But it will stand up to heavier loads which is great.
Here are our take-aways from this nice cheap daypack:
At 35-litres it's a great size for storing enough gear for your all-day needs.
There's multiple compartments including 2 side mesh pockets that can store water bottles or cans of drink. Maybe store some home brew for the trip! You'll get 1 main compartment with multiple internal pockets and 2 zip pockets at the front for storing valuables.
At only 0.91-pounds, this truly is a lightweight daypack considering the room inside.
The breathable mesh straps are padded for extra comfort.
And one last thing, it folds down to be stored in its own zip pocket when not in use. You'll find it useful when taking on a plane also. Use it for extra items when required and folded away when not needed.
This is a very compact daypack, but you won't get the quality like the Ospray. For the price range though, it's a beauty and has been given a 4.7-star rating from over 350 verified customers. Nice buy for a backup in our opinion.
For more details, check it out at Amazon by clicking the image.
#3 - Canvas Backpack by Kruk Garage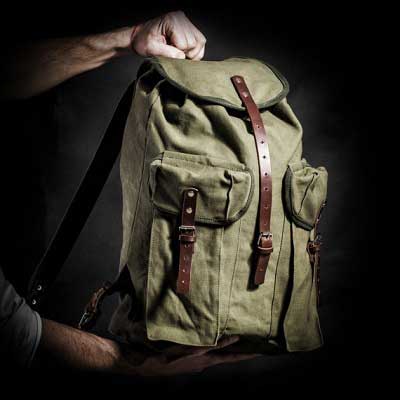 Customer Reviews





5.0
Pro's
? Authentic Military Style
? Soviet Army Tenting Canvas Interior
? 2 x Front Deep Pockets
? Internal Slip Pocket
In a totally different mould to the traditional daypacks made by the big guys, this unique looking retro-styled khaki daypack could just be to your taste. Not everyone likes the look of the modern pack which admittedly, come with more extras.
But this daypack made from leather and German army duffel bag canvas, will hold all that you require, plus more. All great daypacks are made water resistant and this one is no different. Well actually, it is! The interior lining is crafted with water-resistant Soviet army tenting canvas giving a very unique point of difference.
Other nifty features are listed below:
In true army style the top has a flap which is secured with a drawstring closure and buckle, keeping all your valuables secure inside.
You'll love the authenticity of the shoulder straps which are made with AK-47 strap and cowhide leather.
For extra storage you find 2 deep external pockets which are useful as drink or food holders.
There's also an internal slip pocket which can be beneficial to store your laptop or tablet.
With a total height of 55cm (22-inch) it's a nice size to store all your adventure gear.
If you appreciate the finer parts of an older era and war type materials, you'll love the craftsmanship of this daypack. Vintage military elements have been used to provide you with a quality and authentic military experience. The leathers used show varying shades and creases, so each piece is unique.
For more information, specifications and reviews, clock on the 'Check it Out' button.
#4 - Osprey Packs Tropos Daypack
Customer Reviews





4.7
Pro's
? 32-Litre capacity
? Front Compartment with Multiple Pockets
? Ventilation Mesh
? Integrated Kickstand
Con's
? Hydration Pack Hole in Possibly Odd Place
As mentioned in an earlier review, Ospray are one of the leaders in backpacks and daypacks so quality is not an issue when buying with them. This is another one of their most popular daypacks this year and comes with all the required compartments you'd expect.
I really like the compactness of this 32-litre daypack which will keep all your essentials organized and safely tucked away. The front zippered pocket encompasses small internal pockets for your keys and phone are featured along with pen and business card slots. There is a place for everything.
Here's what other benefits your get with the Osprey Packs Tropos Daypack:
Many packs have a space for your laptop or tablet, this daypack does also but it's surrounded by extra padding. We love this idea!
The suspended padded backpanel has mesh ventilation which will benefit yourself and any food you have stored inside your daypack.
It also comes with an integrated kickstand which will allow you to stand your daypack upright. This is very handy should you want to store an open drink inside temporarily. It also makes accessibility much easier.
Your electrical devices will benefit from the slash pocket that's made from heat-embossed fabric, so it's resistant to scratches.
Along with the side stretch mesh pockets, you'll also approve of the blinker light attachment and removable 20 mm webbing hip-belt.
Yes, I really like the Ospray daypacks and this is a high-range beauty. It comes with all the necessary pockets, clips, slips and compartments that you'll ever need for a day out in the wilderness. It's the ultimate hikers companion in my view.
It's also been given a quality rating on Amazon of 4.8-stars from over 20 customers. The only knock on this pack is that there is a hole for a hydration pack drinking tube which directs to the laptop sleeve. I assume this is so you can use the sleeve for either laptop or Hydration pouch, but probably not both at once. Although you could put the laptop in the main compartment.
#5 - Travel Hiking Backpack with Rolltop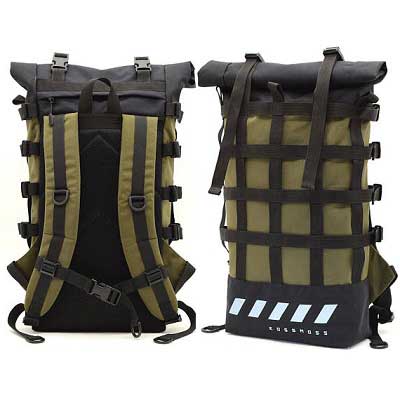 Customer Reviews





5.0
Pro's
? Unique Roll-Top Design
? Water-Resistant Fabric
? Padded Back and Chest Straps
Con's
? Clips are Good, Without Being Great.
Out of the ordinary but extremely well made, this is your durable roll-top daypack that can withstand all climates and adventures. If you're looking for the type of pack that will set you apart from everyone else, this webbed pocketed design could be the one.
This is a truly unique style and the front webbing is an ingenious design idea. Use it to slip in an extra blanket or jacket. It will be exposed to the elements, but if you use your own water-resistant cover, it's not a problem. The rest of the daypack is made with durable water-resistant fabric to keep all your internals dry.
I believe that if you're looking for a unique gift for your travelling companion, this may be your ideal solution.
You'll like what else this daypack has to offer, check this out:
As with all great daypacks, you'll benefit from the adjustable chest and shoulder straps. The shoulder straps are fully padded to keep you comfortable on long tracking outings.
There's also a padded back which will protect you from internal items niggling into your spine. Being gently stabbed in the back by the corner of a laptop is not ideal!
Nice segway into the next component, a laptop sleeve compartment! Admit it, we all take out devices away with us, so a place for your laptop is necessary.
As far as internal pockets go, there's a small one for valuables, which sometimes is all that is required.
The dimensions of this pack are 70cm (H) x 27cm (W) x 12cm (D). Very nice size for storing your daily hiking equipment.
The customer reviews are very complementary with a few saying it's great value for money and better than they expected. Obviously a good sign when customers are saying great things.
#6 - Deuter Speed Lite 20 Athletic Daypack
Customer Reviews





4.7
Pro's
? 3D Airmesh Ventilation
? Sunglass Loop
? Hydration System Compatible
? Reverse Compression Straps
Con's
? Side Pockets Possibly Too Small
Streamlined, ultralight and compact! That's what immediately comes to mind when we reviewed this daypack which is perfectly designed for the hiker. Being smaller in size, it's intended for those hikers that want to travel light but still want all the comfortable features.
The compact design favours hikers, skiers or endurance runners as the pack is so ultra-light and as you can clearly see, very compact.
You'll find that it's also ideal for alpine adventures or other endurance sports. The small back area is ventilated with 3D Airmesh. This will provide a more comfortable and cool experience as your hiking those mountain terrains.
So, what else does this daypack include? Glad you asked!
You'll find the zippers have larger loops on them. This makes them easier to open when you have gloves on, making it ideal when in alpine conditions. I really like this addition.
There's a sunglasses loop on the shoulder strap, making access to your shades that much easier.
There's pockets on the sides that stretch so that your water bottle will fit snugly.
You'll also like the fact that its compatible with hydration systems.
Customers have noted that the reversible compression straps come in very handy for attaching objects like a tripod or skis. I haven't tried this myself but it's nice to know.
You will also appreciate the small valuables pockets on the top, which in zipper enclosed. Some may find getting stuff in this pocket a little difficult, but once in, it stays safe in there.
You'll also have the opportunity to choose the color that best suits your style with 5 varieties to choose from.
The only possible flaw for a daypack in this price range, is that the exterior mesh side pockets could be a little larger to support larger drink bottles.
Customers seem impressed with this compact daypack by rating it 4.7-stars from over 60 reviews. Great little buy this one in my opinion. For more specifications and reviews, click on the accompanying image.
#7 - Osprey Packs Talon 22 Backpack
Customer Reviews





4.7
Pro's
? Lidlock Helmet Attachment
? Multiple Storage Pockets
? Go Trekking Pole Attachment
? Hydration Sleeve
Con's
? May Not Fit Larger People
The best of the Ospray daypacks in my opinion, and you have a choice of colors and size. Not everyone shares the same body size so Ospray have given us a choice of 2 sizes here. The Small/Medium size will suit a person with torsos 16-20 inches in length and will give you a 20-litre capacity. The other option is the Medium/Large which fits a 19-23 inches long torso and offers a 22-litre capacity. So, obviously it would pay to measure yourself before deciding on this daypack.
With similar features to some of the other Ospray daypacks like zipped compartments, pockets and sleeves, you will find a few differences that sets this model apart. Some hikers will benefit from these additions and cyclists have also been thought about. What do I mean by that? Well, check out this first feature that will excite adventure cyclists:
How cool is it to be able to attach your bike helmet to your daypack? I don't mean dangling from a clip. This daypack comes with a LidLock attachment which clasps your helmet securely to the daypack. Nice touch!
The hip-belt which clips securely together encompasses 2 zippered pockets which allows for storage of cash, cards or other valuables that can be easily accessed without the need to remove your pack.
When alpine skiing you'll appreciate the Go trekking pole attachment system which is designed to provide easy stowage of your ski poles when not needed.
There's a dedicated external hydration sleeve for your hydration kit that will fit a 3-litre pouch. The daypack does not come with the hydration kit but having a dedicated sleeve for the hydration pouch simplifies refilling and protects all your internals from content spills.
Add to this the accordion spread mesh-covered backpanel to keep your back cool and this is one great travel accessory. Over 100 customers have rated this an average of 4.7-stars, which gives some idea of customer satisfaction.
#8 - SOG Ninja Tactical Day Pack
Customer Reviews





4.6
Pro's
? Base Drainage Holes
? Sleeping Bag Attachment
? Hydration Pack Accessibility
Con's
? Hydration Pack Not Included.
Are you more of a tactical, survival type of guy? Well here's your chance to check out the latest Ninja tactical 24.2-litre daypack that comfortably stores away all your gear in style. The sporty adventure style of previous daypacks is not for everyone, this military design is more for those
Rambo
types!
You'll appreciate the interior which is compartmentalised into 4 sections. Most of your gear will be stored in the large main compartment, which is a great size for a jacket or blanket. You then have soft lined pocket that can be used for more delicate items such as a device (phone/tablet or sunglasses).
The 2 remaining pockets are the zippered front organizer and a flat accessory pocket which is quite small. It's ideally useful for items such as a hip flask, bike lights or small medical supplies.
It's given a great rating on Amazon, so we wanted to find out more of what this daypack can offer. Here's what we found:
It has 2 drainage holes on the base of the pack. Haven't you seen Chuck Norris wading through streams with a pack like this?
You will find there's 4 points where you can attach a sleeping bag or bed roll. This is ideal should you be adventuring overnight.
Like some of the other packs, there's a tubing port allowing for a hydration pack to be attached. This tubing port goes direct to a hydration bladder pocket which can be easily accessed. The hydration kit is sold separately, typical hey!
You'll find a side water bottle storage pocket which can hold a 40oz bottle.
All in all, this is a great value for money daypack if you're into the commando look. It's rated well at 4.6-stars from over 700 customer reviews. Click 'Check it Out' to find out more specifications or read up on the reviews.
Conclusion
So there you have it, just some of the various daypacks that are trending this year. Before making a purchase on any daypack, identify the type of hike you'll be going on. Know how long you'll be away for, will you require more room for equipment, will a water bottle be sufficient or would you prefer a hydration system.
These are all question you must ask yourself before heading out to buy a new pack. There's such a large range to choose from so as long as you've done a little due diligence, you'll end up with the right daypack for the job.
If you'd like to share your favorite with us, please feel free to add to the discussion below.