Best Travel Accessories for Men in 2018
Disclosure: Links in this post may be to our affiliates; sales through affiliate links may benefit this site. Please help support 'I Know The Barman' by using the links provided.
It won't cost you anything extra.
Introduction
Travel is a necessity for some, and a pleasure for others but what makes us all feel great, is a new travel item before taking off. A new passport wallet or carry bag can make the trip a little more enjoyable for those who travel for work purposes.
If you're a vacationer, there's nothing like a recent purchase to get the expedition juices flowing. More than ever you've got a huge range of products to choose from, but what is it that you need?
Don't waste good money on an item that you already have unless it is required and choose quality products that will not only last for your next trip, but your trips in to the future.
So, what should you look for when making a new travel purchase? Here's a brief travel guide to offer some quality advice.
Best Travel Accessories for Men – Buying Guide
Quality/Durability
Nobody expects their new travel equipment or accessories to have faults exposed within the first couple of years. This could happen however, if you purchase cheap products made with poor quality materials.
It probably goes without saying that well-known brands are well known for a reason, they provide great quality. But what you also may not realize is that their suppliers also maintain other lesser known brands with basically the same product. This means you may find the exact same item without the logo at a smaller company for a cheaper price. This is not always easy to find but a little due-diligence can go a long way.
When it comes to quality, durable materials are your main concern. Leather is always a favourite due to the fact it's not only stylish, timeless and smells mighty nice, leather is also hard-wearing, strong but also flexible.
You can't buy a leather suitcase though, so aluminium and polycarbonate are the preferred materials.
Basically, what we're saying is choose wisely and be aware of the materials that your chosen travel item is constructed from.
Functionality
Many products have a huge variety of functions, but do you really require all that they offer? There's no need to pay extra for functions you'll never use. That being said, there's no harm in having those extra additions if you're not paying any more for them.
Weigh up the cost versus predicted usage to see if it's worth paying the extra dollars.
Often, you'll pay an extra 20% for some great added features. This is an acceptable mark-up and I wouldn't object against this addon if I am likely to find this useful on occassions.
Compliance
When talking about compliance, we mean will the product comply with airline boarding restrictions. As this article is about travel accessories, you'll appreciate that many of the items you purchase for travel will, at some stage, go through an airport.
It probably goes without saying that any sharp objects will be confiscated at airport security, so don't even bother with this sort of item. If you intend purchasing a grooming kit or similar which may come with mini pair of scissors or tweezers, be aware that it's best to pack these in a suitcase rather than taking through airport security.
So, there's a few brief pieces of advice for grabbing your next travel accessory. Hope it's helped.
#1 - Handmade Leather Men's Neck Tie Travel Case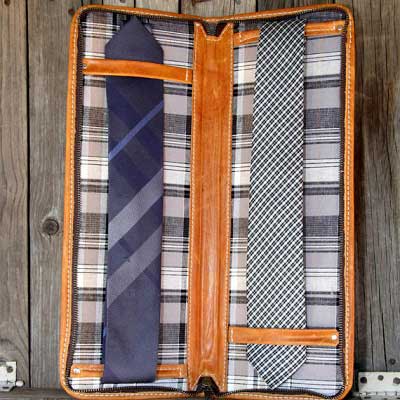 Customer Reviews





5.0
Pro's
? Made from Heavy-Duty Leather
? Custom Personalization
? Internal leather Straps
You've just stumbled across one of the rarest travel items available on the internet. It's not everyday you find a men's tie case made for travelling, but here you go, nice isn't it? More suite