Best Travel Accessories for Men in 2021
Disclosure: Links in this post may be to our affiliates; sales through affiliate links may benefit this site. Please help support 'I Know The Barman' by using the links provided.
It won't cost you anything extra.
Introduction
Travel is a necessity for some, and a pleasure for others but what makes us all feel great, is a new travel item before taking off. A new passport wallet or carry bag can make the trip a little more enjoyable for those who travel for work purposes.
If you're a vacationer, there's nothing like a recent purchase to get the expedition juices flowing. More than ever you've got a huge range of products to choose from, but what is it that you need?
Don't waste good money on an item that you already have unless it is required and choose quality products that will not only last for your next trip, but your trips in to the future.
So, what should you look for when making a new travel purchase? Here's a brief travel guide to offer some quality advice.
Best Travel Accessories for Men – Buying Guide
Quality/Durability
Nobody expects their new travel equipment or accessories to have faults exposed within the first couple of years. This could happen however, if you purchase cheap products made with poor quality materials.
It probably goes without saying that well-known brands are well known for a reason, they provide great quality. But what you also may not realize is that their suppliers also maintain other lesser known brands with basically the same product. This means you may find the exact same item without the logo at a smaller company for a cheaper price. This is not always easy to find but a little due-diligence can go a long way.
When it comes to quality, durable materials are your main concern. Leather is always a favourite due to the fact it's not only stylish, timeless and smells mighty nice, leather is also hard-wearing, strong but also flexible.
You can't buy a leather suitcase though, so aluminium and polycarbonate are the preferred materials.
Basically, what we're saying is choose wisely and be aware of the materials that your chosen travel item is constructed from.
Functionality
Many products have a huge variety of functions, but do you really require all that they offer? There's no need to pay extra for functions you'll never use. That being said, there's no harm in having those extra additions if you're not paying any more for them.
Weigh up the cost versus predicted usage to see if it's worth paying the extra dollars.
Often, you'll pay an extra 20% for some great added features. This is an acceptable mark-up and I wouldn't object against this addon if I am likely to find this useful on occassions.
Compliance
When talking about compliance, we mean will the product comply with airline boarding restrictions. As this article is about travel accessories, you'll appreciate that many of the items you purchase for travel will, at some stage, go through an airport.
It probably goes without saying that any sharp objects will be confiscated at airport security, so don't even bother with this sort of item. If you intend purchasing a grooming kit or similar which may come with mini pair of scissors or tweezers, be aware that it's best to pack these in a suitcase rather than taking through airport security.
So, there's a few brief pieces of advice for grabbing your next travel accessory. Hope it's helped.
#1 - Handmade Leather Men's Neck Tie Travel Case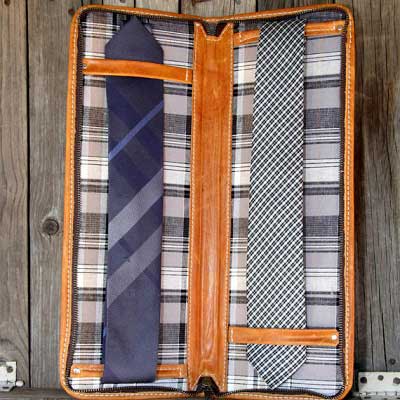 Customer Reviews





5.0
Pro's
Made from Heavy-Duty Leather
Custom Personalization
Internal leather Straps
You've just stumbled across one of the rarest travel items available on the internet. It's not everyday you find a men's tie case made for travelling, but here you go, nice isn't it? More suited to the business traveller but accessible for any smart gent setting off on their travels.
You may be heading off overseas for a special event like a wedding or a sombre affair such as a funeral. This tie case will keep your special ties neat and flat, so they arrive non-creased at your arrival point.
The tie case itself is made from thick, heavy-duty genuine leather in a dark creamy color. It gives a soft, yet rugged look with the durable stitching and leather grains. I love its appearance.
Here's a few other things I really like about this tie case:
You'll really like the personalization of the tie case with 3 customs letters of champagne embroidery floss. Your initials will be proudly displayed on the front right bottom corner for all to see.
You'll find a mellow plaid patterned print as the internal covering but if you'd prefer a bolder fabric, simply email them for a range of choices.
Two leather straps are attached on the inside of the case for stability. The top strap allows for your tie to be looped over and the bottom strap helps keep you ties flat.
With so many more common products available to us, it's nice to find a truly unique travel accessory that would be great as a Fathers Day gift or similar, as it would a self-bought item. Gift wrapping is also a nice option that is available.
This is a hand-crafted tie case accessory from a company that loves its leather and makes other hand-crafted leather travel good. Click on the 'Check it Out' button to find out more.
#2 - Distressed Leather Passport Wallet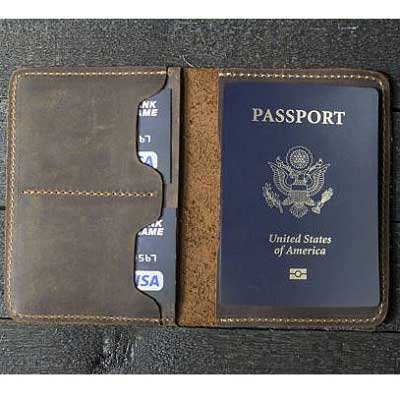 Customer Reviews





5.0
Pro's
Distressed Leather
Holds 2 Passports/6 Cards
Custom Personal Embossed Lettering
Taking off overseas truly is an awesome experience, but there's a few tedious parts to the travel experience. One of these is keeping your documents organized. This is where a functional passport holder helps and if you're going to buy one, why go for a quality piece. Leather is the material of choice and is perfect for this type of product.
You'll notice the leather is of the distressed style which makes it more understated. I really like this distressed look when it comes to leather products. With a minimalist design it's actually very functional and would make a perfect gift for anyone, especially a gentleman with traditional taste.
Just check out these great features that we like about this passport holder:
It may not look like it, but this passport holder can hold 2 passports. Extremely handy if you're a dual national.
You'll notice on the left side are 2 card slots which can hold up to 6 cards (3 x each slot). This is ideal should you have particular cards that are specifically used for overseas travel.
Customized personalization is also an option with 3 options available. Either have your initials embossed on the front, or alternatively your name or an image can be embossed. It's always nice to have a personal item to show it's yours. Embossed will cost you an extra few dollars.
The size of the passport holder is 5.75″ x 4.25″ (14.5 x 10.5 cm) when folded.
The passport holders are made to order and all hand-made within 1-3 days. For more specifics, click on the accompanying image.
It's a great seller with some very complementary reviews that you can check out on their sales page. Just click the 'Check it Out' button.
#3 - Mens Large Hanging Toiletry Bag
Customer Reviews





5.0
Pro's
Multiple Pockets, Sleeves and Compartments
Durable, Water and Stain-Resistant
Nylon with Stainless Steel Hook
Con's
Two Handles Would be Better Than One
Perfect for any occasion, this men's toiletry bag can be used for overseas travel, weekend trips or even trekking down to the gym. It's versatile, practical and looks awesome. It also packs a punch with the amount it can hold.
You'll find there's plenty of room for all your toiletries which can all be separated via either zippered pockets, organized compartments or internal sleeves. You'll appreciate the price of this men's toiletry bag also, as it's on the cheaper side.
Read on to find what other features will benefit you:
Being able to hang your travel toiletry bag is a godsend when it comes to smaller hotel bathrooms. In fact, I've taken mine camping where the facilities are small in comparison to a 4-star hotel. Many toiletry bags do have a hook these days but not with as much capacity as this one.
It's made with strong nylon which is not only durable, but also water resistant, perfect for those camping trips. The bag is also stain resistant and can be easily cleaned with a damp cloth.
You'll be blown away by the number of compartments this toiletry bag contains. Try this for size! Each end of the bag provides zippered sections (with easy-pull tabs), which allows for access without having to open the main compartment. Internally you'll find 5 mesh compartments and 4 elastic sleeves for separating all your bathroom items. Plenty of room for your phone!
The Nylon material will support the shape of the bag but can also be compressed flat if transporting unused in a suitcase.
This bag has a whopping rating of 4.9-stars from over 50 customers. That's an extraordinary rating which goes to show how popular this travel toiletry bag really is.
For more specifications and to check out the reviews, click on the image that accompanies this review.
#4 - Tumi Alpha Bravo Andersen Leather Commuter Bag
Customer Reviews





4.8
Pro's
Slim Practical Design
Multiple Zippered Pockets
Holds 15″ Laptop & Tablet
You've probably heard of Tumi, and for good reason. They're a dedicated, reputable brand of travel luggage and we've found one of their best sellers for this year. Known as the 'Andersen Leather Slim Commuter Brief', it's part of their Bravo collection.
For those gents that adore luxury and style then you're going to really like this bag. Made from genuine leather, it gives a more casual business feel and offers all that you'll require in a business carry bag.
With 2 carry handles it's easy to transport, but we love the compartmented pockets that provide a place for your technological products and documents. Here's what you'll get:
Although it's a slim design, there's plenty of room including a dedicated laptop compartment for a 15" laptop which can be zipped away.
You'll also appreciate the tablet sleeve for slipping away your iPad when not in use.
3 Front external zippered pockets can hold important documents or storage devices.
Internally, apart from the laptop & tablet compartments, you find 2 business card slots, 4 open pockets (ideal for sunglasses), loops for your pens/pencils and a key leash, so your keys won't go missing.
It's a great size as carry on luggage, as the dimensions are 5" x 14.5" x 11".
Although there is only the one color, the tan look is what makes it classy and authentic.
How often have you ventured through the airport, gazing at other travellers with their classy unique luggage, knowing you'd love a nice luxury travel bag one day? Well, here's your opportunity to purchase that stylish design you've always wanted.
With a high rating of 4.8-stars, you can only be impressed with what's been produced here. Click on the 'Check it Out' button to observe more specification or reviews.
#5 - Leather Daily Diary Organizer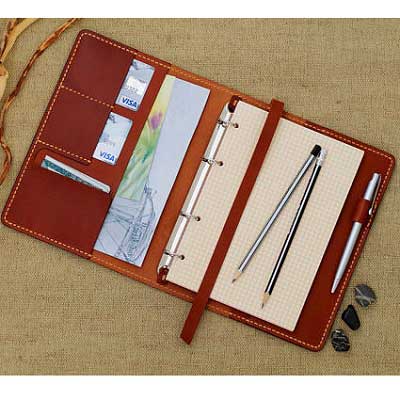 Customer Reviews





4.5
Pro's
Perfect Size at A5
Uniquely Handmade
Multiple compartments
Genuine Italian leather
Again, the businessman (or business-woman) would benefit greatly from this next travel item. Knowing where and when your next meeting is taking place is crucial and I'm sure all-important people are using a diary. But, are they using an organizer as swish as this one? Probably not, but that could soon change!
If you appreciate great leather, then you'll now that Italian leather is arguably the greatest. It's a noble material that's acknowledged as durable and hard-wearing. So, there's no better substance to surround your new diary to protect your daily tasks than Italian leather.
lthough this cover comes in the tan color, if you contact the company via email, they may be able to offer a differing tone.
Here's what we love about this travel diary organizer:
It's made for A5 paper which is ideal for storing away in a bag or satchel. I find that A4 diaries are too large and therefore, won't fit in designated compartments. A5 is perfect.
The complete leather organizer is handmade which includes stitching and cut-out. They do not use machines to combine this together, instead hand stitching is used so you'll know your diary cover is unique.
You'll find sections for cards, travel documents such as boarding passes and a ringed binder to hold your diary in place. Of course, there's also a pen loop and bookmark leather strap to highlight the current day.
Don't you just love the small of real leather? That's exactly what you will find with this classy product.
Cheap faux leather doesn't do it for me so when I find a genuine leather item, it grabs my attention. The small Russian company that makes these have a variety of other leather goods and demand luxury and uniqueness. You'll find some of their other items if you click on the accompanying image.
#6 - Brown Leather Gadget Travel Bag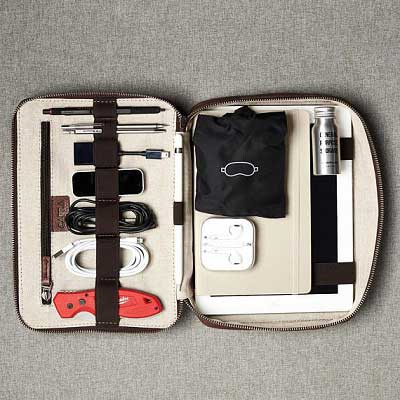 Customer Reviews





5.0
Pro's
Concealed Pocket for Valuables
Elastic Strap to Secure Items
Handmade Craftsmanship
Con's
Max 13 English Characters of Engraving
So, let's ask a 21st century question. How many gadgets do you go away with these days that require a plug or adaptor? Yeah, I expect it's quite a few isn't it. And do you have a facility to keep all this equipment together without getting leads tangled or tied up?
Well if not, or even if you do but require something a little more substantial than you already have, here's a beauty that will solve this problem. Not only is this versatile in that it can accommodate all your adaptors and leads, it's also a lovely travel piece made from the full grain leather.
Not only will this tech organizer hold all your device addons, it can also fit tablets up to a iPad Pro 10.5″ size. This just gives you a different option of storage should you not be able to pack your iPad elsewhere.
Here's what's included with this cool gadget organizer:
A lovely zipper sealed pocket for storing more valuable items. This pocket is concealed behind your other leads.
You're leads, and adaptors will not come lose as they're secured with an elastic strap which encompasses various sized slots.
I really like the style and handmade craftsmanship which can come in a larger size if you require. The size of this organizer is 10.6″ x 2″ x 7.3″.
And of course, you'll want you own initials custom engraved on the front of the leather travel organizer.
You'll also get the option of a different interior. I really like this as not everyone prefers leather all over. An option to have the interior lined with linen rather than leather is available which may give the bag a softer look.
Personalized travel items provide us with great pride and when the item is as practical as this, it's well worth the outlay
#7 - Kindle Paperwhite 6" E-reader
Customer Reviews





4.5
Pro's
Front-lit Surface for Easy Reading
Bookerly typeface
Super Lightweight
Email Integration
All frequent travellers need some reading matter to keep them entertained whilst flying, especially long haul. Of course, you'll have the inflight magazine to browse through, which is always a good read in my opinion. But often you'll like to get lost in a novel for a few hours and this is where a nice new Kindle becomes your best friend.
They've been around for a few years now and with each new edition, comes easier readability and less eye stress. The latest Paperwhite E-reader 6" gives you a next generation reader experience with a design font that is easier on the eyes. Known as Bookerly, it's an exclusive font made for Amazon Kindle devices which uses the typeface 'Serif'.
A crisp, cleaner display is what you'll find as there's twice as many pixels as the previous generation. The 300 ppi display improves the high-resolution screen, which can only be more beneficial when reading for long periods. There's so much else to love about the newest Kindle, here's a sample:
You won't have the glare issues that seem to arise with other tablet types or smartphones. Your Kindle is made to appear as if your looking at white paper, and it certainly does.
Unlike back-lit tablets, where the light can shine towards your eyes, this latest Kindle has a front-lit light which guides the light towards the surface. This is hugely beneficial for your eyes as it reduces strain and allows for longer continuous reading.
You'll also appreciate the lightweight nature of the Kindle which favors using a single hand to hold. Features like this make it so easy to travel with.
Another great feature that you'll love is the ability to pin your page. With the Page Flip element, it automatically saves your page and pins it to the side of the screen, whilst you swipe pages or zoom in or out. Page Flip also makes finding maps or charts easier and can highlight sections from a book, if need be.
You will also have access to email integration. If you like to reference parts of a book or notes you've made, these can be exported as a PDF, or to a file ready for import elsewhere.
Add to all this, the ability to translate pages to multiple languages, adjust the text size to suit your vision, Smart Lookup from The New Oxford American Dictionary and share your books with family members with the Family Share facility, and you've got yourself one smart little device.
With over 1 million book titles at your disposal, you will never be without a good read again. To find out all the other features, specifications and reviews, simply click on the 'Check it Out' button. You'll find nearly 1000 Q & A's, over 60,000 reviews and an awesome rating of 4.5-stars. Such a popular buy.
#8 - HOPERAY 6-Piece Packing Cubes Organizer
Customer Reviews





5.0
Pro's
4xCubes 1xLaundry Bag 1xShoe Bag
Open Mesh Design
Strong zippers and Seams
Packing! One of the more tedious chores when it comes to taking a journey to an exciting location. But we've all got to do it and there are products out there to help us with this mundane task. Who'd of thought that simple small compartment bags would be so popular.
When I first heard about these, I must admit, I wasn't overly excited and didn't think they'd last very long as a useful accessory. How wrong I was. They've now been around for over 10 years and are as popular today as ever.
The Hoperay stacking cubes we've included here, have been chosen for a reason. They're an Amazon best seller which comes with added extras. Firstly, you receive the 4 various sized neat cubes that are made from ultra-lightweight high-quality nylon material that is water resistant. So, they will cope with the wear and tear of travel and you won't have to concern yourself should you spill your coffee in one.
Here are the other benefits that you'll enjoy:
The cubes have an open mesh design which makes locating an item, that much easier. Obviously, you'll learn to pack selected clothing in each cube but seeing into each cube allows for easy identification.
Although there are 4 main cubes of various sizes, this is a 6 pack with laundry bag and shoe bag included. How handy will a laundry bag be if you have wet clothes to separate.
The cubes are slightly deeper than the previous version and come with strong pull zippers and durable reinforced seams.
One of they great benefits of packing cubes is when you need to search for something. Have you ever been in a hotel lobby and require something from your suitcase? Imagine removing one packing cube at a time, so much easier to look through.
Packing cubes are todays most popular travel accessory and this set is top notch for the price range. When you are not using the cubes, you can fold them for easy storage also. I personally find that using the smallest cube is great for storing valuables such as jewellery, designer watch or reading glasees.
Rated a flawless 5-stars from 95 customers (when writing this), you won't find better. For more specifications, sizes, reviews and Q & A's, click on the image or button that accompanies this review.
Conclusion
This article could go on forever, as there's so many great travel accessories that come out each year to enhance your travel experience. We've chosen some of the more unique and useful accessories that we think you will appreciate.
We'll also add to this list as the year goes on, and hope that you get some great ideas out of our researching efforts. Travelling is one of the joys of life, you'll enjoy it more when you're better equipped.
If you'd like to share your favorite with us, please feel free to add to the discussion below.