Cool Groomsmen Gifts to Show Appreciation 2018
Disclosure: Links in this post may be to our affiliates; sales through affiliate links may benefit this site. Please help support 'I Know The Barman' by using the links provided.
It won't cost you anything extra.
Introduction
They've always been there for you, and now it's time to pay them back. Your groomsmen have supported you not only through life, but also through your big day, and deserve a little something to say thank you. There's plenty of cool groomsmen gifts to do just this and we'll provide you with a few great ideas, and we'll assume a beer fridge is out of the question due to the cost!
It's a tradition that goes back throughout the years and is a great honor to be a part of. The idea of the best man and groomsman, is to support the groom on the biggest day of their lives. To keep him on time, help with preparing the groom and providing him with a small nip of scotch beforehand to keep him calm. After all, he's about to make his vows and give himself to his lovely bride for the rest of his life!
Now it's time for you, as the groom, to give back and show your gratitude. So, here's our list of cool groomsmen gifts to show your appreciation to your best mates. You're sure to find something that suits.
Cool Groomsmen Gifts Buying Guide
Before you go out and purchase your groomsmen and best man a gift, maybe a little thought should go into what exactly you are proposing to buy. A more thoughtful gift goes a long way in your future relationship with these mates of yours. Get it wrong and they may not appreciate your friendship like you'd hope.
For instance, this is not a time for sexy joke toys or humorous tacky gifts. This requires more class to show your appreciation that they've been there to support you.
With some weddings the bridal party can extend beyond the usual, and you may find yourself with more groomsmen to buy for than at other weddings. This can sometimes make things easier as you may often find some products in bulk. We've chosen a few of those items in the list below. The only problem you may find with this, is that not everyone is alike. To find a gift that would suit all 6 groomsmen can be more challenging, but this is still an option.
Alternatively, separate gifts may cost a tad more but shows more thought and individuality. One of your grooms may appreciate cuff links where another may like a beer mug. Think about each of your grooms and what makes them tick. What would make them acknowledge that your friendship is for life.
Now some gifts can come in a bulk purchase and be personalized such as pens or hip flasks. This is a great idea if you that know all your groomsmen would welcome the gift.
So yes, there are a few considerations to contemplate when buying cool groomsmen gifts. Get it right and you'll have mates for life. Don't buy tacky, buy classy and you will benefit big time.
Cool Groomsmen Gifts up to $100
#1 - Groomsmen ToonedUp Caricature Flask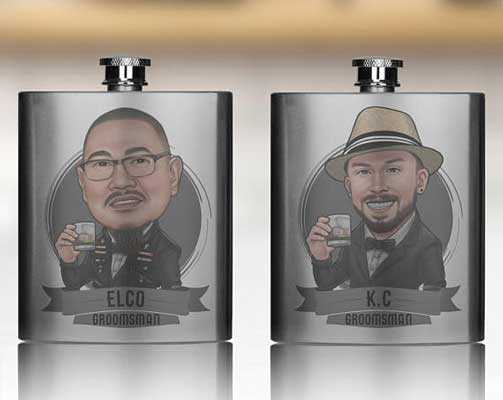 Customer Reviews





5.0
Pro's
? Artistic caricatures
? Stainless-steel
? Great customer service
? Mugs also available
Con's
? Possible cost for revisions (refer Q & A)
So, you've taken the plunge and now YOU are the one required to buy a gift for your groomsmen. This is not really a difficult task as there's many options out there, but we've found you a gift that we think will go down really well with your good mates.
Imaging the look on your groomsmen's faces when presented with their own personalized caricature of themselves, on a great quality hip flask. They will not only be amazed but also honored that you've put lots of thought into their meaningful gift.
The flasks are made from tough Stainless-steel and will last a long time.
All that you are required to do is provide good quality photos to the suppliers and have them create a wonderful caricature of your best mates. You will find examples of good and bad photos to give you an idea of what to forward on to them. Send 1-2 photos of each, and their artists will provide a masterpiece.
You will also have an approval process in which to perfect the caricatures. They will send you the images for approval and you can request any changes.
When you receive your flasks, you will also gain access to digital copies of the caricatures, so you can show everyone on social media, what a hoot!
Great features include:
Stainless-steel flasks
Amazing caricatures
Mug options
Quick turn-around
Your gift recipients will be blown away with this type of gift. The customer reviews are very complementary and have given extremely good reviews.
You'll appreciate that these caricature flasks are not only for groomsmen, they're also great for the bridesmaids! In fact, anyone with some sort of celebration would appreciate a flask like this, especially Fathers Day or a birthday of note such as 40th, 50th etc. I deem this is a very unique idea and well-priced.
#2 - Engraved Personalized Whiskey Barrel
Customer Reviews





4.9
Pro's
? Personal engraving
? 2 Liter barrel
? Steel banded oak barrel
Con's
? Have been known to forget included instructions
Why not gift your groomsmen with a personalized whiskey barrel? No, not a full-sized whiskey barrel. The size that would fit in everyone home alongside their
scotch decanter
.
Measuring 7.5″ x 5″ x 5″ (or 190mm x 127mm x 127mm), this quaint little whiskey barrel is an iconic groomsman gift that has been given for decades. But these whiskey barrels are not just any whiskey barrels, oh no. They are engraved with a personalized message.
Get each of your groomsmen's names engraved on these mini barrels that come complete with bung, stand and spigot. Imagine your mates receiving their own whiskey barrel with 'Robbo's Whiskey' or 'Big Al's Whiskey' engraved on the barrel end! These groomsmen will know they're mates for life.
It's not just for show either, these are fully functioning barrels that can store any spirit, or even wine for that matter.
The barrel comes steel banded and holds up to 2 liters of your favorite liquor. You will also receive directions for use enclosed with the barrel. Not only a great groomsman's gift, awesome for birthdays, anniversary's or other large occasion.
Great features include:
Steel banded oak barrel
Personal engraving
Bung, spigot & stand included
Holds 2 liters
Just a tip with these barrels. Fill the whiskey barrel with water for a few days to let the wood expand. This will allow for any leakage to be removed by having the wood swell. The instructions inside should explain how to do this.
From 29 customer reviews, the reports have been very well received with a rating of 4.9-stars out of 5. That's a great strike rate. Only the one customer complained of leakage to drop the rating from a perfect score. Obviously, they didn't follow the instructions!
#3 - Unique Groomsman Shaving Set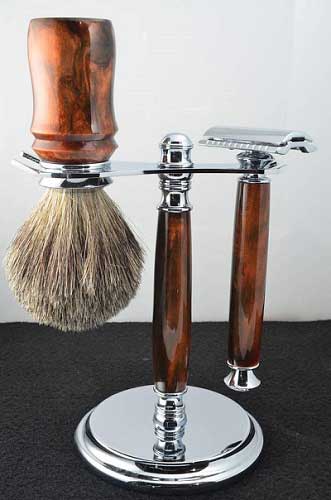 Customer Reviews





5.0
Pro's
? Hand-poured acrylic
? Badger hair brush
? Chrome base
Con's
? Still waiting to find con's!
Okay, many of us assume that an alcoholic gift of some type is often the best gift to give male adults, but not everyone is the same. You may find it hard to fathom but there are blokes out there that do not drink! There are various reasons for this, they may not like alcohol, have abused alcohol in the past or just don't like the aftereffects anymore.
Whatever the case, you may have to think outside the square to find an appropriate groomsman gift for some individuals. Like this classic 3-piece unique shaver set. The three pieces being the stand, brush and razor itself.
Now this is no ordinary razor set that comes from a production line. The brown and copper handles are hand poured acrylic so no 2 are the same. Each have different color distribution and swirl patterns, so each recipient will have a unique shaver set.
You will adore the double edge safety razor which gives a remarkable shaving experience. The brush is made from premium badger hair and together these two shaving implements sit nicely in the chrome stand.
They are certainly a lovely keepsake and will be well appreciated.
Great features include:
3-piece set
Badger hair brush
Hand poured acrylic handles
Chrome base stand
This is a 5-star rated item that will please any gift recipient whether they be a groomsman, birthday boy or just a great Xmas present. You don't need to be old to receive one of these either, they are making a resurgence and the popularity is now sky high.
The makers of these shaver sets also offer pens in the same acrylic finish, so this may also be a nice gift option.
#4 - Personalized Engraved Cutting Board
Customer Reviews





4.7
Pro's
? Quality laser engraving
? Choice of wood type
? Personalized artwork
? Added extras
Con's
? Added extras at a cost
It's no secret that some of the greatest chefs in the world are men so we know that males do enjoy cooking. And what do all great chefs require in their kitchen? Yep, a quality chopping board so why not purchase a personalized cutting board for your groomsman chef.
You may be thinking that the engraved personalization will rub off when chopping. You'd be right, but the makers of these boards engrave the back of the boards for display purposes. So, when you've finished using the cutting board, simply place it back on the display stand.
Your groomsman, or any other beneficiary will love one of these ¾ inch thick boards that come in a range of sizes. You also get a range of wood types which include Maple, Cherry, Walnut and Sapele.
Ordering one of these is a simple process that begins with choosing your size, then add your wood type followed by your personalization message. You will also have artwork examples to choose from so it couldn't be any easier.
You'll also have addon variations to choose form. These include gift wrapping with a note card, which adds a great touch as your message will be engraved on a maple veneer card. You'll also choose your cutting board oil which will enhance the look and durability of your wood.
Great features include:
4 wood choices
Quality engraving
Personalized artwork
Additional addons if required
The cutting boards are made by the supplier from high-grade natural wood and checked before they go through the engraving process. You'll like the fact that they are not boards that come as a standard bulk lot.
Once your personalized message has been laser engraved on the board, it will be given an application of Straga Cutting Board Butter for added protection.
You'll note this has been given a 4.7-star rating out of 5 and only one customer has complained due to choosing a dark stain with a dark engraving. So please make sure you choose correctly when entering your information.
Read more about these boards and specifications by clicking on the 'Check it Out' button.
#5 - Personalized Engraved Pocket Knife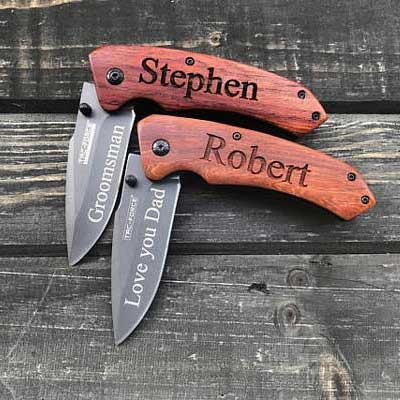 Customer Reviews





4.9
Pro's
? Blade, handle or both engraving
? Laser engraving
? Logo, name or message
Keeping with the theme of engraved gifts, here's a lovely knife that is very personalized and practical. Sometimes it's nice for all grooms involved in the bridal party to receive the same gift, as it gives a special memory of the day as a group. If you're in search of a cheaper gift, this may be a great option for you.
Each knife can be laser engraved on the timber handle or on the blade itself. Alternatively, you can have both the blade and handle engraved, with possibly your groomsman's name on one half, and their bridal position eg:'Groomsman' on the other.
Finding the right gift can be difficult at times but a personalized gift like this can either be used functionally or displayed as a memento or ornament. Your recipients will appreciate the thought that has gone into this gift even if they are not a fan of knives.
You can have initials, titles, names, logos or even a gift message engraved on the knife. It's a personal thing which will be left to your own imagination. A message commemorating the big day would be nice also.
Great features include:
Laser engraving
Blade or Handle message
Logo, name or message
Great quality
Many reviews have been submitted for this product with most being thrilled with their gifts. These are a great option for those that can't afford to spend the earth.
This company accept returns within a timeframe but they do not accept cancellations. This is only fair as they start engraving not long after ordering, so the product will be with you as soon as possible.