Best Craft Beer Christmas Gifts 2018
Disclosure: Links in this post may be to our affiliates; sales through affiliate links may benefit this site. Please help support 'I Know The Barman' by using the links provided.
It won't cost you anything extra.
Introduction
We're now into the second half of the year which means, looking out for Xmas ideas for when the end of the year arrives. Many who read this website like to indulge in creating their own home brew, so we thought we'd give a helping hand with a selection of the best craft beer Christmas gifts for this year.
There is a plethora of gifts you could buy a family member or friend that enjoys brewing beer, including the tools required to brew beer or accessories to help with bottling or storage. So, have a general browse around and see if there's anything suitable for your Mr. (or Mrs.) Brew.
We've steered clear of the beer brewing kits as you can find them here.
#1 - Personalized Wood Beer Caddy With Bottle Opener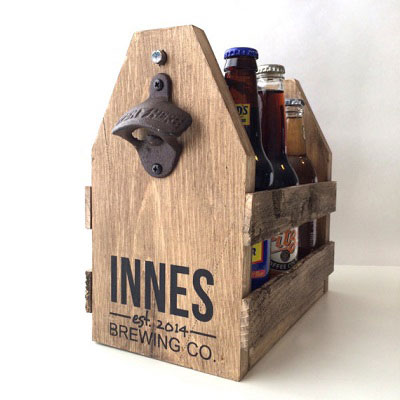 Customer Reviews





5.0
Pro's
? Personalized Message
? Bottle Opener Attached
? Unique Timber Natural Flaws
Con's
? Beer Not Included 😉
Not only would this beer caddy make a great Xmas gift but there's many occasions where this would be an appropriate offering. It would also make a
cool groomsman gift
or perfect Fathers-Day present. But in this instance, we're talking about the craft beer Christmas gifts so add a piece of Holly to the handle, and offer it to your special person.
You'll find each beer caddy is different to the next, as no two timber grains are the same. This offers a uniqueness to the gift to make it a one-of-a-kind. Making it more unique will be the personalization you add to the end of the beer caddy. Here's how this and other features will prove a winner:
Not only can the Name be added to the timber end, but you can also have an established year. For instance, you'll have the date of birth of the recipient hand painted under the name. I really like this, as it makes the caddy authentic and antique like.
You'll love the bottle opener attached on the end of the caddy making it easy for anyone to rip the top off their beer in an instant. Great idea.
Natural flaws will shine through the timber which just adds to the class and workmanship making it a unique piece of artwork.
The size of the caddy is 11″(H)x6″(W) and has a length of 10.5″.
This beer caddy has a number of great reviews which you can check out by clicking on the 'Check it Out' button. You'll also find specifications, guarantee and return information, and how to purchase if this is to your liking.
#2 - Home Brew Journal for Craft Beer Home Brewers
Customer Reviews





4.9
Pro's
? Multiple Brewing Charts
? Allocation of 70+ recipes
? Made with PU leather
? Includes tasting Notes
Con's
? Maybe More Space for Calculations-Nit Picking!
For those of you unsure how home brewers keep track of all their brewing experiments, recipes and various batches, a beer brewing journal is a very handy addition that keeps the brewer organized. It's fine to just experiment with different hops, ingredients and flavors but keeping a record of all this is crucial.
After all, there'd be nothing worse than crafting the perfect beer that the whole neighborhood has tried and approved of, only to forget what went into the brew or the quantity of each ingredient. For this reason, keeping track of everything is vital and this journal has been made specifically for the home brewer.
Just check out what features in includes:
You'll find all the necessary charts inside the journal such as Yeast Strains Chart, Hops charts, Color Reference Alcohol by Volume Reference Chart and also includes a Unit Conversion Chart.
Obviously, you'll need to document your recipes so there's space for over 70 recipes to be logged.
You will appreciate the antique look with it's PU leather cover which is soft to the touch.
Along with all the referencing charts you'll also find tasting notes which can benefit you with great advice.
Although crafting beer is an enjoyable pastime, it can become much more than that. Keeping records of all that is brewed will save you lots of hassle when it comes to making that second batch. It's true that many brewers use Brewing software to keep track of all this, but there is the possibility of the web going down at a crucial time.
You'll notice it's been given a 4.9-star rating which is from over 150 customers proving it's been a successful seller.
#3 - Set of 4 Funny Beer Wood Coasters
Customer Reviews





5.0
Pro's
? Choice of Cedar or Birch
? Chooose from Round or Square
? Laser Cut Designs
? Polyurethane Coating
Con's
? Not Suitable for Children
Are you and your guests in need of a good laugh? Having these hilarious beer coasters strategically placed throughout your house or man cave will get a reaction from anyone using them. Lightening the mood of any place, they will offer a unique difference to the mundane coasters your family bought you last year.
We all need somewhere to place our home brew or craft beer, and these would be that perfect accessory to accompany any beverage. You'll receive a set of 4 coasters that are hand-crafted with care in the USA. Admittedly, there's a dirty joke tone to these coasters so maybe only get them out when the kids are not around!
Here's the features you'll appreciate:
You'll like the fact that each coaster is hand-made from lovely timber. You will have 2 choices of wood which are Cedar or Birch, both elaborate timbers with lovely grains.
There's also a choice of square or round coasters so you can choose the style that will suit your preferred location.
Each coaster is laser cut so the imprint is forever and make a nice feature.
Your coasters will benefit from the polyurethane coating which protects the timber from spills or moisture.
You will be getting a unique coaster set, as each coaster have varied grains and slightly different colour as they're cut from reclaimed ¼-inch birch or cedar. I believe you can also request custom orders so if you'd like your own statement, simply let them know.
These would make an awesome Xmas gift for the right person who loves his craft beer.
#4 - Unusual Custom Beer Labels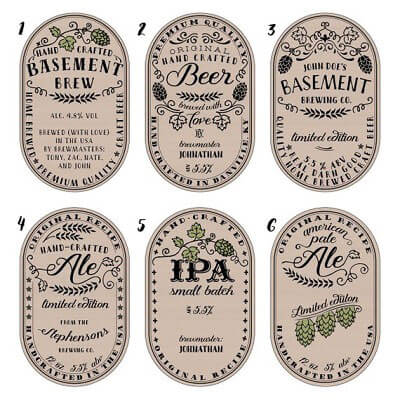 Customer Reviews





5.0
Pro's
? Self-Adhesive Labels
? Various Quantities Available
? Brown, Gold or Silver backgrounds
? Water Resistant
Con's
? Only Black Lettering on Gold or Silver
Do you or somebody you know brew their own craft beer? If so, do they have their own brand? If not, then you could surprise them with their own custom craft beer labelling. Although
home brewing
starts off small and is usually for one self, there could be the possibility down the track that it could grow to much more than that.
With the right labeling and marketing, you may be able to promote your craft beers to microbreweries or small village wine bars. With the popularity of craft beers at an all time high, having labels that stick out from the rest will give you an advantage. These would make a great Xmas, birthday or Fathers-Day gift that nobody else would think of buying.
Here's what you get:
The Brown Kraft paper labels are self-adhesive and are intended to be stuck onto regular sized bottles of beer. You'll find the actual size is 2.5" (W) x 4" (H) making them large enough for a cool design.
You'll have the option of purchasing various quantities in sums of 6, 12, 24, 48 or 60 labels.
There's always the option to change the background colour to gold or silver but keep in mind that if one of these colours are chosen, only black can be printed on the label.
The ink is water resistant which is beneficial should the labels get wet, which they are bound to at some stage.
The various quantities of labels are all priced accordingly which you can see if you click the 'Check it Out' button. The seller of these labels will work with you to help come up with the perfect design. There are 6 standard templates which all look cool. Simply advise the seller of the template number, quantity and text you'd like, and you'll receive a PDF for checking before they go ahead and make the labels for you.
It's a simple yet brilliant idea and would be appreciated by any craft beer aficionado.
#5 - Personalized Craft Beer Glass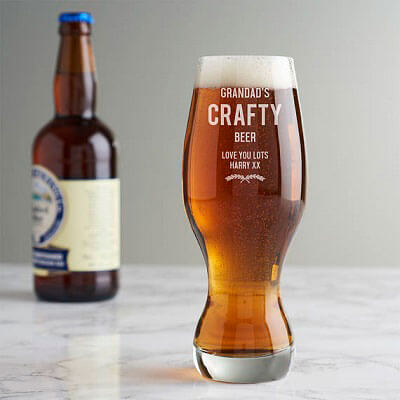 Customer Reviews





5.0
Pro's
? 16-Ounce Glass
? Hand-Etched
? Wheat Sheaf Design
? 5 Lines of Customization
You can never have too many beer glasses, can you? So why not buy that special person a personalised beer glass that will suit him (or her) down to the ground. Gifts like this are always appreciated and make a brilliant offering when there's nothing else you can think of. Especially if that person is a
home brewer
or a craft beer drinker.
So, how much of this glass do you think can be personalised? I bet you didn't think it would be 5 lines! That's pretty awesome hey. You get 5 lines of text to offer complimentary or non-complementary comments about your intended recipient.
Obviously, a beer glass like this would be perfect as a specific occasion gift such as Fathers-Day or a birthday, but I put this to you. Imagine opening this on Xmas Day, allowing for a cool drinking session on one of the most important occasions of the year. I'd love this as a gift in Christmas day.
Here's the specifics:
Each 16-ounce glass is hand-etched in upper case font which makes reading easier. Lower case fonts don't have the same impact as upper case which packs a bit more punch.
You'll find the standard wheat sheaf design image below the text which implies the glass is for consuming beer from.
Each line of text allows for a certain amount of characters. Lines one and three give you up to 14 characters, line two, up to 10 characters and lines four and five offer up to 20 characters each. Just be aware that these numbers include spaces and punctuation as a character.
As you don't want your custom beer glass damaged, it will be sent to you bubble-wrapped in a standard box. Unfortunately, a gift box is not offered so you're best to send it to yourself, then wrap it before giving as a gift.
#6 - Snobby Set-The Original 5 Beer Glass Set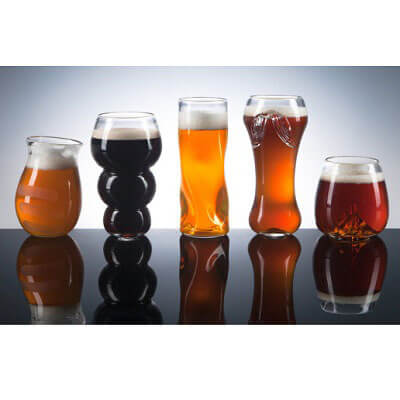 Customer Reviews





5.0
Pro's
? 5-Glass-Set with Different Variations
? Description Card for Each Glass
? Gift Boxed
? Hand-Made
So, you're not too keen on the above beer glass. Well how about a beer glass set with a twist, literally! This unusual set of 5 beer glasses is made by a small quality glassware manufacturer that specifically makes glassware for the quirky market.
Each glass in this set has been given a craft beer style to consume. There's a Malty beer glass, a Subtle beer glass, a Hoppy beer glass, an Ale beer glass and an Aromatic beer glass. That's not to say you must drink these beer styles out of each glass, it's just their recommendation and I'd also suggest, their marketing ploy! But hey, whatever works.
What you'll receive in this set:
Obviously the 5 different beer glass designs, but you'll also receive a description card that features recommended pairings for specific beers. I do like this idea as it means the company cares about the usage of their product.
You'll also receive the 5-glass set gift boxed which makes it perfect as a gift for somebody. It also means you can have it sent directly to the recipient, instead of having it sent to yourself, having to wrap it and pass It on.
These are hand-made so you'll have to wait 1-2 weeks for shipment. Be aware that these cannot just be plucked from a shelf and stuck it a box. This company take great pride in their products and each set will be hand-made for you. Therefore, it can take a little longer to arrive.
It's recommended that these glasses be hand washed rather than placed in a dishwasher. I'd imagine this is to avoid contact with other dishes as they are a sturdy set of glassware. Even the reviews are very complementary of how well made they are. Read them for yourself, simply click on the 'Check it Out' button.
#7 - Bicycle 6 Pack Beer Carrier