Best Craft Beer Christmas Gifts 2018
Disclosure: Links in this post may be to our affiliates; sales through affiliate links may benefit this site. Please help support 'I Know The Barman' by using the links provided.
It won't cost you anything extra.
Introduction
We're now into the second half of the year which means, looking out for Xmas ideas for when the end of the year arrives. Many who read this website like to indulge in creating their own home brew, so we thought we'd give a helping hand with a selection of the best craft beer Christmas gifts for this year.
There is a plethora of gifts you could buy a family member or friend that enjoys brewing beer, including the tools required to brew beer or accessories to help with bottling or storage. So, have a general browse around and see if there's anything suitable for your Mr. (or Mrs.) Brew.
We've steered clear of the beer brewing kits as you can find them here.
#1 - Personalized Wood Beer Caddy With Bottle Opener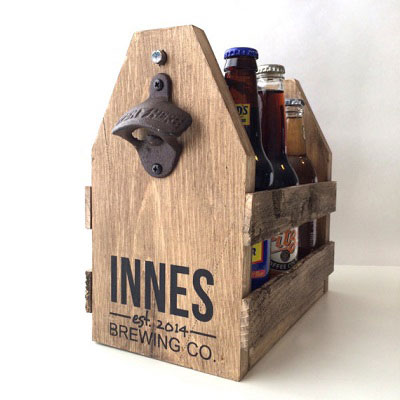 Customer Reviews





5.0
Pro's
Personalized Message
Bottle Opener Attached
Unique Timber Natural Flaws
Not only would this beer caddy make a great Xmas gift but there's many occasions where this would be an appropriate offering. It would also make a
cool groomsman gift
or perfect Fath